STOP AND SMELL THE ROSES SOMETIMES
Dave Eassa
Info
Jan 17, 2018 – Mar 10, 2018
In the Gallery

If all else fails, find the Sun.
In times when it seems increasingly easy to become overwhelmed with current climates and negativity, take some time to remember the good. Celebrate the little things, and commemorate what makes you smile. A small act that keeps the wheels turning.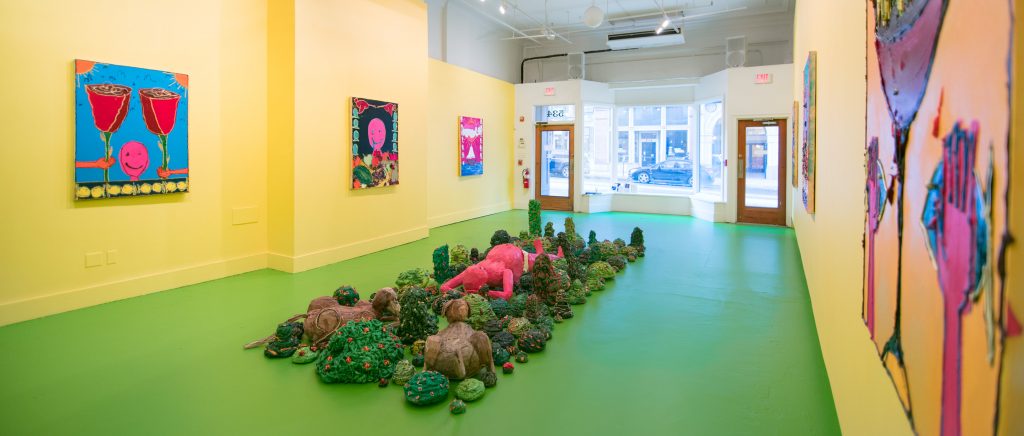 ---
Dave Eassa (b. 1991) is an artist and activist living and working in Baltimore, MD. Recent solo exhibitions include "You Can't Just Draw A Line In The Sand" at School 33 in Baltimore, MD. and "The Road to Rio" at Little Berlin in Philadelphia, PA. He has shown nationally and internationally in exhibitions most notably at Signal (Brooklyn, NY), LVL3 (Chicago, IL), Sophiajacob (Baltimore, MD.), Artisphere (Roslyn, VA.), Marianne Boesky Gallery (New York, NY.), artSTRAND (Provincetown, MA), Reh Kunst (Berlin, Germany), Current Space (Baltimore, MD.) His work has been published in New American Paintings No. 112 and The Pinch Journal. In 2014 he was awarded an Individual Artist Grant in Sculpture from the Maryland State Arts Council and currently has public sculpture on view at the Coldstream Homestead Montebello Sculpture Park and the Harwood Community Garden, both in Baltimore, MD.

He was an Open Society Institute Baltimore Community Fellow from 2015 through 2017 where he founded the program Free Space, which brought the arts to the Maryland Prison system, teaching in men and women's correctional facilities. He was awarded Individual Artist Grants from the Baltimore Office of Promotion and the Arts in 2015 and 2016, a Merit Award from the Gutierrez Memorial Fund, and the Maryland State Arts Council to support Free Space. He now is the Manager of Community Engagement at the Baltimore Museum of Art running the BMA Outpost, a mobile museum that creates art spaces across Baltimore in places where it is least expected. His work is in the permanent collection of the Harbor Bank of Maryland.