Andy Shauf with Lutalo @ First Parish Church
INFO
Saturday, March 23 2024
8:00pm
doors at 7:00pm

TICKETS
$25 advance
$30 day of show
$2 off for SPACE members

LOCATION
First Parish Church
425 Congress St
Portland, Maine

The Canadian indie songwriting icon returns to Maine for a special show at the First Parish Church!
Andy Shauf's latest album, Norm, out now on ANTI-, and presents its lead single/video, "Wasted On You." In conjunction, Shauf announces a 2023 Norm Tour including some of his biggest shows to-date.
Hailed as "a gifted storyteller" (NPR Music) for 2016's The Party and 2020's The Neon Skyline, Shauf writes albums that unfold like short fiction, full of colorful characters, fine details and a rich emotional depth. With Norm, however, Shauf has slyly deconstructed and reshaped the style for which he's been celebrated, elevating his songwriting with intricate layers and perspectives, challenging himself to find a new direction. Under the guise of an intoxicating collection of jazz-inflected romantic ballads, his storytelling has become decidedly more oblique, hinting at ominous situations and dark motivations.
Shauf had planned to be touring around The Neon Skyline but, like many of us in the early days of the pandemic, he spent a lot of time alone instead. He sequestered himself in his garage studio, self-producing and playing every instrument on Norm, a collection of more conventional songs written predominantly on guitar, piano and synths. The latter was essential to creating the more spacious and tactile sounds he sought. Shauf's goals were uncomplicated: create something melody-driven rather than chord-driven, and make it modern. Shauf recruited Neal Pogue (Tyler, the Creator, Janelle Monae, Outkast), a prodigious shaper of genre-and-time-defying tracks, to mix the album, further building on the gently levitating, synth-laden atmospherics.
During this period, he was captivated by David Lynch's Mulholland Drive, which seemed to validate Shauf's instinct to mix perspectives and tinker with shadowy narratives. He even rewrote all of the album's original lyrics, recreating the story, and enlisting Nicholas Olson as a story editor – it was only after writing the title track that Shauf decided to build a narrative around the character Norm. "The character of Norm is introduced in a really nice way," Shauf says of the pleasant songs that precede the album's centerpiece. "But the closer you pay attention to the record, the more you're going to realize that it's sinister."
"Wasted On You" doubles as Norm's lead single and opening track, a lilting pop introduction with r&b cadences and dreamy textures. While at first listen, a love song, Shauf grapples with death and the legacies left behind in its wake. "What happens when they die?" Shauf begins the record by asking. The questions continue, and his final query — "Was all my love wasted on you?" — hangs in the air, with subtle percussion, tender guitar, and synths escorting the song out. The accompanying video, directed by V Haddad and written by Shauf, is a playful depiction of God (played by Lauren Servideo) and Jesus, once again presenting the duality in Shauf's music.
After gaining indie notoriety with The Party and a Polaris Music Prize nomination, performances on Jimmy Kimmel Live! and CBS This Morning: Saturday, and praise from the likes of Pitchfork, ESQUIRE, NPR Music, Stereogum, The Atlantic and beyond for The Neon Skyline, Shauf has left the realm of things he's known on his third album, pivoting away from the semi-autobiographical, and pushing himself to grow as a songwriter in an entirely different way. With Norm, he recreated his idea of a concept album, and also made it about faith and fatalism. But Shauf has realized he doesn't need to moralize. He's assigned that task to us, the listeners. At once narrators and investigators, we fill in the blanks.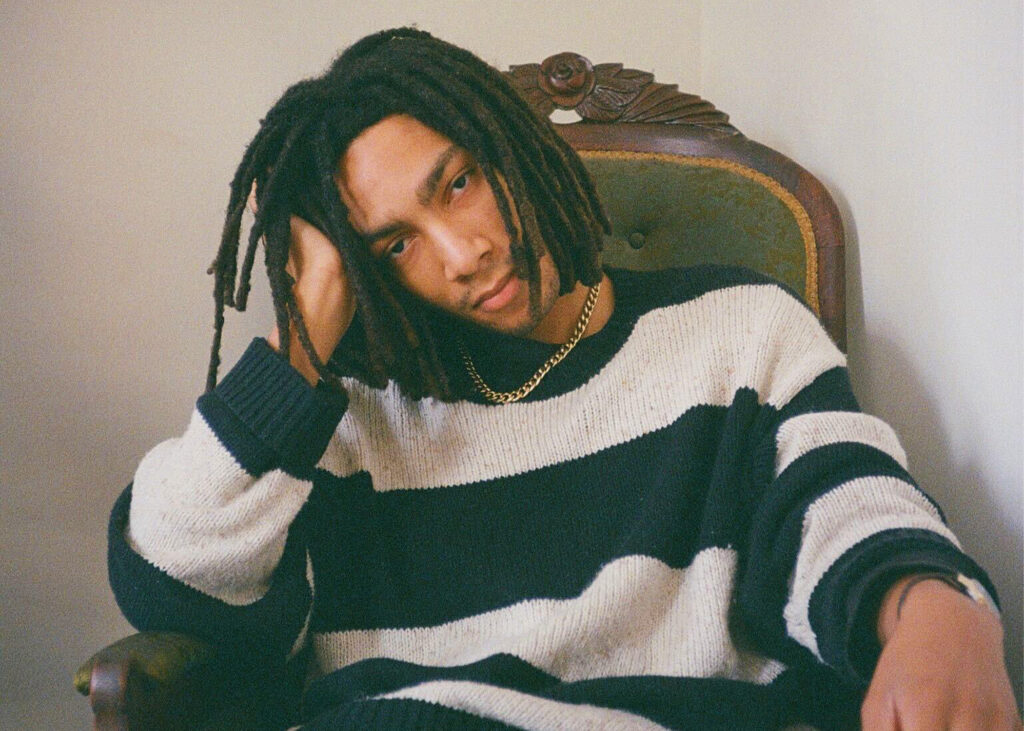 Minnesota-raised, Vermont-based producer and songwriter Lutalo announced their new EP, AGAIN, out August 25th on Winspear, with its lead single/video, "Push Back Baby." For Lutalo, creating music is an act of hope in and of itself. Throughout their meticulously crafted, folk, rock and soul — on which they sing and play all the instruments — Lutalo embeds golden lines of poetry that inspire curiosity about the world and empathy for everyone searching for a way through it. On the ambitious AGAIN, a collection of kinetic indie rock tracks, Lutalo makes bold critiques of systemic oppression, capitalism, and the digital attention economy. Though these topics are heady, their writing always sits at an accessible place of personal introspection. "You're looking through the eyes of Lutalo," Lutalo says of AGAIN. "I'm looking at my emotions, as well as how other people feel and interact with the systems we live within."
On "Push Back Baby," AGAIN's arresting lead single whose fuzzy electric guitar lines twist and unfurl in intricate patterns, Lutalo paints a complex portrait of our current reality that's "rooted in the greed or narcissism of capitalists," they explain. "I'm analyzing those systems and patterns, and also asking, 'Can we continue to not perpetuate this?' Because it's hurt a lot of people historically. I'm just asking people to question it."
In support of AGAIN, Lutalo will tour throughout North American with Katy Kirby in August and Claud in September before performing at Pitchfork Music Festivals Paris and London this November. Full dates are listed below and tickets are on sale now.
After releasing their 2022 debut EP, Once Now, Then Again, the 24-year-old born Lutalo Jones emerged as a rising presence in the indie world, catching the attention of Fleet Foxes' Robin Pecknold and Big Thief's Adrianne Lenker, who invited the young musician on tour. Along with the vinyl release of that breakthrough project, they are releasing its companion EP, AGAIN, which reveals their prenaturally masterful range in sonic expression and philosophical thought.
Growing up between the Twin Cities, commuting from their home in Minneapolis to school in St. Paul, young Lutalo was quickly ushered into West African drumming lessons by their music-loving father, who exposed them to everything from classical music, jazz, and hip-hop such as MF Doom and Talib Kweli. Comfortable with dabbling in all instruments growing up, they got into the indie rock of Tame Impala and Unknown Mortal Orchestra as a teen, around the same time they learned to produce music on Ableton by a DIY-minded friend.
In 2020, Lutalo enjoyed a brief stint in New York City, where they released their 2020 debut single, "Heavy Snow," a delicate folk ballad that revealed their skill for capturing emotional nuance in their writing. They then moved to Vermont, seeking isolation in the snowy mountains of the Northeast. "I think designing your own reality is something that's possible," they reflect, explaining that they wanted to lead a more self-reliant life, less dependent on capitalistic structures.
After about a year of getting acclimated to life in Vermont, Lutalo then wrote the two EPs, and then recorded the tracks in a nearby cabin with friend and collaborator Patrick Hintz. Once Now, Then Again is acoustic-driven and gentle, like the lush natural environment of the forest thrush, while AGAIN is potent and knotty, like the restless inner workings of Lutlao's mind.
Through their music, but also through their lifestyle that's alternative to America's economic and political systems, Lutalo asks listeners to imagine new possibilities: "I want to help people question the way they're living so we can create a better reality for us to exist in together."