Visit
SPACE is located at 534-538 Congress Street in Portland, Maine.
The 538 entrance is used for most events.
The 536 entrance is for private use of our studio building.
The 534 entrance is for gallery visitation during gallery hours.
Events
The venue's 538 Congress Street doors open a half hour before program start time, unless otherwise noted.
Please familiarize yourself with our Safer SPACE Policy for audience agreements that is posted publicly in our venue by the entrance and bathrooms, and is available for reference here.
SPACE's venue and restrooms are ADA compliant, please email info@space538.org for any accessibility questions or for any interpretive accessibility requests (ideally a full week before the event).
No flash photography by audience members is permitted at SPACE events. When artists request no photography, SPACE will communicate this with the audience and appreciate your advance cooperation.
Please silence cell phones during all SPACE performances, screenings, talks, and programs.
Exhibitions
When visiting our exhibitions during open gallery hours (typically Thursday and Friday 12-6pm and Saturday 12-4pm), please use the 534 Congress Street entrance unless otherwise marked. Visit the exhibition page to make sure we have an exhibition inside the gallery on view.
Window Gallery exhibitions are viewable 24/7 from the street.
Unless otherwise marked, please assume the art is neither thirsty nor hungry, and is not made to be touched. We deeply appreciate you not actively eating or drinking while looking at the art, and not touching the work.
Unless otherwise marked, all works can be photographed. We strongly encourage you to credit or tag the artist (and SPACE!) if you are sharing their work.
Hours
| | |
| --- | --- |
| Thurs & Fri | Gallery open 12pm–6pm |
| Saturday | Gallery open 12pm–4pm |
| Sun–Weds | Closed |
If our gallery hours do not work with your schedule, we happily encourage you to email us at info@space538.org to arrange accommodations for another time. If you would like to bring a group of over ten people at a time, we ask you kindly e-mail us in advance.
Follow us on Instagram or sign up for our newsletter to stay up to date with virtual programming or any event cancellations.
Downtown street parking is possible with a paid meter or the Passport Parking App, parking is free after 6pm and on Sundays, or on certain blocks as marked. The Spring Street Garage run by the City of Portland is the closest to SPACE. During Cross Arena events or if there is a full garage, we recommend parking at the Elm Street Garage next to the Portland Public Library.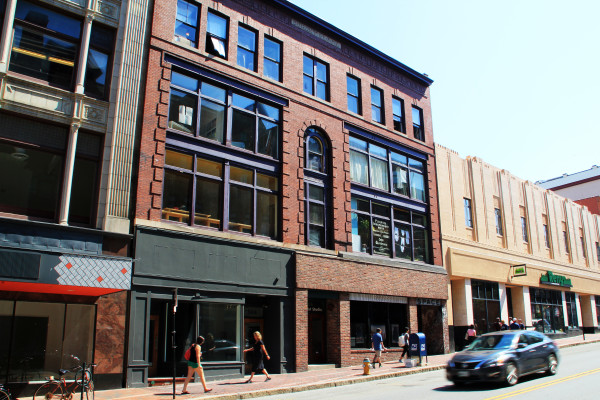 Public Health
SPACE recommends that attendees to SPACE events or the gallery wear protective face masks indoors based on regional COVID rates and state and national CDC guidance. The organization reserves the right to change this policy if new public health concerns emerge. Please note that some events will require full audience masking at the artist's request, please check the individual event listing on our website to confirm the masking status of an event. Masks will be made available for all events that require it, but we encourage audience members to help keep our ecological footprint down by bringing their own masks.
Audience members, artists, and staff who may have been exposed to COVID-19 or are recovering from the virus should wear masks and observe the appropriate isolation period with testing, per CDC guidance. If you are feeling sick, please kindly stay home.