2017 Annual Report
In 2017, SPACE stayed curious as we celebrated our fifteenth birthday, garnered our first National Endowment for the Arts grant, made long-needed gallery and facilities updates, deepened our community impact, and oversaw an executive transition to boot.
We set our sights high and had the privilege of working with 441 accomplished artists from the state of Maine, alongside the numerous national creatives that we welcomed to Portland.
Letter from the Director:
Around the country, organizations of every size witnessed or participated in heated debates over the 2017 year about what arts institutions should aspire to. The Metropolitan Museum of Art sparked dispute about inclusion with its changing admission policies, while polarizing questions of cultural representation dominated the Whitney Biennial and the Walker Art Center's sculpture garden. The year reinforced that equity must be made a part of the very fabric of arts organizations, nonprofit decision making, and cultural programming. These conversations were not new to SPACE. Throughout our 15 year history, we have continually worked to further accessibility and celebrate difference. Our successes and challenges this year encouraged us to strive to reflect our community, aspire to our highest values, and invest in a culture of collaboration.
The arts are a place where we grapple with the most fundamental issues of our times, a means of escape, and a site to commune together. SPACE strives to consistently be a creative home in our community where audiences can lose themselves in live music, fall in love with a work of art, be challenged by stories rooted in hard truths, and contribute to community conversations. In the years ahead, we pledge to do this work with empathy and generosity, strive toward greater diversity at all levels of our organization, cultivate a renewed sense of interdependence with our community, and continue to generate sustainable opportunities for artists.
We extend our thanks to the many donors, volunteers, artists, and advocates who make so much happen for our audiences and even more possible behind the scenes. And most importantly, we share our endless gratitude for our Interim Executive Director, Gibson Fay-Leblanc, who guided SPACE through our 2017 executive transition with grace.
While we have expanded our annual report ten-fold this year, with over 200 programs annually, this report can still only skim the surface of all we do.
Onward,
Kelsey Halliday Johnson
Executive Director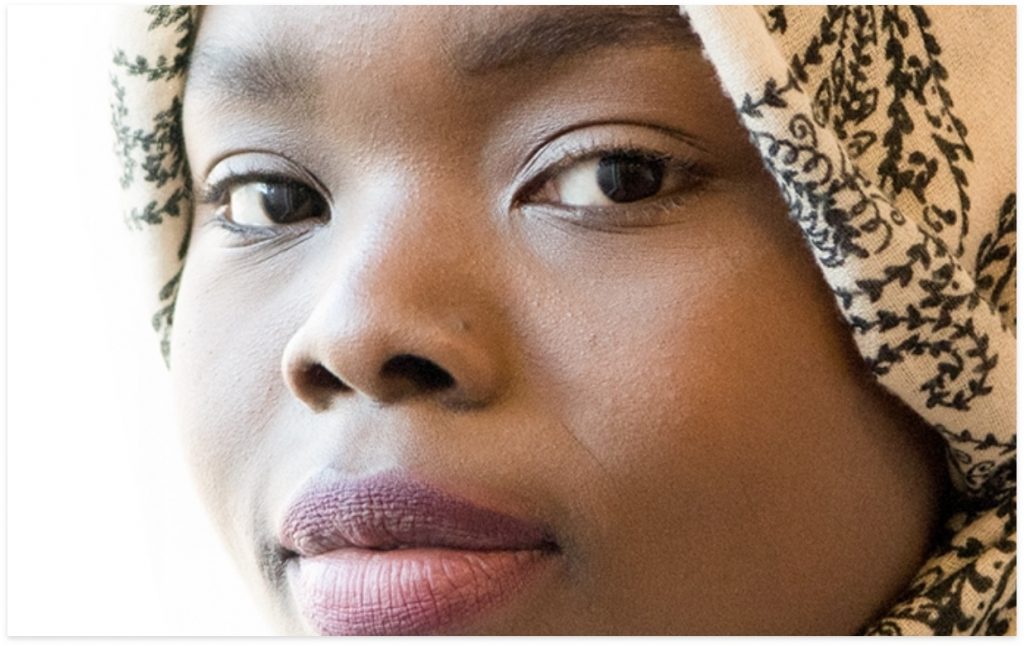 Life as a Muslim Girl in Maine
We are proud to have collaborated on a series of multidisciplinary programs with the University of Southern Maine for their Gloria S. Duchlos Convocation on Race and Participatory Democracy in 2017-18, examining the social constructs of race through a variety of forums for public dialogue.
Life As A Muslim Girl in Maine was a panel discussion in con-junction with Maine Law's 2017 Justice For Women Lecture Series with an accompanying exhibition hosted by our neighbor, MECA. The program centered local high school students' stories and per-spectives after a meeting with Zainah Anwar, a figure at the forefront of the Islamic feminist movement.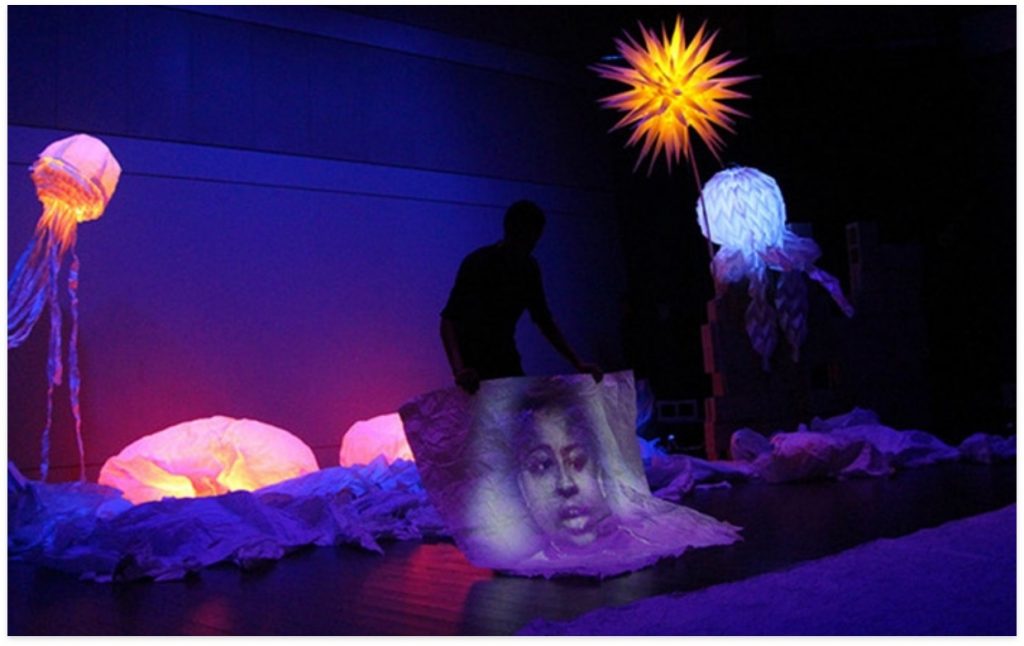 Freedom Project
Everett Company hosted a participatory workshop and creative exchange with the nonprofit Maine Inside Out ac-companied by a special performance of Freedom Project. This choreographic devised theater work explores personal experi-ences and the societal impacts of mass incarceration.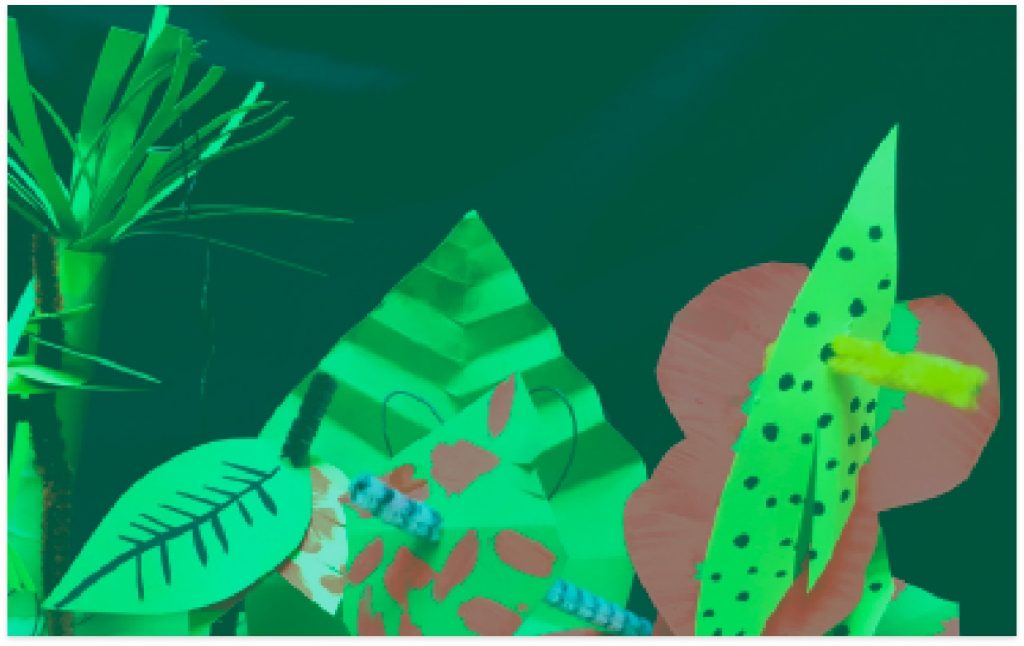 Kids Open Studio Workshops
Artist Jenny McGee Dougherty works with paint and textiles to explore subtleties in our collective landscape. This past year, she started our Kids Open Studios series, engaging youth with new creative methods. With a growing defecit of arts education opportunities nation-wide, these high-impact programs go beyond just activities by building community connections to working artists.
By the Numbers
9
artist talks or presentations followed by Q&As
11
author conversations following poetry or literary readings
17
Q&A sessions following film screenings and concerts
7
Maine-based visual artists were featured in our 15 exhibitions.
34
Maine filmmakers screened work here, including directors of two feature films and participants in the Maine Short Film Festival.
393
local musicians performed on SPACE's stage in 2017.
Community and Program Partners
350Maine
Able Baker Contemporary
Acadia Co.
ACLU of Maine
AJW Leasing
The Apohodian Theater
Aristelle
The Art Department
Artists' Rapid Response Team
ArtShape Mammoth
Back Cove Contemporary Music
Festival
Bangor Savings Bank
Bangor Arts Exchange
Bayside Bowl
The Beehive Design Collective
The Black Artists Forum
Bomb Diggity Arts
Broadturn Farm
BUOY Gallery
Chinese & American Friendship Association of Maine
CMCA
Designtex
Down East Magazine
Eimskip
Emery Art Center at UMF
Étaín Boutique
Figgy's Takeout & Catering
Frontier Cafe
For Us, By Us
The Institute for American Art
Kesho Wazo
Kinonik
Launchpad
L.L. Bean
Last Mercy Emissions
Lee Auto Malls
Little Giant
Lolita
Longfellow Books
Louis Latour
Macpage
Maine Conservation Voters
Maine Farmland Trust
Maine Humanities Council
Maine Initiatives
Maine Inside Out
Maine Organic Farmers & Gardeners
Maine Writers & Publishers
Alliance
The Mark Baumer Sustainability
Fund
MECA
NAACP Portland Branch
New Fruit
New Height Group
Nonesuch
Oxbow Brewing Co.
Pickwick Independent Press
Planned Parenthood Maine
Action Fund
Planned Parenthood of Northern
New England
Points North Institute/CIFF
Portland Chamber Music Festival
Portland Conservatory of Music's
Dimensions in Jazz
Portland Food Co-op
Portland Global Shapers Hub
Portland Hunt + Alpine Club
Portland Outright
Portland Ovations
The Portland Phoenix
The Press Hotel
Print: A Bookstore
Roma Cafe
Seal Bay Festival of American
Chamber Music
Seventh Art Stand
Shift Portland
Snell Family Farm
Spindrift
Steel House
The State Theatre
Take Magazine
Tandem Coffee
Theater Ensemble of Color
The Telling Room
Tsunami Tattoo
University of Southern Maine
Waking Windows
WMPG
Woodford Food & Beverage
Foundations and Donor Advised Funds
The Alfred & Dorothy Suzi Osher Memorial Foundation
Anderson Family Foundation
The Andy Warhol Foundation for the Visual Arts
Anonymous
The Bangor Savings Bank Foundation
The Bob Crewe Foundation
Brooks Family Foundation
Elsie Lee Garthwaite Memorial Foundation
The Fox Family Foundation
The George A. Ramlose Foundation
Kirby Family Foundation
Latkin Family Foundation
Lipton Crisp Family Foundation
Maine Arts Commission
Maine Community Foundation
Maine Initiatives
Metabolic Studio / The Annenberg Foundation
Morton-Kelly Charitable Trust
Moser Family Foundation
The Morse Hill Trust
The National Endowment for the Arts
New England Foundation for the Arts
Philip & Muriel Berman Foundation
Roy A. Hunt Foundation
Virginia Hodgkins Somers Foundation
Warren Memorial Foundation
Wescustogo Foundation
White Pine Foundation
Wilhelm Family Foundation
Individual and Corporate-Donors
$25,000+

Anonymous
E. Kent Gordon
Cyrus & Patricia Hagge

$10,000+

Roger Berle

$5,000+

Anonymous
Rob & Elke Hagge, in
honor of Cyrus Hagge

$2,500+

Bree LaCasse &
Christopher Moore
Emily & Duncan Bruce
Yemaya & Lucas St. Clair
Stephen H. Caine

$1,000+

Able Baker
Contemporary
Adam Lee,
Lee Auto Malls
Alice & Dick Spencer
Betsy Whitman &
Harro Jakel
Chelsea & Noah DeLorme
Chris Corbett through
the Wallstone Fund
Coffee by Design
Daryl Turicek &
Holly Doggett
Donna Roggenthien &
Ron Leeking
Jenny Scheu & John
Ryan
Kate & Ian Malin
Leigh H. Tuckey &
Bertram J. Tuckey III
The Bessire Family
Shift Fitness
The VIA Group
Tsunami Tattoo
Winky Lewis &
Alex Millspaugh

$500+

Aaron Levine & Anne
Marie Purkey Levine
Acadia Consulting
AJ Walter Leasing
Ali & Damien Saccani
Amy Woodhouse
& Tobey Scott
Anne & Douglas Johnson
Annie Leahy &
Mike Carey
Anonymous
Bill Roorbach
Bonnie J. O'Boyle
Chris Akerlind
Celine & Chris Kuhn
Darcy & Matthew Poor
Derek & Naoko Jaskulski
Designtex
Eddie & Patty Howells
Harry W. Konkel
Jane & Jack Phillips
Laura Mazikowski &
Roger Amory
Laurence Gardner
MacPage
Nathaniel Thompson
Nicole Cherbuliez
& Seth Clayter
Phuc & Sue Tran
Justin & Rachael Alfond
Jack & Sasha Tracy
Susan Conley &
Tony Kieffer
Insight Members
Insight Members are our champions who give $250 or more per year. These dedicated donors are invited to private tours and events, offering a behind-the scenes look at our ongoing pursuits and adventurous ideas.
Alec Porteous
Alice & Geoff Wagg
Alisan Kavookjian
Alison & Chris Herrick
Alyson & Chris Claudio
Andrew Butcher & Julie Pezzino
Anne B. Zill
Anonymous
Betsy & Steve Tesh
Brian Eng & Renee Bourgeois
Carol Varney
Catherine Bloom
Christian & Elizabeth Thomas
Christopher Campbell & Lisa Pixley
Clara Porter & Daniel Holliday
Claudia & Harold Pachios
Dan Crewe
Deborah Wing-Sproul
Desi Van Til & Sean Mewshaw
Dietlind Vander Schaaf
Dodo & Paul Stevens
Donna McNeil
Donyelle Werner
Douglas Watts
Ed Feibel
Eileen Gillespie &
Tim Fahey
Elizabeth Ehrenfeld
Elizabeth Hunter
Elizabeth Moore
Emily & Matt Delamater
Erica Schair-Cardona &
Ivan Cardona
Erik Jorgensen &
Tamara Risser
Gibson & Renee
Fay-LeBlanc
Gina Rourke
Herbert & Melanie Clark
Ilana Kirsztjain &
Kevin Tidwell
James & Kristen
Isaacson-Lape
Janice Adler
Jenna Crowder
Jessica Tomlinson &
Henry Wolyniec
Kari Herer
Kate Maurer
Kelsey Halliday Johnson
Lauren Sullivan &
Adam Gardner
Lily King & Tyler Clements
Lin Lisberger & Peter Bass
Malcolm & Susan Rogers
Margot Milliken
Marilyn Moss Rockefeller
Mary L McGregor
& Michael J Ryan
Joel Antolini &
Meeghan McLain
Nathaniel May
Paul Ernest
Pickwick Independent Press
Rose Marasco
Sara Juli & Chris Ajemian
Sara Lewis & Jen Goldman
Sara M. Crisp &
Gregg R. Lipton
Sarah & Laina Bay-Cheng
Sarah Flink &
William Ritch-Smith
Sarah Schindler &
Tristan Perry
Scott McLeod
Susan Morris &
Chip Newell
Susanna & Rich Dubois
Taffy & Eliot Field
Timothy Wyant
Trevor & Jessica Esch
Wade Brainerd
Wooly & Hoddy Hildreth
Members
$100 +

Alice & Chris Ross
Amanda Pleau
Amy Barrett & Jonathan
Lethem
Amy Shinn
Andrea & Mitchell Rouda
Ann Amstutz Hayes &
Andrew Hayes
Ann Casady & Peter
Pitegoff
Ann Tracy
Anonymous
Artie Fischer &
Leah Cheney
Barbara Rita Jenny
Barbara & Richard Russo
Berry Manter
Buzz Poole
Caitlin Gutheil &
Doug Welch
Carol & Joe Wishcamper
Celeste Roberge
Christian Prasch &
Joanna Shaw
Dan O'Leary &
Kathy Bouchard
Dave Wade
David May
David Sherman &
Edward Hurley
David Swetland
Deena R. Weinstein
Eda Cufer &
Roger Conover
Elena & Rob Henry
Elise Pelletier &
Patrick Carey
Elizabeth McGhee &
Kara Wooldrik
Eric Kawamoto
Erik Lema
Erika Didrikson
First Pier Technology
Partners
Frank & Susan Ruch
Hannah Pingree &
Jason Mann
Harry Noel &
Susan Livingston
Helen Hamilton
Isaac Sparks &
Ariana Melzer
J. Peter Monro &
Jill Bock
James Cradock
Jamie Hogan
Jason Read
Jeffrey Eaton &
Maureen Thorson
Jenny Dougherty
Jessie Lacey &
Michael Leonard
Joan Campbell
Joan Leitzer &
Kenneth Spirer
John Sayles &
Sonya Theriault
Jon Hinck & Juliet Browne
Joseph Paolino
Julia Clukey
Julia Durgee
Julianne Baroody &
Jonathan Donnell
Juris Ubans
Karen Foster
Karen Geraghty
Kelly McConnell &
Matthew Priddy
Kyle Souza
Laura Faure
Lauri & Ethan Boxer-
Macomber
Leslie Abrons
Lori Eschholz & Chris Beth
Louise Tuski
Mari & Tom Kroon
Mat & Hazel Holmes
Melanie & Eliot Cutler
Mike Paterniti &
Sara Corbett
Molly Bowman
Nomia
Patricia Taub
Philip Walsh
Rachael & Seth Harkness
Sarah Compton &
Matt Schaefer
Serge & Lynda Vladimiroff
Stacy Mitchell &
Jacob Halpert
Tom & Judy O'Donnell
$70+

Addy Smith-Reiman & Joshua Reiman
Andres Llorente & Erin Oldham
Andrew Griswold & Marcie Parker Griswold
Anonymous
Bill Lundgren & Carol Wolff
Catherine Richards & Robert Olney
Claire Houston & Eric Hoffsten
C.T. Darling
David Body & Elizabeth Miller
Dennis Seine, Alex Argo & Hazel
Diana Greenwold & Logan Puck
Ethan & Sarah Hipple
Jeff & Ellen Van Fleet
Jeff Norris & Laura Newman
Joe Conroy & Mary Murphy
John Henson
Joshua Bodwell & Tammy Ackerman
Kathryn Sargent
Matthew Kennedy
Patty Sprague
Peter Davoli
Peter Eiermann & Sally Struever
Sarah Auld & Tom Brokish
Stephan & Susan Myers


$50+

Adrienne Kaplan
Alison Stark
Amanda Larson
Amelia Magida
Andrew Thompson
Anja Hanson &
Derek Pierce
Anne Hallward &
Jim Rough
Anonymous
Anonymous
Ariana Fischer Interior
Designs
Arielle Saiber
Blandine Imbault
Bobbi Keppel
Bobby Young
Brian D Rioux
Carol A. Wilson
Carol Dilley
Caroline & Kevin
Fitzgerald
Casco Bay Frames &
Gallery
Cecily S. Upton &
Drew Kinney
Charles & Leisa Collins
Chelsea Amaio
Chris Beneman
Christian Downey
Christopher Ryan &
Maria Vettese
Colin Apse &
Rachelle Curran Apse
Daniel Sobel &
Kira Wigoda
David Lakari
David Regan
David Talbott &
Mary Ellen Deschenes
Deborah S. Shinn
Debra Walton
Devon Freitas
Dolores Foster
Duncan Stout &
Lynda Litchfield
Eliot Angle
Elizabeth Mayberry
Erno & Victoria
Bonebakker
Eva Goetz
Gregory & Kathyrn Renna
Gregory Harper
Hannah Doherty
Helen Rasmussen
Jack & Kate Mann
James Melloh
Jana Curran
Jason Middleton
Jeanie Campbell
Jeff Griecci
Jennifer Schmitt
Jim Chute & Sara Hayes
Joan Rogers
Johanna Horn
John Knight &
Pamela Chamberlain
Jonathan Little
Josefina Auslender
Joseph Gurka
Joshua Madore
Judith & Ted McLaughlin
Judy Murphy
Julie Poitras-Santos &
Richard Santos
Kacy Woodworth
Karla Wight
Kat Gillies
Kathleen Bender
Kathleen Spahn
Kerry McLaughlin
Kevin Butterfield
Lare Huber
Laurie Kodoch
Lee Kane
Lex Jackson
Liam Woodworth-Cook
Lucy Cooney
Lynn Duryea
Marcel Moreau
Mariah Bergeron
Marjorie Moore
Dr. Mary Fahrenbach
Mark Grover
Markos Miller
Marna Miller &
Chase Boyd
Marty McAuliff
Marty Pottenger
Matt Holden
Matt Roberts
Megan Sigovich
Mel Shapiro
Meryl Troop &
Paul Lichter
Michael Maltby
Molly Haley
Nancy Bowker
Nicole Barna
Nora Armstrong
Norah Brennan
Orianna Bailey
Pamela Bosco
Parlin Meyer
Paul LaPorte
Peter Comas
Peter J. Callnan, CPA
Philip Powell
Philip Printz
Polly Meinders
Pretty Purgatory
Pris Nelson
Raffi Der Simonian
Randi & Jude Hogan
Rebecca Nisetich
Ruth Elkin
Sadie Bliss
Sarah Alexander
Sarah Graulty
Sarah Lawrence
Sarah Speare
Spiral Journeys LLC
Sue Nutty
Susan McCloskey
Susanna Kist
Suzette McAvoy
Teresa Valliere
Teri Collard &
Paul Coughlin
Theresa Kelly
Therese Armstrong
Tim Burns
Tobin Scipione &
Soren Deniord
Yura Yasui
Zack Anchors
Staff
Kelsey Halliday Johnson Executive Director
Gibson Fay-LeBlanc Interim Executive Director
Jon Courtney Co-Founder & Film Programmer
Adam Stockman Events Programmer
Elizabeth Spavento Visual Arts Programmer
Peter McLaughlin Music Programmer
Genevieve Johnson Membership & Communications Manager
Henry Wolyniec Building Manager
Ian Hundt Production Manager
Jon Donnell Lead House Manager, Interim Volunteer Coordinator
& Building Manager
Koren Sullivan Office Manager
Martha Schnee Outreach Coordinator


Event and Sound Staff
Bobbie Pirruccello
Catherine Buxton
Greg Jamie
Jonathan Corey
Khalil LeSaldo
Matt Maloney
Nate Pronovost
Orondé Cruger
Sierra D'Amours
Board of Directors
Yemaya St. Clair, President, through November 2017
Annie Leahy, President
Jessica Tomlinson, Vice President
Cyrus Hagge, Treasurer
Annie Leahy, Secretary, through November 2017
Emily Bruce, Secretary
Chris Robinson
Desi Van Til
Donna McNeil
Jane Phillips
Kent Gordon
Laura (Winky) Lewis
Sarah Schindler
Yemaya St. Clair
Advisory Board
Alice Spencer
Alison D. Hildreth
Andy Graham
Betsy Evans Hunt
Bob Ludwig
Bree LaCasse
Carol Varney
Celine Kuhn
Christopher Campbell
David Wilson
Joe Malone
John R. Coleman
Mark Bessire
Ruby Lerner
Board Committee Members
Ali Saccani
Alice Wagg
Alisan Kavookjian
Celine Kuhn
Chris Corbett
Darcy Brennan Poor
Henry Wolyniec
Hilary Lefebvre
Ilana Kirsztajn
Jesse Thompson
Joanna Shaw
Kate Malin
Laura Mazikowski
Interns
Annie Dodson
Brendan Shea
Daniel Kayamba
Daveed Thete
Dylan Greenlaw
Ian Colwell
Jacilyn Spencer
Julia Whyel
Luna Colt
Mike Curran
Miles Brautigam
Nyanen Deng
Sam Butler
Will Denton
Volunteers
Abbie Osgood
Abby Flanagan
Alyssa Phanitdasack
Amanda Hawes
Amy Parker
Andrew Cavacco
Anne Ponsor
Asher Woodworth
Brad Goodwin
Brian Wasser
Brody Wood
Caitlyn Au
Cheryl Splane-Borja
Chris Stamas
Christian Letourneau
Cris Durocher
David Romani
Dawn Tully
Diana Clarke
Douglas W. Milliken
Erika Hayen
Fiona Robins
Francesca Butterfield
Hannah Little
Harry Milligan
Hayleigh Morrow
Isabella Browne
Jacob DeRaadt
Jaime Wing
Janna Rayworth
Jared Haug
Jeremy Bruce
Jessica MilNeil
Jessie Cornish
Jillian McLeod-Tardiff
Jo Bell
Jocelyn Leighton
John Wilson
Julie Baroody
Justine Henry
Katie Roberts
Kelsey Riordan
Lee House
Lillian Christine
Lindsay Malboeuf
Lindsay Stone
Lindsey Campbell
Lynn Waldon
Madeline Macomber
Mal Smith
Mari Kroon
Markus Maynard
Mazie Biswell
Meg Hahn
Melissa Sandoval
Nadia Prupis
Olivia White
Phil King
Philippa Adam
Rikki Hayden
Riley Watts
Rosellen Earl
Sadie Poulin
Sam SaVaun
Sara Juli
Sawyer Knowlton
Seth Gill
Shane Sims
Skip Sullivan
Tyler Croteau
Vanessa Poirier
William Dickie