Get Involved
---
Intern Position – Applications submitted by January 17th
SPACE Gallery is looking for a Grants and Programs Intern to assist in various aspects of our visual arts and residency program, with a focus on the Kindling Fund grant program. This is a very hands-on opportunity. Ideal candidates will have a schedule that allows for flexibility. Other than predetermined office hours, schedules will likely vary week to week, based on artist arrival, departure, and installment schedule. We are looking for someone excited to learn about the process of working collaboratively with visual artists and promoting their work at SPACE.
Duties
The candidate will gain hands-on experience with:
Working with the Projects Manager to maintain logistics of the Kindling Fund grant program including regular communications with past and present grantees, website maintenance, social media asset management of artists' works and projects, and other duties as assigned.
Assisting staff and incoming artists with installations in the galleries or residency accommodations. Responsibilities may include painting, art handling, light to heavy lifting, logistics prepping, dancing, delirium, and many rewards.
Drafting press material, gathering image files and editing descriptions of events/exhibitions/artist bios/grantee pages.
WordPress event creation and management.
Work in conjunction with Artist in Residency program, helping to maintain residency room, plan and promote artist talks, and website maintenance.
Independent projects developed in tandem with the intern's professional and personal goals/interests.
Assist with the updating of the website with archival and upcoming artist information, coordinate the gallery binder with related materials.
Coordinating and assisting with events/programs, or staffing gallery hours as needed.
Qualifications
We seek new team members who:
Have general knowledge/experience/interest in contemporary arts especially visual arts but also can include music, film, literature, and/or performance.
Are comfortable with general art handling and/or carpentry and/or fine arts skills and a willingness to learn.
Capable of basic file and digital image handling/management.
Are reliable and punctual/clear communication about scheduling.
Have excellent organizational skills.
Have an interest in socializing with artists and working collaboratively to see their visions realized or promoted.
Are comfortable working independently and are resourceful.
Can prioritize and are proactive problem-solvers.
Will be motivated to work in a busy but exciting environment.
Will want to be part of a team contributing to a lively downtown arts environment.
Are in touch with their general fabulousness and have a healthy sense of curiosity!
We seek applicants who are eager to become immersed in an alternative arts venue. Individuals who are considering a career in creative and issues-based programming are highly encouraged to apply. This position is best suited for emerging arts professionals including undergraduates, recent grads, those currently enrolled in MFA programs, or those seeking mentorship to find a career path in the arts. Arrangements for school credit are encouraged if applicable.
Schedule & logistics
Flexible scheduling – 10 hours/week over the course of 5 months, weeks off for spring break/school or work, etc. $1000 stipend paid in two payments, plus free admission to all SPACE programs.
To apply:
Please send a resume, cover letter, and an example of your creative work (could be fine arts, media, graphic design, or writing) to jobs@space538.org with the subject line "Grants and Programs Intern" by January 17, 2022.
SPACE Covid Policy
SPACE's offices have ventilation, all staff use masks when meeting together in person, remote large group meetings are hosted weekly, and our event policy is to require proof of vaccination or a negative test.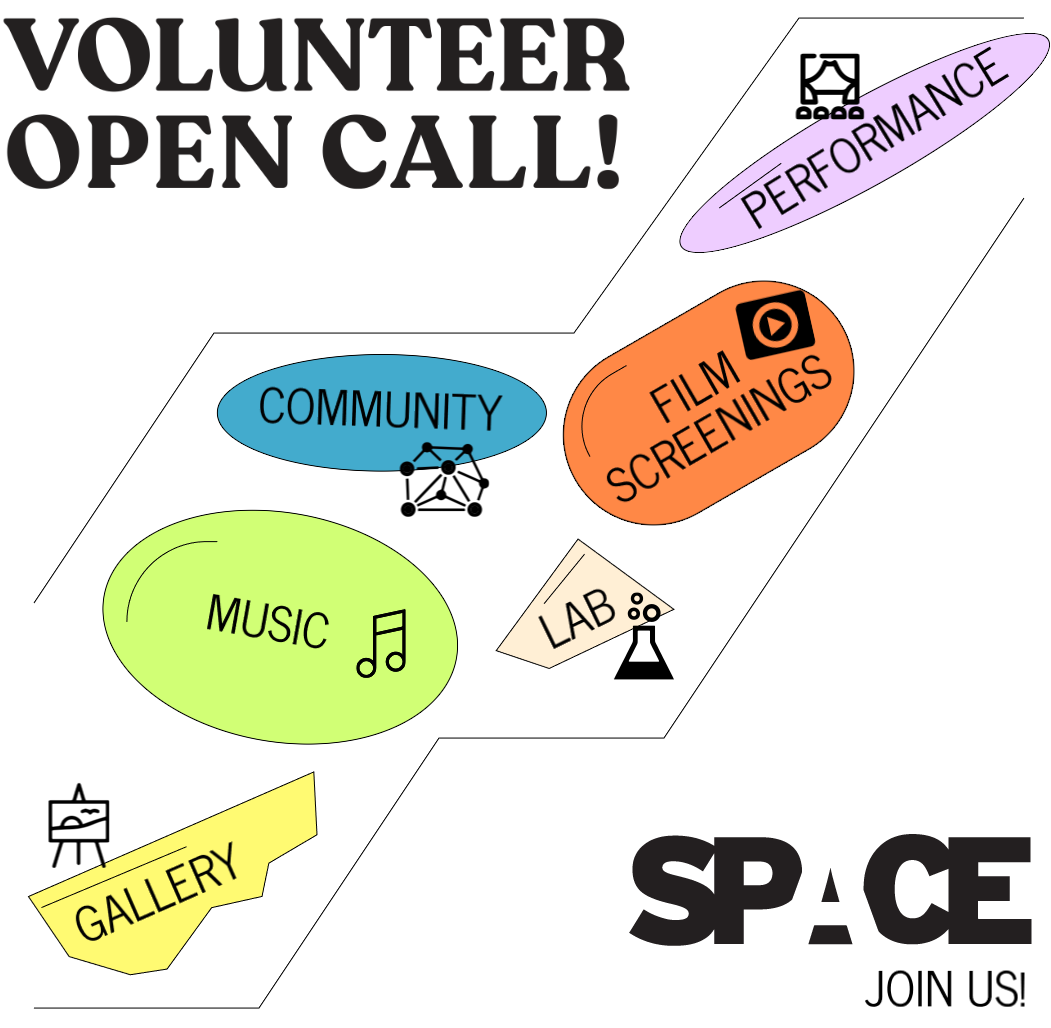 Join the SPACE Volunteer Team!
Volunteers are and have been the backbone of SPACE, and we are so grateful to our public ambassadors and for their generous, vivacious, and wonderful spirits that have brightened our building and events. Thank you volunteers!
If you or someone you know would like to become a part of the volunteer team here at SPACE, please fill out this online application (Google Forms), or email Jocelyn Leighton at jocelyn@space538.org for more information. Jocelyn is our volunteer manager and would love to hear from you.
Volunteering at SPACE includes working the door at our events for live music, film, theater, and more. We also will be bringing back gallery sitting hours slowly but surely. Additional opportunities for volunteering include gallery installing, deinstalling, flyering, staff/volunteer trainings, and much more!
---
SPACE Gallery
SPACE Gallery is a nonprofit multi-disciplinary art organization in Portland, featuring visual arts exhibitions, live music and performances, film screenings, lectures, workshops, community-based events, an artist-in-residence program, administers grants to artist projects throughout the state of Maine, and more. SPACE's mission is to support contemporary arts projects, champion artists, and encourage an open exchange of ideas.
Employment Practices
SPACE is a proud Equal Opportunity Employer and considers all candidates for employment regardless of race, color, gender identity, sex, sexual orientation, age, national origin, creed, or disability. Our organization values equity in the arts, elevates differing perspectives, and is committed to creating an inclusive environment for all employees, audiences, and artists. We strongly encourage and welcome applications from people/artists of color, of Indigenous origin, of all abilities, and LGBTQ+ candidates.
Health & Safety
Please be advised of our current COVID-19 policies.
Until further notice, SPACE requires that all staff, volunteers, audience members, and program artists attending or performing at indoor shows are fully vaccinated for the COVID-19 virus.
A digital or physical copy of your CDC vaccination card can be presented at the door at the time of the show.
Medical exemptions can be accommodated with a negative COVID-19 test within 24 hours of the show date.
Masks are required inside all SPACE buildings.