APPROPRIATE | MAD HORSE THEATRE COMPANY
Info
Saturday, February 15 2020
7:30 PM
Doors & Box Office at 7:00 PM

Tickets
$15 for SPACE members
$18 Advance
$20 Day-Of Show

Every estranged member of the Lafayette clan has descended upon the crumbling Arkansas homestead to settle the accounts of the newly-dead patriarch. As his three adult children sort through a lifetime of hoarded mementos and junk, they collide over clutter, debt, and a contentious family history. But after a disturbing discovery surfaces among their father's possessions, the reunion takes a turn for the explosive, unleashing a series of crackling surprises and confrontations.
"…prodigiously gifted… [Branden Jacobs-Jenkins] effortlessly and believably taps into a white family's dysfunction, infuses the script with unforced, viperish humor… APPROPRIATE is an uncommonly deft dramatic and technical achievement."
—Entertainment Weekly.
"Appropriate" is, at heart, a ghost story, in the most profound sense…Without forcing us, this remarkable and devious play allows us to draw our own parallels with the human sound and fury that fills most of the evening."
—The New York Times
"What is exhilarating about the play is that Jacobs-Jenkins pushes everything to the limits."
—The Guardian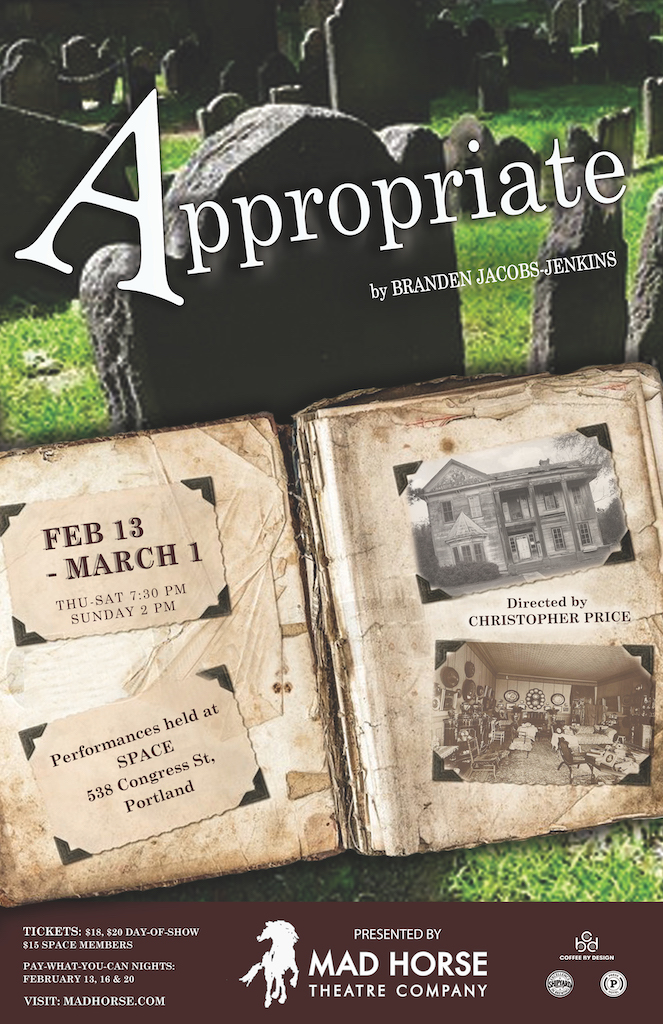 Cast + Crew
Cast
Toni: Christine Marshall
Rhys: Luis Del Valle III
Bo: Burke Brimmer
Rachael: Janice Gardner
Cassidy: Maiya Koloski
Ainsley: Oliver Killeen
Franz: Brent Askari
River: Marie Stewart Harmon
Crew
Director: Christopher Price
Production Manager: Nick Schroeder
Stage Manager: Lauren Stockless
Scenic Designer: Christopher Price
Lighting Designer: Corey Anderson
Prop Designer: Stacey Koloski
Costume Designer: Savannah Irish
Sound Designer: Nat Baldwin
---
*** PAY WHAT YOU CAN POLICY

Mad Horse Theatre Company & SPACE are setting aside three shows where walk-up tickets will be available at a pay-what-you-can price. These dates are Feb. 16, Feb. 20, and Feb. 23. These tickets will be offered at the door and availability will be determined by the number of tickets already purchased in advance for that performance.

Additionally, pay-what-you-can tickets are available for any audience member under 25 for all shows. Again, this policy is for walk-up, day-of-show purchase only and availability will be determined by the number of tickets already purchased in advance.