SOLD OUT: Bill Callahan with Marisa Anderson @ First Parish Church
INFO
Saturday, May 20 2023
8:30pm
doors at 7:30pm

TICKETS
$32 advance
$40 day of show
$2 off for SPACE members

LOCATION
First Parish Church
425 Congress St
Portland, Maine

Due to overwhelming demand, we are moving this show to First Parish Church at 425 Congress St.

SPACE members, please note that "admit one" member passes cannot be used for this event as it is an offsite event. Thank you for your understanding.
The gothic folk songwriting legend makes his SPACE debut, playing his first show in Maine in two decades, with special guest Jim White on drums.
"And we're coming out of dreams / And we're coming back to dreams" is the first thing you hear Bill say as you remake your acquaintance on YTI⅃AƎЯ. Right out the gate, he's standing in two places at once: meeting up with old friends behind the scenes and encountering them on the record, finding himself coming round the bend and then again as someone else on down the line. Like the character actor he played on Gold Record, writing stories about other people, telling jokes about everyone, and in singing them, becoming the songs.
"You do what you've got to do / To see the picture." Bill's got a full band sound going on this one, with him and Matt Kinsey on guitars, Emmett Kelly on bass and backing vocals, Sarah Ann Phillips on B3, piano and backing vocals and Jim White on drums. Jim and Matt sing on one song, too, and some other singers come in, too. Bill plays some synth here and there, and Carl Smith drifts in and out of the picture with his contra alto clarinet, as do Mike St. Clair and Derek Phelps on brass. Somehow in between them all, you might think you hear the distant sound of a steel guitar. And you might—but you might not, too. In this company, Bill continues his journey, tunneling underneath the weathered exterior of what seems to be and into the more nuanced life everything takes on in the dark. With Bill's voice making the extraordinary leaps and bounds that measure the lives of the songs, the band follow him through passages that seem to invent themselves; other times playing with deeply soulful grooves and/or desperate intensity, as these moments come and go. There's nothing they can't do.
"I wrote this song in five and forever / I'm writing it right now," Bill sings on "Natural Information"—an admission of the everyday alchemy he's forever trafficking in. Time passes, triangulating the encounters that went into any one record with two out of any three others, all of it made flesh, new constitution, in our stereo speakers. If every album is its own life, it stands to reason that they're invariably passing in the night. Cascading images flowing from the stream of consciousness. Turning like pages from the journal, unspeakably personal, then suddenly become tall tales, like a book pulled off the shelf, completely unbound. Headlines flow through. Mirror images, mirthful ones. Bill's lyrics strain at the lines on the page, not content to separate the printing of the fact from the myth or be confined to ink on paper. They want to fly free. And they do.
"I realize now that dreams are real." On YTI⅃AƎЯ's inner sleeve, alongside his lyrics, Bill celebrates the "exhilaration and dread" of cover artist Paul Ryan's paintings. Paul's another one met up with again down the road, his indelible cover imagery on Apocalypse and Dream River now an axis of meaning in the Callahanian world—and in the bright colors found in these new images, a parallel to Bill's recognitions here. "A breath of exquisite air as we come up from drowning", sounds like the desired hope for those hearing the songs of YTI⅃AƎЯ.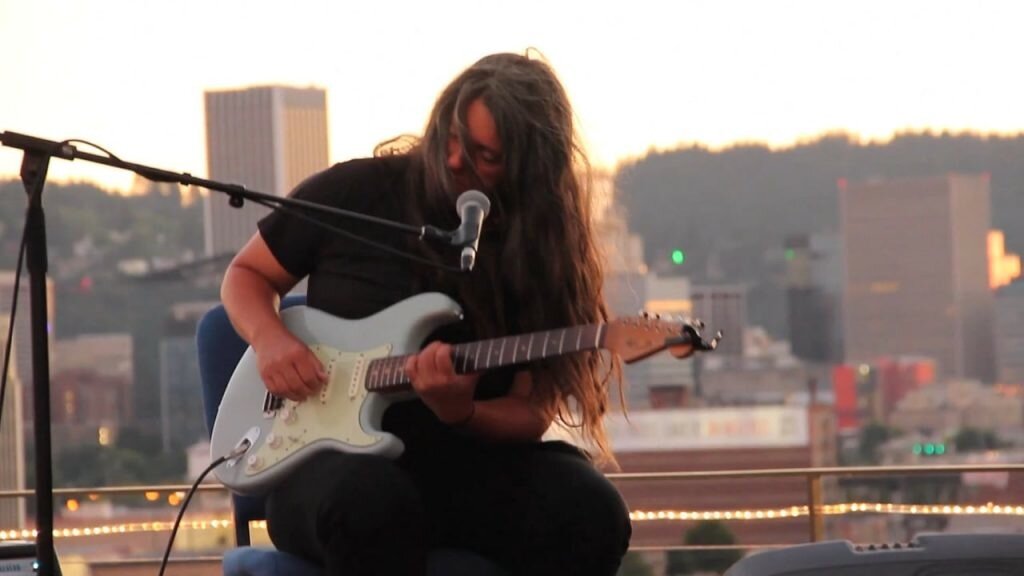 Marisa Anderson channels the history of the guitar and stretches the boundaries of tradition. Her deeply original work applies elements of minimalism, electronic music, drone and 20th century classical music to compositions based on blues, jazz, gospel and country music, re-imagining the landscape of American music. The New Yorker calls Anderson 'one of the most distinctive guitar players of her generation', while NPR refers to her as among 'this era's most powerful players' . Her work has been featured in Billboard, Rolling Stone, NPR, SPIN, Pitchfork, the BBC and The Wire. Festival appearances include Big Ears, Pitchfork Midwinter, Le Guess Who and the Copenhagen Jazz Festival.
Anderson's discography includes six solo records and multiple collaborations. Her latest release, Still, Here was released to wide critical acclaim in September 2022 . Anderson is sought after as a collaborator and composer, recording 2020's The Quickening with Jim White (Dirty Three) and 2021's Lost Futures with guitarist William Tyler, and contributing to recordings by Matmos, Tara Jane O'Neil, Beth Ditto, Sharon Van Etten and Circuit Des Yeux among others. She creates music for films and soundtracks, most recently contributing the score for A Perfect Day For Caribou which premiered in 2022 at the Locarno Film Festival.