BLIND TIGER FUNDRAISER
INFO
Saturday, September 23 2017
6:00 PM TO 10:00 PM

Psst! SPACE Gallery is throwing a Speakeasy on Little Diamond Island, and as long as you don't tip off the authorities, we'd really like you to come as we take this party underground!
With whiskey in our teacups and sultry Italian pop by Tredici Bacci floating on the waters of Casco Bay, we'll have blackjack, craps, and roulette for the high rollers, tail feather-shaking for the young at heart, delicious food and (ahem) spirits for the bon vivants, and knowledge for everyone that our revelry keeps SPACE Gallery doing what it does best! Keep your ears to the ground all evening for a password that will get you into a secret performance in an unexpected location! 
Figgy's, The Roma, Woodford F&B, Lolita, and Nonesuch Oysters will put food in our bellies. Hunt & Alpine Club, Louis Latour and Oxbow will help it all go down easy, and Darcy Poor and Sarah Hipple will sweeten the deal.
We'll have fabulous prizes for the casino's top winners, including a night at the Press Hotel, an auction with bespoke artwork by Jim Drain and Anne Buckwalter (made just for SPACE!) plus a beautiful Kate Abercrombie painting. 
Dress Code is Moonshine Marvelous or Speakeasy Smooth. Break out your fringe and feathers, your fedora and vests, or dress like you're keeping it all on the down-low: the choice is yours.
All funds raised by this event will go towards SPACE'S diverse programming, community conversations, and support for emerging artists.
Write codeword "bathtub gin" in your little black book for September 23rd, and see you on the island for our Blind Tiger Bash!
SPACE IS LIMITED, SO DON'T MISS OUT!
**Guests should take the 5:45 PM ferry from Casco Bay Lines to Little Diamond Island. The ferry will stop at the Casino. Return ferries depart LDI at 8:00 PM, 8:35 PM, and 10:30 PM.
THANK YOU TO OUR HOST COMMITTEE AND SPONSORS
Adam Gardner & Lauren Sullivan // Alec Porteous // Alice & Geoff Wagg // Betsy Evans Hunt & Chris Hunt // Bill Roorbach & Juliet Karelsen // Bree LaCasse & Chris Moore // Celine & Chris Kuhn // Chelsea & Noah DeLorme // Chris & Alyson Claudio // Chris & Maggie Robinson // Christopher Campbell // Cyrus and Patricia Hagge // Damien & Ali Saccani  // Dan Crewe // Darcy Brennan Poor & Matt Poor // Desi Van Til & Sean Mewshaw // Donna McNeil // Donyelle Werner + Alexander Ivanov // Eileen Gillespie // Elizabeth and Christian Thomas // Emily & Duncan Bruce // Erica Schair-Cardona & Ivan Cardona // Erik Jorgensen & Tamara Risser // Herbert + Melanie Clarke // Hilary Lefebvre // Ilana Kirsztjain & Kevin Tidwell // Jack & Jane Phillips // Jim & Julia Brady // John Ryan & Jenny Scheu // Justin & Rachael Alfond // Kate & Ian Malin // Kate Maurer // Laura Mazikowski & Pokey Amory // Lily King & Tyler Clements // Mary Allen Lindmann // Matt & Emily Delameter // Mike Carey & Annie Leahy // Nat May + Jenna Crowder // Nat Thompson // Patty & Eddie Howells // Paul & Dodo Stevens // Phuc & Sue Tran // Sara Crisp & Gregg Lipton // Sarah Flink & Willy Ritch // Stephen Benenson & Merry Fogg // Susan Conley & Tony Kieffer // Susan Morris & Chip Newell // Susanna & Rich Dubois // Taffy & Eliot Field // Winky Lewis & Alex Millspaugh // Yemaya & Lucas St.Clair //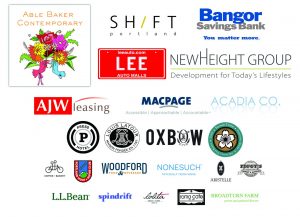 AND OUR EVENT COMMITTEE
Ali Saccani // Alice Wagg // Alisan Kavookjian // Darcy Brennan Poor // Desi Van Til // Emily Bruce // Genevieve Johnson // Gibson Fay-LeBlanc // Hilary Lefebvre // Ilana Kirsztajn // Kate Malin // Kelsey Halliday Johnson // Sarah Flink // Peter McLaughlin // Yemaya St. Clair //