SOLD OUT: Boston Dance Theater's The Carol Kaye Project
DATE AND TIME
Friday, June 9 2023
8:00pm
7:30pm doors

TICKETS
$32 advance
$35 day of show
$2 off for SPACE members

Boston Dance Theater's The Carol Kaye Project is a collection of fun, short dance works that celebrate seminal bass guitarist Carol Kaye.
Since the early 1960s Kaye played on an estimated 10,000 recording sessions, with everyone from The Beach Boys to Marvin Gaye, yet she remains relatively unknown. Boston Dance Theater chose choreographers Karole Armitage, Rena Butler, Rosie Herrera, and Jessie Jeanne Stinnett to honor Kaye's extensive musical repertoire. This diverse cohort of powerhouse American women embody Kaye's genius through sweaty, whimsical, and thoughtful choreography. The show includes exclusive interviews from prominent electric bassists, highlighting the breadth of Carol's influence on an entire generation of musicians and music lovers.
Dance Magazine recently acknowledged the project's innovation, adding BDT to its "Top 25 to Watch in 2021". Chief Editor, Jennifer Stahl, writes, "By consistently making these kinds of savvy curatorial choices—and pulling them off with finesse—BDT's quickly grown into a company with appeal far beyond Boston's city limits."
Kaye's work as an educator and author has shaped and developed generations of bass players. During the show, you will hear the following voices: Steve Bailey (Berklee College Bass Department Chair), Dave Buda (Berklee College Bass Faculty, Boston Pops), Annie Clements (Amos Lee, Sugarland), Mike Gordon (Phish), Grant Stinnett (No Treble Magazine 'Fast-Rising Star') and Victor Wooten (Bela Fleck and the Flecktones).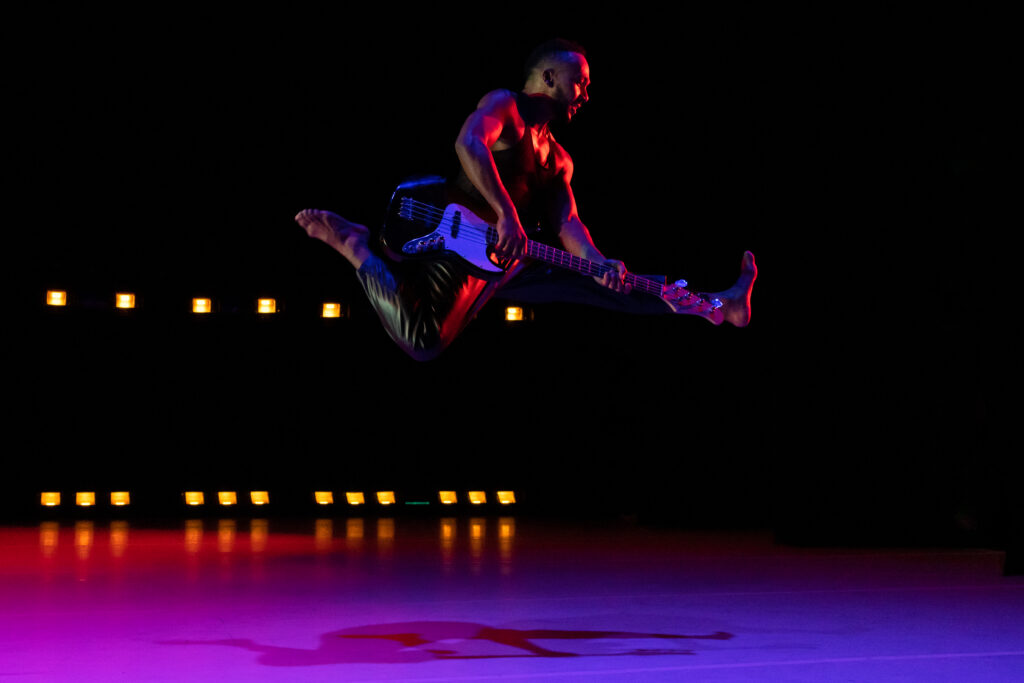 Photo by Melissa Blackall
After spending over a year creatively navigating the pandemic arts lockdown, BDT returned to the ICA Boston stage in October 2021 with the first iteration of The Carol Kaye Project, premiering "For the Record" by Rena Butler and "Ofrenda" by Rosie Herrera. In March 2022 the Seattle International Dance Festival invited BDT to perform Butler and Herrera's pieces. 'Ofrenda' was performed again at Jacob's Pillow's iconic Henry J. Leir outdoor stage in August of 2022, and was later presented by Global Arts Live in November at the ICA Boston with the full evening length suite of works.
The project has been built in close collaboration with BDT's all-star team of core dance artists. Numerous press critics have acknowledged their artistic excellence, including WBUR: "Some of the best contemporary dance the nation has to offer," Boston Magazine: "moves you don't want to miss", and Boston Globe: "the dancers continue to impress with committed, technically skilled performances."
Funded in part by the New England States Touring program of the New England Foundation for the Arts, made possible with funding from the National Endowment for the Arts Regional Touring Program and the six New England state arts agencies.