caroline with Hour
INFO
Saturday, October 1 2022
8:00pm
doors at 7:30pm

TICKETS
$15 advance
$18 day of show
$2 off for SPACE members

SPACE currently requires masks for all event attendees. Please refer to our health and safety policy for more information.
---
Much buzzed about London-based 8-piece folk outfit make their US debut with a special "in the round" performance.
London-based eight piece caroline are excited to announce that their eponymous debut album, mixed by John 'Spud' Murphy (black midi, Lankum), will be released on Feb 25th 2022 via Rough Trade Records. Hear 'IWR' a new track taken from the forthcoming album and check out its self-directed video now. 'caroline' will be available on the usual formats but also as a 'Dinked' limited vinyl edition of 600 numbered copies available through UK independent record shops on transparent vinyl with a bonus 7" featuring exclusive audio and a signed print.
caroline began in early 2017, evolving out of weekly improvisation sessions. Band members brought together their shared influences, including Midwestern emo, Appalachian folk, minimalist classical and various forms of electronic music, slowly expanding their ranks as the songs developed. Rough Trade released their debut single "Dark blue" in March 2020, and the eight-piece were nominated as Ones To Watch at the 2020 AIM Awards where they were narrowly beaten by Arlo Parks. A second single 'Skydiving onto the library roof' followed in May 2021.
Mike O'Malley explains the thinking behind new single 'IWR', "Jasper was sending a lot of home-recorded nylon guitar and singing ideas, and one just stuck because it was just a really beautiful vocal melody. We had an initial guitar-based idea, then we decided that on a certain chord this wall of violins should come in." They experimented with an idea of "extreme closeness," recording the guitar as quiet as possible, with the microphone placed right next to it and the gain turned up to the maximum.
A version of 'Dark blue', caroline's sublime first single opens the album, written on the day Casper Hughes, Jasper Llewellyn and Mike O'Malley first started playing together half a decade ago. Llewellyn and Hughes met at university in Manchester, and on moving to London invited Llewellyn's old friend Mike O'Malley to form a group, rehearsing in the upstairs room of a South London pub. Yet as they kept on playing that hypnotic 'Dark blue' riff, it became clear that something altogether deeper was emerging. "As soon as 'Dark blue' became more structured, we thought some swoony violin would be good," says O'Malley. To provide it, they recruited Oliver Hamilton, who had also had a stint on bass in their early days.
As the band's sound kept expanding, so too did their line-up, eventually becoming an eight-piece completed by trumpeter and bassist Freddy Wordsworth, another violinist Magdalena McLean, percussionist Hugh Aynsley and flute, clarinet and saxophone player Alex McKenzie. By the time the cast settled towards the end of 2019, the songs too were expansive and emotive pieces, their rich palette drawing on a mixture of choral singing, Midwestern emo and O'Malley and Llewellyn's roots in Appalachian folk.
On 'caroline', songs can cascade like an avalanche with the full force of all those instruments, squalling and rumbling on the edge of all-out collapse. At other times they slip back into impossibly fragile moments of quiet – a simple bassline or a rattle of snare the only sound amid a dark sea of silence. caroline know exactly the right balance between restraint and release. "Sometimes things sound much better when there's empty space," says Llewellyn. "Sometimes you might populate [a song] with too many things and forget that an element on its own is enough."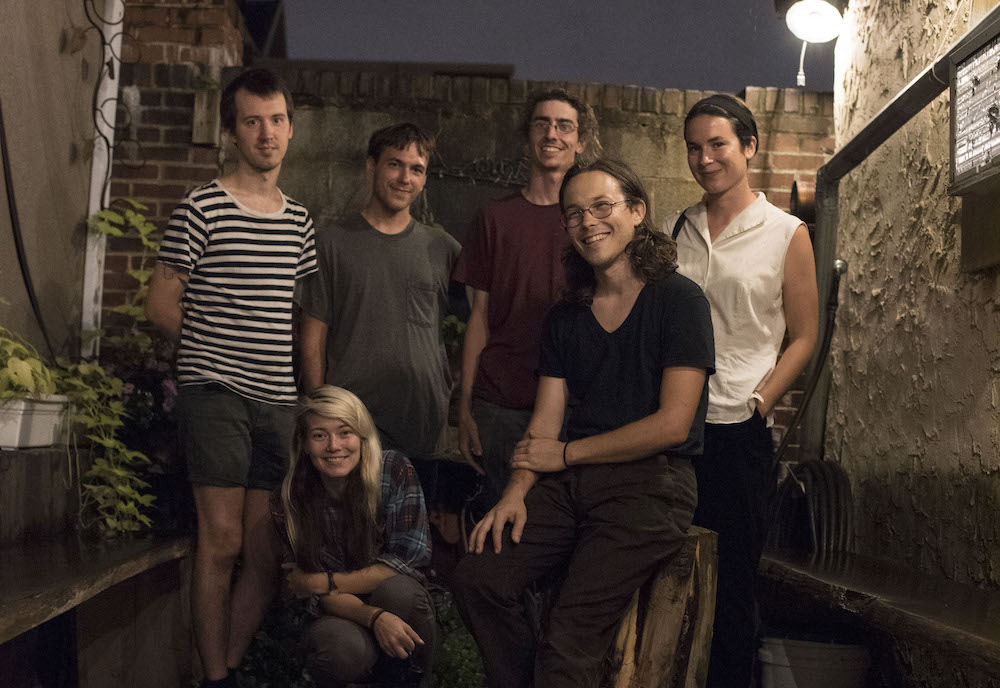 Formed in 2017 by composer/multi-instrumentalist Michael Cormier-O'Leary (Friendship, Dear Life Records), Hour interlaces atmospheric ambience with thoughtful melodies that drift through contemplative tension narrated by guitars, synths, strings and percussion.
Released in February 2018 on Sleeper Records, debut LP Tiny Houses explores the dusty corners of spaces we call home. Each song balances the transcendence and claustrophobia of building a life with another person.
Nine months later, in November 2018, the band released their Lily Tapes and Discs debut Anemone Red. Named in reference to the flower that grew from a mixture of blood and tears in the Greek myth of Aphrodite and Adonis, Anemone Red meditates on the colors and moods that arise in the wake of loss. The phrases of each song hover and shine like dust particles, glowing in a patch of light refracted through an attic window at dusk. Each track brushes slowly at the outline of an unknowable story, flipping through curled, faded memories, stirring up a deep longing for someone you never truly met, if at all.

Both records achieved critical acclaim from outlets such as Stereogum, NPR, Goldflakepaint, Line of Best Fit, and more. Comedian Joe Pera told Pitchfork that Tiny Houses was one of the albums he listened to for inspiration when writing season 3 of his show Joe Pera Talks With You.
Hour has shared the stage with Loren Connors, Kath Bloom, Sam Amidon, Jeffrey Lewis, and more.
The current group is made up of pianist Erika Nininger, cellist Evan McGonagill, drummer Peter McLaughlin, and bandleader/guitarist Michael Cormier-O'Leary.