ENOUGH! Book Launch
Tuesday, October 27 2020
7:00 pm EST

Littoral Books, SPACE, and MWPA are pleased to celebrate the launch of the timely anthology Enough! with a reading by Samaa Abdurraqib, Carol Bachofner, Kathleen Ellis, Sharif Elmusa, Myronn Hardy, Reza Jalali, Mihku Paul, Arisa White and Maya Williams. Join us on Zoom a week before the election on Tuesday, October 27th at 7pm, to hear leading voices in Maine poetry celebrate their right to free speech in a collection of poems that highlights resistance and protest.
Enough! Poems of Resistance and Protest, out now from Littoral Books, was inspired by poets' reactions to the murder of George Floyd and the Black Lives Matter protests that occurred in Maine and all over the country in response to it. Twenty-seven Maine poets were moved to speak out and give voice to what living in this time feels like, a time of outrage and struggle, protests and pandemic – writing with passion, anger, grief, and strength about this very moment in which we are living. Praised by Inaugural Poet Richard Blanco as "a powerful, prevalent and unflinching collection of political protest poetry in response to systemic racism and economic injustice," the anthology includes fifty poems by poets from all over the state, and photographs of local protests by Portland documentary photographer, Nicholas Gervin.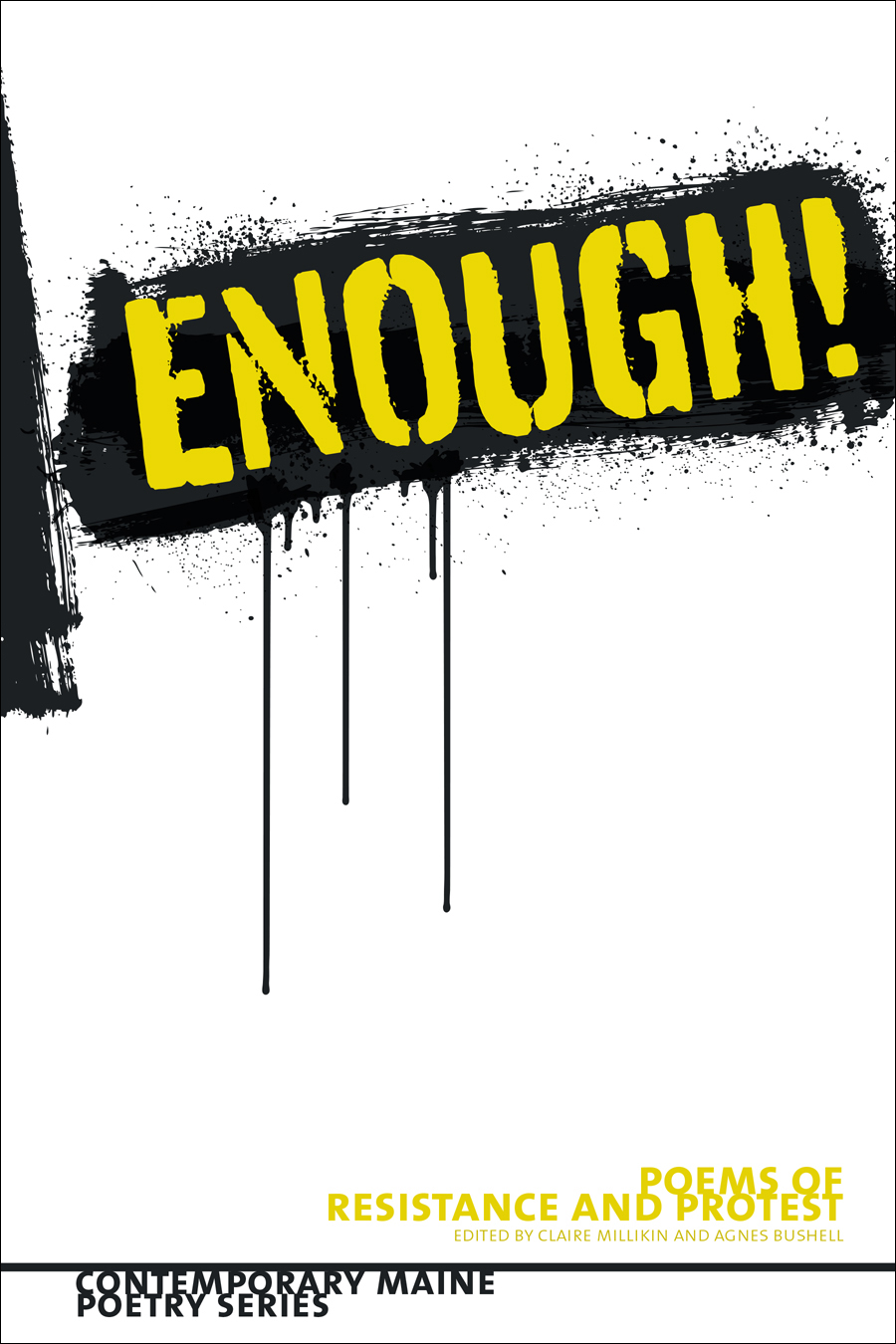 About the Poets
Samaa Abdurraqib has been living on Wabanaki/Abenaki land since 2010, and is currently residing in Portland. All day, every day, she loves: ALL Black people, queer people, trans people, all the beautiful birds, and her ever-so-charming handsome cat, Stashiell Hammet. She's returning to poetry after a 20 year hiatus and is finishing her first chapbook, Each Day is an Anchor.
Carol Bachofner served as poet laureate of Rockland, Maine, from 2012 to 2016. She is the author of seven books, most recently 365: A Year of Writing Adventures (2019). Her poems have appeared in numerous journals and anthologies including Dawnland Voices: An Anthology of Writings from Indigenous New England and Unraveling the Spreading Cloth of Time: Indigenous Thoughts Concerning the Universe.
Kathleen Ellis's latest collection is Outer-Body Travel. In addition to the Pablo Neruda Poetry prize from Nimrod and Southwest Review poetry prize, she has received fellowships from the National Endowment for the Arts and Maine Arts Commission. She teaches literature and creative writing at the University of Maine.
Sharif S. Elmusa is a scholar and poet. Apart from academic publications on the environment, he co-edited Grape Leaves: A Century of Arab-American Poetry, and authored the poetry collection Flawed Landscape. His poems and essays have appeared in numerous periodicals and anthologies. He holds a Ph.D. from MIT, and is Professor Emeritus at the American University in Cairo.
Myronn Hardy is the author, most recently, of Radioactive Starlings, published by Princeton University Press (2017). His poems have appeared in the New York Times Magazine, Virginia Quarterly Review, The Baffler, Rhino, and elsewhere. He teaches at Bates College.
Reza Jalali was born in Kurdistan, Iran. He came to Maine as a refugee. His award-winning children's book, Moon Watchers, was published in 2010. He is the author of Homesick Mosque and Other Stories. His play, The Poets and the Assassin, has been staged numerous times. He teaches at the University of Southern Maine.
Mihku Paul is an Indigenous writer, visual artist and storyteller. A Maliseet, she is a member of Kingsclear First Nation, N.B., Canada. Her first book of poetry, 20th Century PowWow Playland was published in 2012. She has taught fiction writing at the University of New England and facilitates cultural workshops for Native women and youth.
Arisa White is a Cave Canem fellow and an assistant professor of creative writing at Colby College. She co-authored Biddy Mason Speaks Up, the second book in the Fighting for Justice series for young readers. Who's Your Daddy, a poetic memoir, is forthcoming from Augury Books in 2021.
Maya Williams is a Black Mixed Race suicide survivor and writer currently residing in Portland, Maine. They have contributed poems to venues such as the Portland Press Herald, Black Table Arts, Frost Meadow Review, Occulum, Homology Lit, and more.
Photographer:
Nicholas Gervin is a documentary and fine art photographer from Portland, Maine. His work has appeared in numerous local and international magazines. His monograph, The Lines Don't Lie, documented the contemporary freight-train, graffiti-art culture of New England. He is currently at work on a monograph entitled Resurgam documenting life in Portland from 2013 to 2020.
About Littoral Books
Littoral Books is an independent press based in Portland, Maine. It was started in 1975 by members of the Portland Women's Group, and was one of the founding members of the Maine Writers and Publishers Alliance. The press took a forty-three year hiatus from publishing, but re- emerged in 2018 and has since published eight books including collections of poetry and short fiction and a climate change anthology, A Dangerous New World: Maine Voices on the Climate Crisis.