House Show #18: BAIT BAG
Saturday, October 31 2020
8:00 PM EST

We are thrilled to announce that feminist punk-adjacent idols, Bait Bag, will perform a special Halloween edition of SPACE House Shows to close out Vol. 2 of the series. Join us Saturday, Oct 31st at 8:00 PM EST on Instagram for some Bait Bag classics, spooky covers, and whole a lot of "Halloween vibez."
Donations from this event will be split between the artists and Maine-Wabanaki Reach.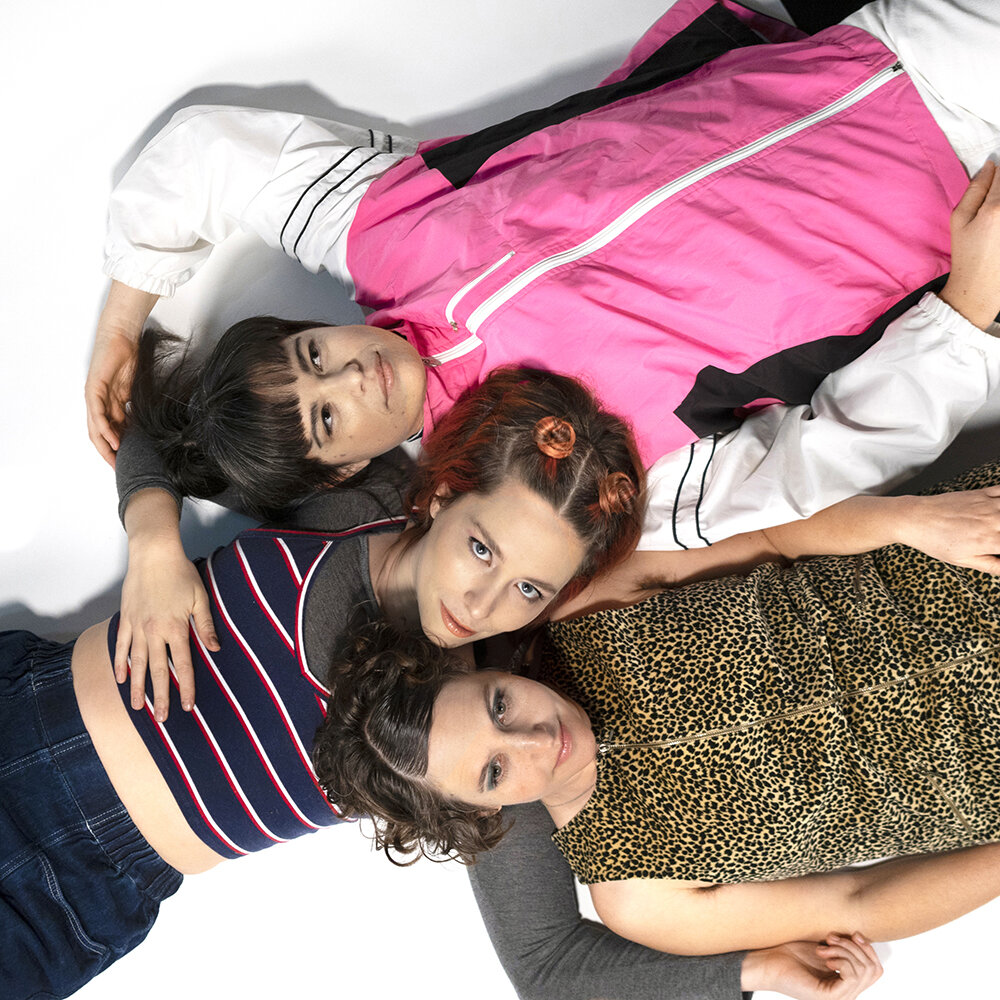 Bait Bag was founded in the summer of 2018 by Fiona Robins, Claire Donnelly, and Courtney Naliboff, on the island of North Haven, Maine. Needing catharsis after being weighed down by constant bad news, the three women got together to make loud music. Their tone is planted firmly in rock and roll with a nod to punk and a knowing wink at the riot grrrl movement. Inspired by bands like Sleater Kinney, Blondie and Le Tigre, as well as anything loud, fun and inclusive, Bait Bag's songs are intended to empower and excite, or at least give other frustrated people something to flail around to. Bait Bag opened for Deerhoof at Brighton Music Hall in Boston, MA and for Screaming Females at Port City Music Hall in Portland, ME, and has performed at the Bitter End in New York City. They won the "Outstanding Performance" award from Music Video Portland. They released their forth EP, Consider This a Warning, on March 6th at Port City Music Hall during the Maine Academy of Modern Music "Girls Rock" weekend. And their Tiny Desk Contest Submission "Good Guy" recently received a "Desk of the Day" feature on NPR Music's social media.
About Maine-Wabanaki REACH
Maine-Wabanaki REACH advances Wabanaki self-determination by strengthening the cultural, spiritual and physical well-being of Native people in Maine. We see a future where Maine and Wabanaki people join together, acknowledging truth, promoting healing and creating change.

REACH (Restoration-Engagement-Advocacy-Change-Healing) began as a collaboration of state and tribal child welfare workers who knew from their work together that children, families, and communities need truth, healing and change.
REACH initiated the Maine Wabanaki State Child Welfare Truth and Reconciliation Commission and supported the Commission as it worked in Wabanaki and Maine communities. You can read the Commission's findings and recommendations, which inform and guide REACH's work and vision for the future.