Lapsis
Friday, February 26 2021
$6.99 ticket.
2 day rental period following payment.

New York, an alternate present: the quantum computing revolution has begun and investors are lining their pockets in the quantum trading market. Building the network, though, requires miles of infrastructure to be laid between huge magnetic cubes by "cablers" – unprotected gig workers who compete against robots to pull wires over rough terrain.
Queens delivery man Ray Tincelli is skeptical of new technology, and the buy-in to start cabling is steep, but he struggles to support himself and his ailing younger brother, who suffers from a mysterious illness. So when Ray scores a shady permit, he believes their fortunes may have finally changed. What he doesn't expect is to be pulled into a conspiracy involving hostile cablers, corporate greed, and the mysterious "Lapsis" who may have previously owned his permit. Called "a smart class-conscious sci-fi parable" by The Hollywood Reporter, LAPSIS is a darkly comic and timely look at the gig economy and the failed utopian promises of big tech.
"A sharp take-down of unfettered crony capitalism."Christopher Reed, Hammer to Nail
"A smart class-conscious sci-fi parable."John Defore, The Hollywood Reporter
"Noah Hutton's feature debut is an ambitious blend of modern technology and timeless concerns, bolstered by a winking good humor."Kate Erbland, Indiewire
"…entertainingly original…. This tale of a floundering gig-economy worker straddles both the bleak present-tense reality of Ken Loach's "Sorry We Missed You" and the subversive near-future political satire of Boots Riley's "Sorry to Bother You" while arriving at a whimsical critique all its own."Dennis Harvey, Variety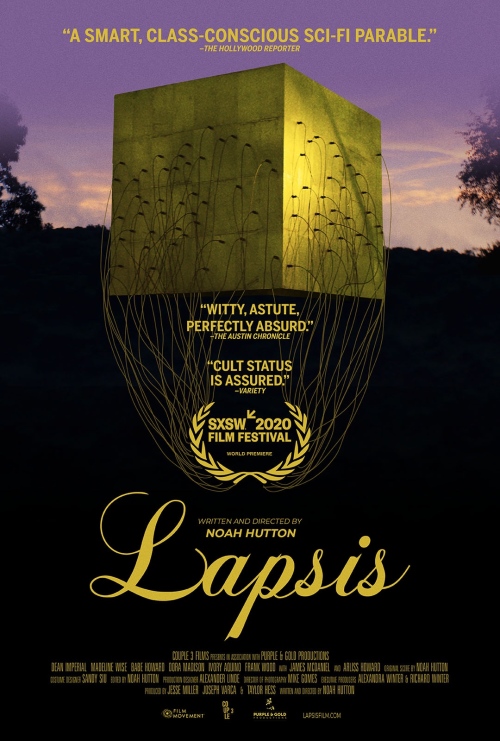 The Apohadion Theater and SPACE are pleased to co-present Lapsis as part of an ongoing series of virtual film screenings in 2021.