SOLD OUT: moments
Info
Saturday, November 19 2022
7:30 PM
doors at 7 PM

Tickets
$18 advance
$15 for SPACE member

moments, an evening-length dance performance, by Ali Kenner Brodsky featuring graphics by Cyrus Highsmith, live music by MorganEve Swain, costumes by Hertling, and performed by Kenner Brodsky, Scott McPheeters, Jenna Pollack, Jessi Stegall & Ilya Vidrin
---
On Saturday November 19, choreographer Ali Kenner Brodsky will present moments, a multifaceted performance piece of dance, music and art that has been in development for the past five years. moments, an evening-length dance-theater work exploring memory, loss and love, unfolds through subtle gestural movement and emotionally evocative music. moments evokes memories of past relationships, the longing for a closeness once felt, and the challenge of how to move forward through grief.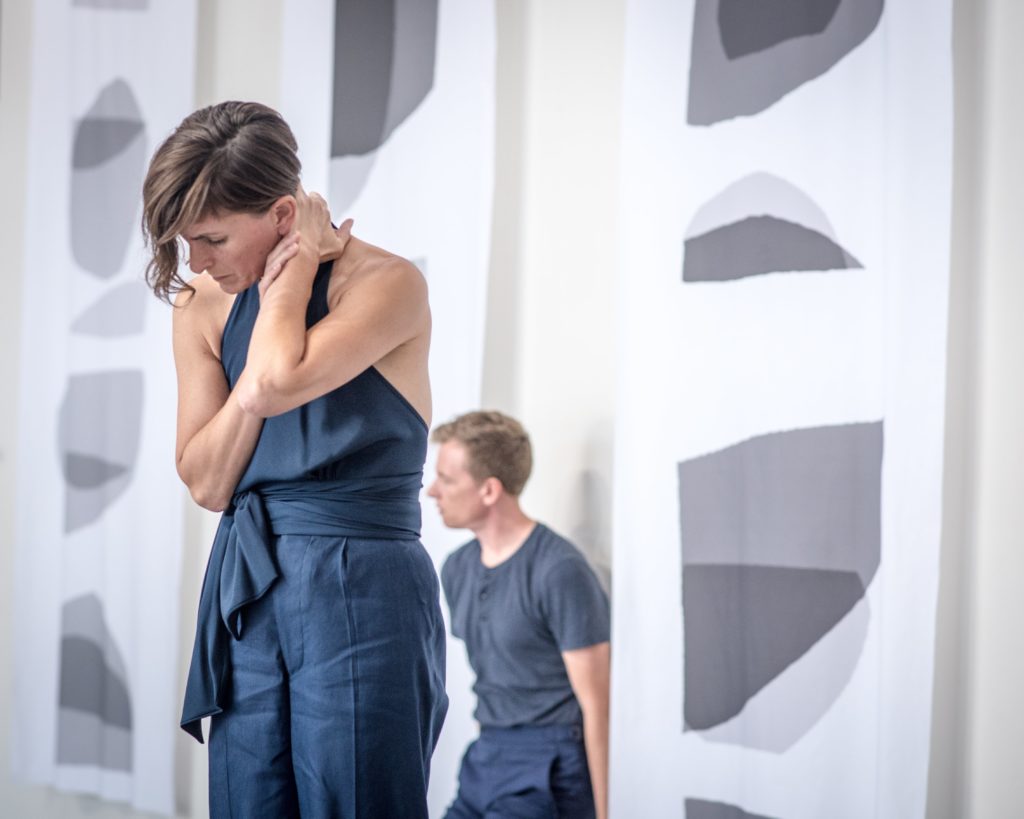 Through a collection of embodied vignettes, moments breaks the stigma around grief by giving audiences a moment to be present to their individual experiences of loss. Artists involved in the SPACE Gallery performance include dancers: Dartmouth-based lead artist Ali Kenner Brodsky, Maine-based artist Scott McPheeter, Chicago-based artist Jenna Pollack, Boston-based artists Jessi Stegall and Ilya Vidrin; Fall River-based costume designer Hertling; Connecticut-based musician MorganEve Swain and Rhode Island-based graphic artist Cyrus Highsmith.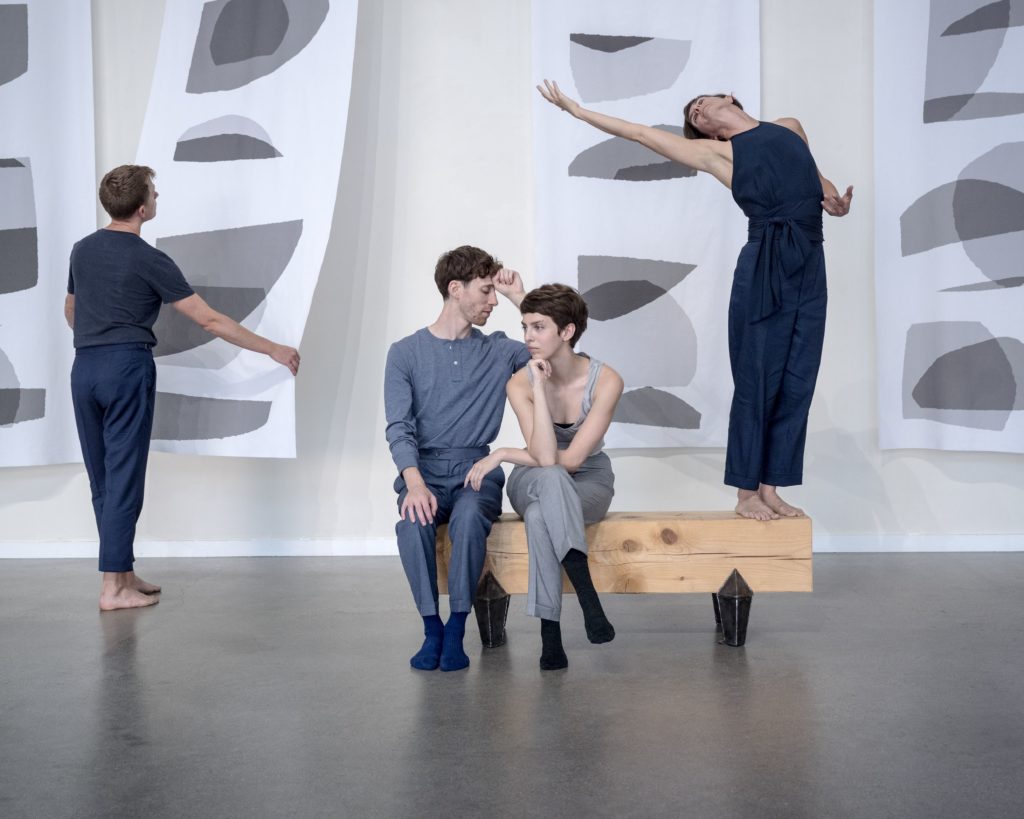 There will be a Q&A with Kenner Brodsky and performers following the performance.
---
ABOUT THE ARTISTS:
Ali Kenner Brodsky makes gesturally rich and emotionally driven dance-theater works and dance films that ask the viewer to indulge in a world of reflection, remembering, and connection. Ali was recently recognized with a 2022 Massachusetts Cultural Council Fellowship in Choreography. She is honored to be part of NEFA'S New England Regional Dance Development Initiative 2021/22, and was a 2019 artist-in-residence (Croft: Ground for Art), 2018/19 Catalysts artist (Dance Complex), 2016 Emerging Choreographer in Residence (Bates Dance Festival), 2014 recipient of the Rhode Island State Council on the Arts Choreography Fellowship, and a 2003/04 artist-in-residence at Joyce SoHo. She has received support from NEFA's New England States Touring and Dance Fund and from the Arts & Cultural Alliance of Newport County.
With David Henry, Lila Hurwitz and Andy Russ, Ali co-founded Motion State Arts, which presents innovative dance-films and live performances from local, national and international artists. She is on the Board of New England Presenters which provides leadership and support for the presentation/development of NE performing arts. She also works as a dance advisor and curator to the Zeiterion Theater in New Bedford, MA. Ali has designed award-winning choreography for The Wilbury Theater Group (Providence) and worked as a rehearsal director/dancer with the national touring company Lostwax Multimedia Dance (2012–15). She graduated with honors in dance from Skidmore College. A Rhode Island native, AKB makes home in Dartmouth, MA with her husband, two children and five chickens.
Cyrus Highsmith is a letter drawer, teacher, author, and graphic artist. He teaches type design at Rhode Island School of Design (RISD). He wrote and illustrated the acclaimed primer Inside Paragraphs: Typographic Fundamentals. In 2015, he received the Gerrit Noordzij Prize for extraordinary contributions to the fields of type design, typography, and type education. In 2017, he became Creative Director for Latin Type Development at Morisawa USA.
Scott McPheeters (he/him) is a queer, interdisciplinary dance artist and educator currently based in Maine. He co-directs dance and video installation company, Subcircle (www.subcircle.org), and is a co-founder of the Subcircle Residency (www.subcircleresidency.org – @subcircleresidency) located on a farm in Biddeford, ME. He worked as a professional dancer in Philadelphia for fifteen years where he performed regularly with companies including Nichole Canuso Dance Company, Kun-Yang Lin / Dancers, Enchantment Theatre Company, and Subcircle. In 2016 he received a Philadelphia Barrymore Award ("Best Lead Actor in a Musical") for his portrayal of Candy Darling in the Opera Philadelphia / Bearded Ladies Cabaret collaboration, Andy: A Popera. His choreographic work aims to challenge anthropocentric hierarchies and create avenues for queer belonging in rural spaces. He is committed to an artistic practice that is constantly evolving to accommodate, reflect, and comment on site, situation, and collaborative influences. McPheeters holds an MFA in Interdisciplinary Arts from Sierra Nevada University. (www.scottmcpheeters.com)
Jenna Pollack Jenna Pollack is a collaborative dance professional, educator, and cultural organizer. She is currently a graduate candidate in Urban Planning and Policy at the University of Illinois at Chicago, and a Research Assistant at the Institute for Policy and Civic Engagement. Jenna was an Arts Envoy to the U.S. Embassy in Colombia (University of Caldas), and has taught at the Boston Conservatory at Berklee and Salem State University. Jenna holds an executive certificate from University of Pennsylvania's School of Social Policy and Practice in Social Impact Strategy, an M.A. with Distinction in Choreography from the Institute of the Arts Barcelona/Liverpool John Moores University, a Certificate with Honors from Harvard Business School Online's CORe program, and a B.F.A. in Dance Performance from The Juilliard School. Jennapollack.com @in_jenna_ral
Dallas raised and Boston based, Jessi Stegall is a dance artist and applied ethicist working at the intersection of art and health. She trained as an actor at Booker T. Washington High School for the Performing and Visual Arts, Repertory Company Theatre, and Emerson College. She began her dance career in 2019 when she met Ilya Vidrin, whose work in partnering sparked her passion for choreographic research. She has been an artist in residence at the Harvard ArtLab, National Parks Service, and Jacob's Pillow Dance Festival. Her first choreographic work, Salty Dog, premiered at Motion State Dance Film Festival in 2020, and she was recently featured in Dance Magazine's 2020 "25 to Watch" list. Jessi is also a graduate student at Harvard University studying bioethics and holds a B.S. in Expressive Art Therapy from Lesley University.
MorganEve Swain is an independent musician living in a barn in the woods of New England. A violinist since the age of three, she uses strings primarily to compose original music for dance, story, film, and her band The Huntress and Holder of Hands. When she's not playing them, MorganEve repairs violins and bows at her home-shop and teaches violin to children using the Suzuki methodology. MorganEve also works as a freelance studio and touring musician and manages the affairs of her late-band Brown Bird. She can be found on Instagram @swain.morganeve.