Palm with Water From Your Eyes and Junesevere
Info
Sunday, October 30 2022
8:00 PM
doors at 7:30pm

Tickets
$15 advance
$18 day of show
$2 off for SPACE members

SPACE currently requires masks for all event attendees. Please refer to our health and safety policy for more information.
---
The live shows of left-field rock's leading experimentalists are known for intuitive, near-psychic uncanny synchronicity.
Palm — the Philly-based band of Hugo Stanley (drums), Gerasimos Livitsanos (bass), Eve Alpert (guitars/vocals), and Kasra Kurt (guitars/vocals) — announces their new album, Nicks and Grazes, out October 14th on Saddle Creek. Today, they present its lead single/video, "Feathers," marking their first new music in four years. On Nicks and Grazes, Palm embraces discordance to dazzling effect — capturing the spontaneous, free energy of their inimitable live shows while integrating elements from the traditionally gridded palette of electronic music. Citing Japanese pop music, dub, and footwork as influences on the album's sonic landscape, the band also found themselves revisiting the artists who inspired them to start the group over a decade ago such as Glenn Branca, Captain Beefheart, and Sonic Youth. Returning to the fundamentals gave Palm a strong foundation upon which they could experiment freely, resulting in their most ambitious and revelatory album to date.
"Feathers" marries Palm's off-kilter artistic sensibilities with an impossibly catchy vocal melody that unspools around the refrain "Make it up! Like a performer!" As the song progresses, all that's left is a skeletal arrangement. The stark, black and white medieval video was directed by Daniel Brennan. "'Feathers' went through a few drafts — I was initially playing a plodding line on the bass guitar but something about the arrangement wasn't working. It was only once I switched to bass synth that there was a strong enough center for the atonal guitar and synth pads to make sense," says Livitsanos. "The first one we tracked in the studio, 'Feathers' became an undanceable dance song at the last minute."
Palm's live performances are revered for their uncanny synchronicity; one gets the sense that, on psychic levels unseen, the members share an intuition unexplained by logic. Over the last decade, the costs of maintaining such intense symbiosis consumed the lives of its members to a point of exhaustion, and to a place where they were unsure if they'd make another record. It was only after multiple freak injuries followed by a pandemic, forced a pause — from touring but also from writing, rehearsing, even seeing each other — that the four were able to regroup and see a way forward again. "I used to think of Palm as an organism, a single coherent system, and at a younger point in our lives, that seemed like the ideal way to be a band," Alpert reflects. "I'm realizing now that it's unrealistic, that for this band to grow we had to tend to ourselves as individuals — little pieces — who create the whole."
Nicks and Grazes is a natural progression from their 2018 album Rock Island, which found the band beginning to incorporate electronic elements into their sound. While making Nicks and Grazes, the line between songwriting and production was blurred. The band spent the last few years educating themselves on the ins and outs of production by learning Ableton while also experimenting with the more percussive and textural elements of their instruments. Palm also worked with a producer for the first time, Matt Anderegg. "With this record one might assume that we were slowly building a house brick by brick, but it's more like we were gathering and experimenting with different types of materials for the first couple of years, and then we built the house somewhat quickly," Stanley says of the making of Nicks and Grazes. "It's hard to overstate Matt's role in bringing everything together."
"Music isn't about things. It is things," Richard Powers wrote in his novel Orfeo. While making Nicks and Grazes, Kurt found himself returning to this quote as a guiding philosophy. Though a single narrative remains elusive throughout the album, echoes of the members' individual and collective experiences come into focus through the use of samples. Snippets of conversation on tour in Spain and the blare of a Philly high school marching band's early morning practice are just a few examples of daily sonic flotsam the band incorporated with instrumentation to create a new communal experience. The album's titular track is a prime example; Anderegg combined the band's disparate field recordings into a diaristic kaleidoscope of sound, as much a collection of memories as it is its own composition. "We're constantly grabbing at sounds that move us," Stanley says. "In a sense, the record is cobbled together from these pieces of our lives."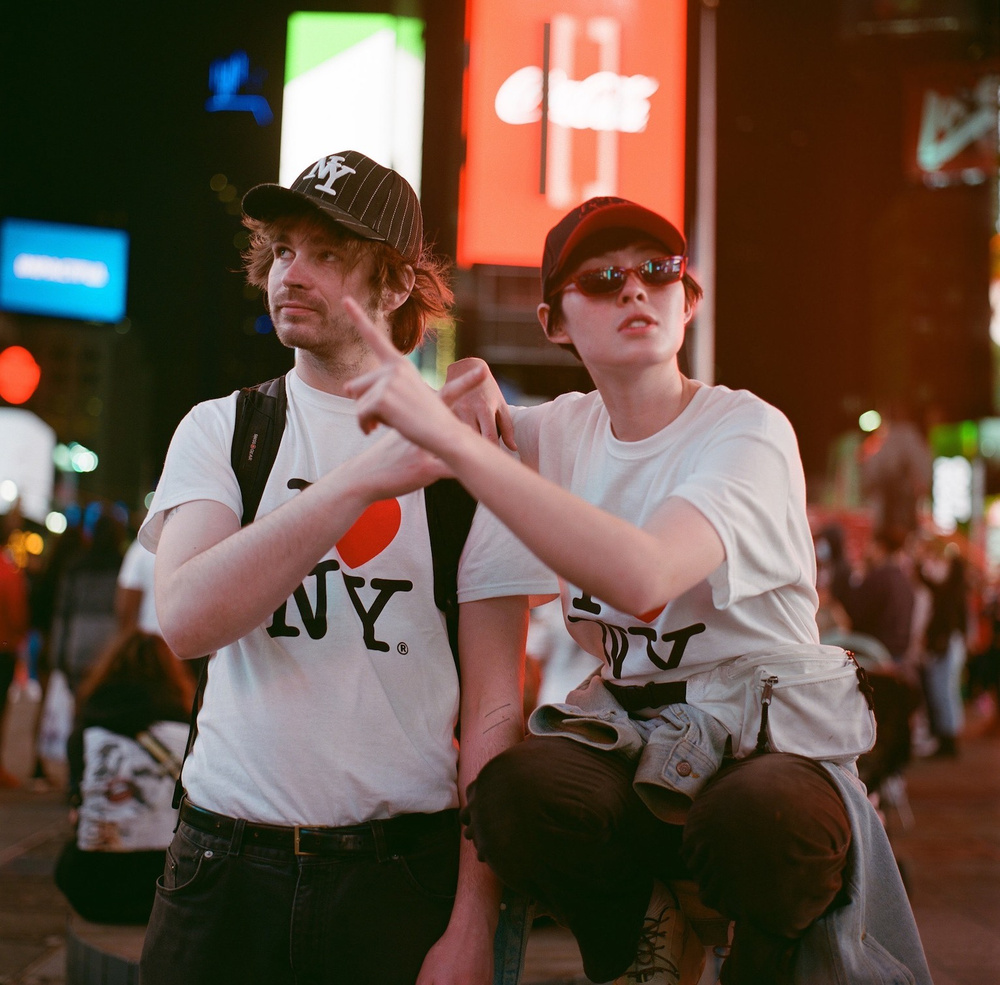 Water From Your Eyes
There's no perfect way to describe Water From Your Eyes; to relate the New York duo in absolutes would be imprecise and frivolous. Since 2016, the group's clear-eyed approach to dance music has combined austerity and satire, abrasion and charm, with the pair plotting sonic trajectories on All a Dance and forgoing traditional album structure with Somebody Else's Song. Having begun as an anti-pop project à la New Order and LCD Soundsystems, Water From Your Eyes quickly found themselves pivoting into a style-shaking act, combining art pop, trance, and dance punk into a reflective fusion of influence and genre. Nate Amos (This is Lorelei) and Rachel Brown (Thanks for Coming) delight in contradiction on their upcoming Wharf Cat debut, Structure. Water From Your Eyes wade into straight-faced sub-genres with tongue-in-cheek wit and undoubtedly know-how for their most staggering project yet.
Influenced by Scott Walker's sole 80s release, Climate of Hunter, and the echoing works of the color-field painter Mark Rothko, Structure's cavernous dance pieces serve as the hypnotic bedrock between spoken-word monologues, cinematic numbers, and an ostensibly cheery opener. The seven-minute-long epics "My Love's" and "Quotations" are sprawling and borderline excruciating, with both tracks deploying sawtoothed loops and grooves capable of hypnotizing even the most passive of listeners. Like Rothko's contradictory depiction of the static and kinetic, Water From Your Eyes invite listeners to chip away at Structure's stoic facade, to take a closer look at its detailed handiwork and trace the cracks in the mirror.
Despite its titular implications and arty conceptual aesthetics, Structure is more lighthearted than it is self-serious, with the only actual "structure" being found in its tracklist. "The important thing to remember is that this is weed music," Amos says. "There was not a single drop of work done in the recording, editing, or mixing process that was not preceded by a spliff." Bitingly witty in their respective solo projects, both Rachel Brown and Nate Amos naturally apply humor to Structure, a record which reflects the band's lock-and-key creative process. "It's like solving a puzzle with a ton of different answers," offers Brown, whose lyrics are plucked from their own journal and filtered into Water From Your Eyes' musically calculated format.
When put together, Structure's fragmental base only bolsters its effectiveness as a sequential whole. The opener, "When You're Around," was originally intended for a film that was never made, while "Monday" is a song for a film that doesn't exist. Both tracks serve as eerie precursors for Structure's paralleled sides. Avid listeners will revel in repeated plays to uncover the record's melodic subtleties, rhythmic minutiae, and lyrical repetition. Structure is a first-class achievement in brutalist pop: it's dreamy and dissociative, nuanced and hypnotic, and weaves together threads for listeners to unravel with each spin.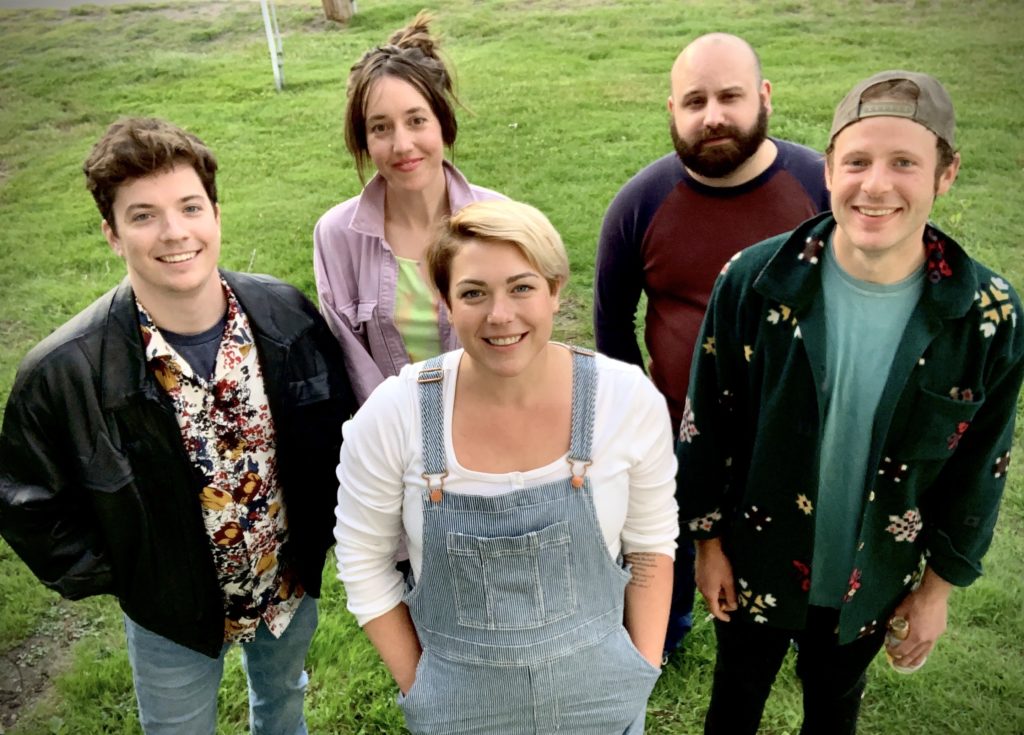 Junesevere
Junesevere is a new project from Estelle Poole (Is She?) and Dominic Grosso (Nice Life, So Said So) featuring Cory McWilliams (Nice Life, $300) and Conor Linehan (Yeah Man), and Bridgette Semler (STREETWEEPER) whenever possible.
"Junesevere is a kind of cosmic gumbo. It combines classic Brooksville feminine energy with the dirty band t-shirt vibe of the 2010's."
— Conor Linehan