Sink Maine Medical Debt with Little Oso, Snake Lips, and Christina's World
INFO
Friday, December 8 2023
8:00pm
doors at 7:30pm

TICKETS
$10-$20 sliding scale donation

A benefit show for Sink Maine Medical Debt, a campaign to buy and cancel millions of dollars in Mainers' debt!
Sink Maine Medical Debt is a fundraising campaign started by some friends in Portland to relieve thousands of people in Maine and across New England of their medical debt. By raising $10,000 together, we can buy and cancel over $1.5 million of medical debt in Maine, New Hampshire, and Vermont. To donate to the campaign directly and learn more, visit: https://ripmedicaldebt.org/campaign/sink-maine-medical-debt/
Sink Maine Medical Debt has partnered with the non-profit RIP Medical Debt (as seen on the John Oliver Show) who will assist in the purchase of debt in bulk from secondary markets for less than pennies on the dollar and then cancel that debt for people most in need, with no strings attached. In Maine, four out of ten residents currently have medical bill-related debt. Two thirds report they are "one medical emergency or illness away from financial disaster."
By coming together as a community, Sink Maine Medical Debt hopes to send immediate relief to our neighbors most affected by debt, so that we all have the capacity to keep fighting for more just systems.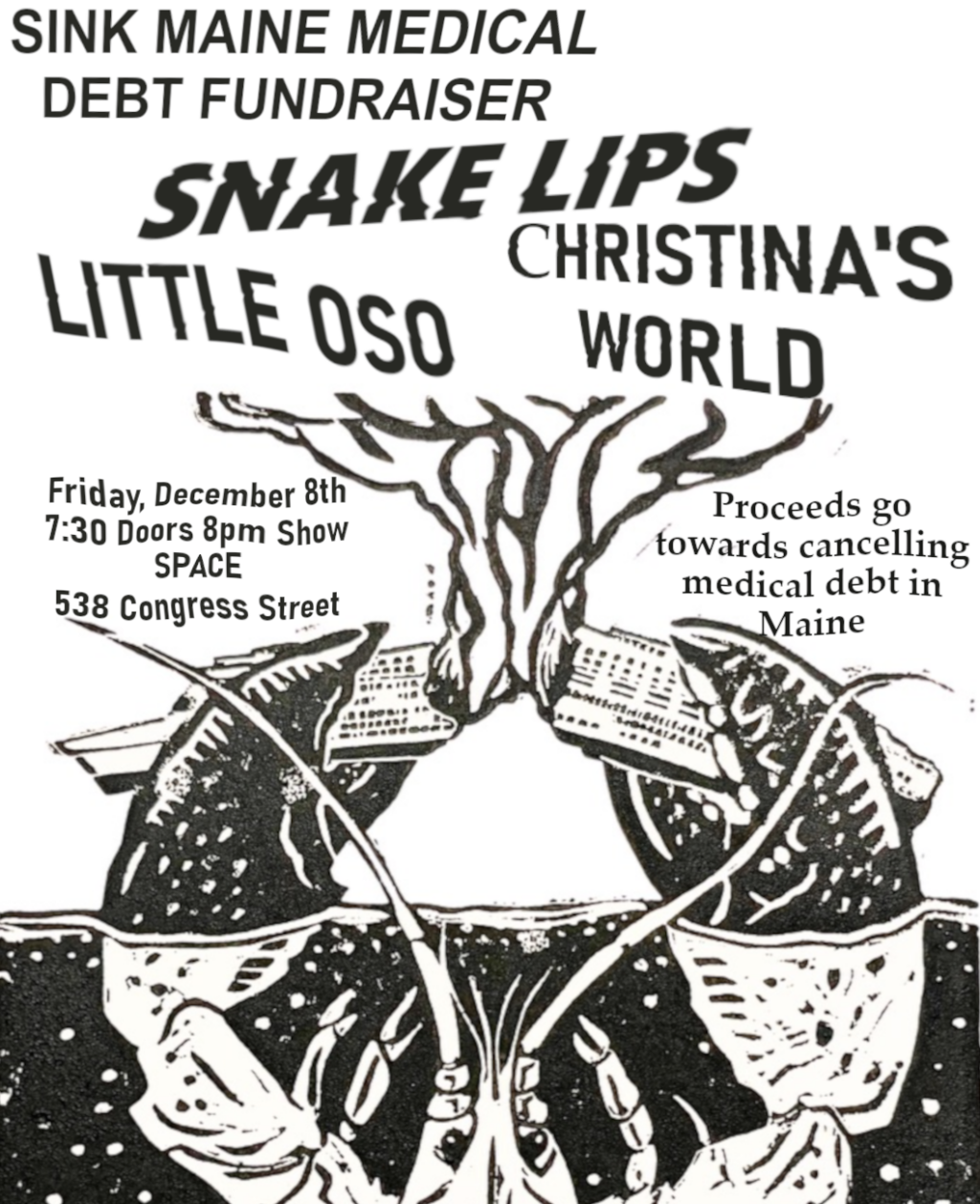 Little Oso is a dreampop band from Portland, Maine. They blend layers of sparkly guitar sounds with shimmering vocals and upbeat tempos to make you want to dance or get under a blanket… or dance under a blanket. Their most recent EP, "Happy Songs 🙂" commemorates summertime nostalgia and can be streamed most places. 
Snake Lips is a garage rock band out of Portland, Maine. Created by vocalist and guitarist Cody Mitchell, Snake Lips features a rotating line up, including Pete Caradonna on drums, Tom Cook on bass, and Sam Ellis on guitar. Evergreen (2020), the band's first album, is a DIY-release influenced by Mitchell's love of DIIV and Alvvays. Melt the Sun (2021), a collaborative EP release by Maine label Repeating Cloud and New York-based Totally Real Records, features skittery, up-tempo punk songs, while Mitchell approaches his subject matter with his trademark self-deprecating humor. Snake Lips released full-length Happy Anxious in 2022, showcasing the darker side of Mitchell's songwriting, but maintaining the core punk-inspired song structures and tongue-in-cheek lyrics.
Christina's World is a Portland, Maine based post-punk trio, featuring members Nick Lawler, Zach Lynch, and Holden Willard. With references to the painting by Wyeth, their music strives to tell stories of rural Maine life, everyday existence, as well as their fear and agitations through jangly guitars and driving bass. The three have been playing music for upwards of seven years together and they are interested in conveying that sense of togetherness through their music.