The Moving Body In Space: Works In Progress II
INFO
Thursday, November 8 2018
7:30 PM

L to R: Michael Figueroa, Nora Petroliunas, and Heather Stewart

Join us for the second iteration of our new contemporary dance/movement/performance series featuring three works in development by Heather Stewart, Michael Figueroa, and Nora Petroliunas. The series aims to provide a much-needed regional performance opportunity to debut works in development exploring the contemporary body as medium, equally interested in innovation in choreographic traditions and experimental or multidisciplinary modes of performance. Three artists were selected through an open call by SPACE's Performance Advisory Council Sara Juli, Riley Watts, and Asher Woodworth to develop these works for their debut at SPACE.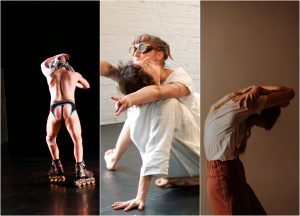 About the artists: 
HEATHER STEWART
Heather Stewart is a Canadian choreographer and dance artist currently based in Boston, MA. She has been active as an independent choreographer since 2012 in both North America and Europe. Most recently Stewart received a 2018 Live Arts Boston Award in the dance category for a new creation with composer Marc Bartissol. She will develop this work at the Boston Center for the Arts where she is a 2018/19 Dancemaker in residence. In the past Stewart's work has been shortlisted for The Deustche Bank Award for Creative Enterprises and she has received funding and awards from the Boston Foundation, the New England Foundation for the Arts, the Somerville Arts Council, and the Canada Council for the Arts. The development of her choreographic work has been supported by organizations and residencies including Espace Marie Chouinard, The Place, Centre de Création O Vertigo (CCOV), and Tanzzentrale der region Nürnberg.
MICHAEL FIGUEROA 
Michael Figueroa is a Cambridge-based (by way of South Florida) dance maker, teacher, server, performer, and director of Ruckus Dance. He has lived in the greater Boston area for 8 years. In that time, he's performed his work and the work of others at the Dance Complex, Green Street Studios, Out of the Blue Too, Aeronaut Brewery, Museum of Fine Arts, Isabella Stewart Gardner Museum, Institute of Contemporary Art, Tufts University, Dance Now Boston, Outside the Box Festival and College of the Holy Cross. Figueroa teaches weekly classes as part of the Midday Movement Series. MMS is a class series curated by Marissa Molinar that provides consistent training for advanced/professional dancers and support to emerging contemporary dance teachers. Figueroa attended The Boston Conservatory and graduated with a BFA in dance.
NORA PETROLIUNAS 
Nora Petroliunas is a 2006 graduate of the Conservatory of Dance at SUNY Purchase. She is the artistic director of the Pharmacy Project, a group of friends working together since 2009 to create narrative dance performance pieces for atypical spaces with the help of the Brooklyn Arts Council, and a series of wonderful collaborators and producers. Settings have ranged from dingy Brooklyn Veterans Post 8903 to the ethereal rooftop garden of the Chelsea Hotel. Her work has been presented by Gowanus Art and Production, Triskelion Arts, Little Theatre, Brooklyn Arts Exchange, Dixon Place, Links Hall, The Bushwick Starr, LIGO Project, Certamen Internacional de Coreografia in Burgos, Spain as well as the Cape Dance Festival in Provincetown, Massachusetts. Petroliunas was a guest artist at SUNY Purchase for the Spring 2018 semester before relocating to Portland, Maine.