Abolition means learning new ways.
Nicole Manganelli
Info
May 16, 2021 – Jun 27, 2021
On View in the Poster Case

Artist statement
There are dozens of species of crows all over the world: they are famously adaptable and have been documented making and using tools. I believe that working toward the abolition of prisons and policing requires us to develop new tools of our own, including learning how to relate to each other in ways that are based in care and compassion rather than punishment.
The prints in this installation are a combination of paper stencils and hand-set metal type all printed using the intense pressure of a Vandercook press. I believe that people who have an investment in justice are under tremendous pressure to abolish the white supremacist, classist, & xenophobic systems of policing and prisons that continue to enact daily violence particularly on Black communities across this colonized land. Abolition offers us a new way forward where life is truly valued and the prospect of justice is real.

For more information about abolition as a visionary alternative to prisons and policing, see the work of Angela Davis, Andrea Ritchie, Ruth Wilson Gilmore, and Mariame Kaba, as well as countless additional Black & Indigenous thinkers and writers.
As a local action step, please donate to Maine Youth Justice's campaign to close Long Creek (the juvenile detention facility in southern Maine) at maineyouthjustice.org.
---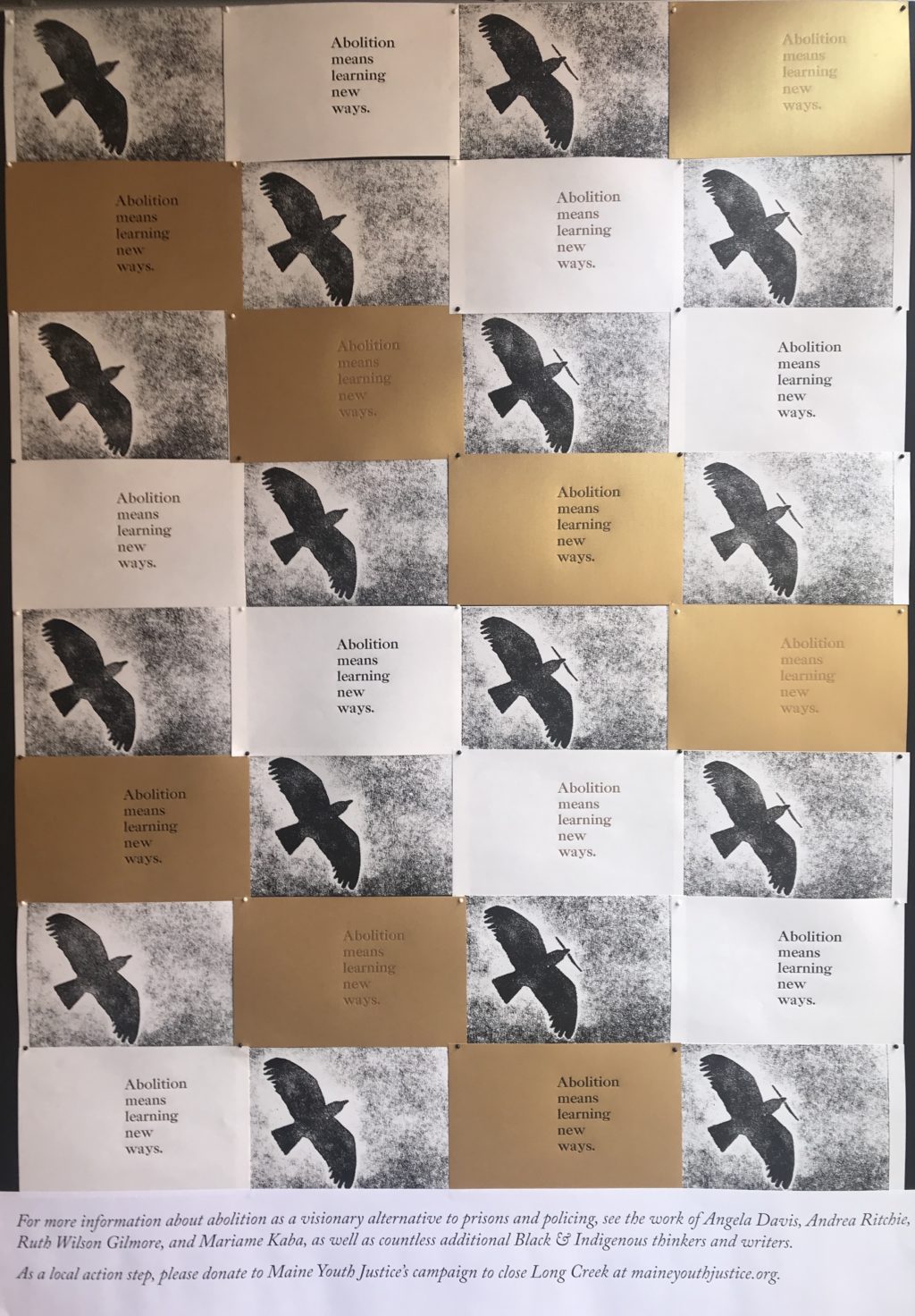 ---
Bio
Nicole Manganelli is a white queer femme printmaker & freelance graphic designer based in Portland, Maine. She's also a member of Pickwick Independent Press and a Junior Designer & Copyeditor at Portland Design Co. Her printmaking work focuses on the daily poetry, frequent heartbreak, & occasional triumph of fighting for racial, economic, gender, and climate justice. You can find more of her prints at radicalemprints.com or @radicalemprints on Instagram.
---
Photo credit: Nicole Manganelli