Give Black Folx Their Flowers (While We Can Still Smell Them)
Candice Gosta
Info
Apr 1, 2021 – May 15, 2021
On View in the Poster Case

Give Black Folx Their Flowers (While We Can Still Smell Them) depicts a Black-figure
adorned with bright, colorful fabrics and a crown made of flower petals that emerges from a garden. The text surrounding the figure reads, "give black folx their flowers," made from scrap fabric topped with bronze glitter, makes a statement about positively honoring the lives of black people while still alive.

The saying "give me my flowers while I can still smell them" does not refer to physical
flowers but rather honoring people while still alive. I want this show to represent the
narratives artists of color living in Maine have to share — I want this to be a show of
collective healing, love, and truth. This quote resonates with me as a Black artist because I feel as though the legacies of many Black and Brown people get reduced to hashtags. For example, George Floyd and Breonna Taylor, two prominent figures in contemporary history, are not known for all they may have accomplished during their short lives but for their horrific, untimely deaths. You may ask yourself, "how did this happen?" — the answer is trauma porn.

Trauma porn is media that showcases a group's pain and trauma in excessive amounts for the sake of entertainment. Trauma porn is created not for the sake of the marginalized group but instead to console or entertain the non-marginalized group. Black and Brown people's lives and legacies are more than enslavement, colonization, racism, and utter tragedy — it is time we hear stories of joy, self-expression, romance, resilience, cultural tradition, and familial bonds.
---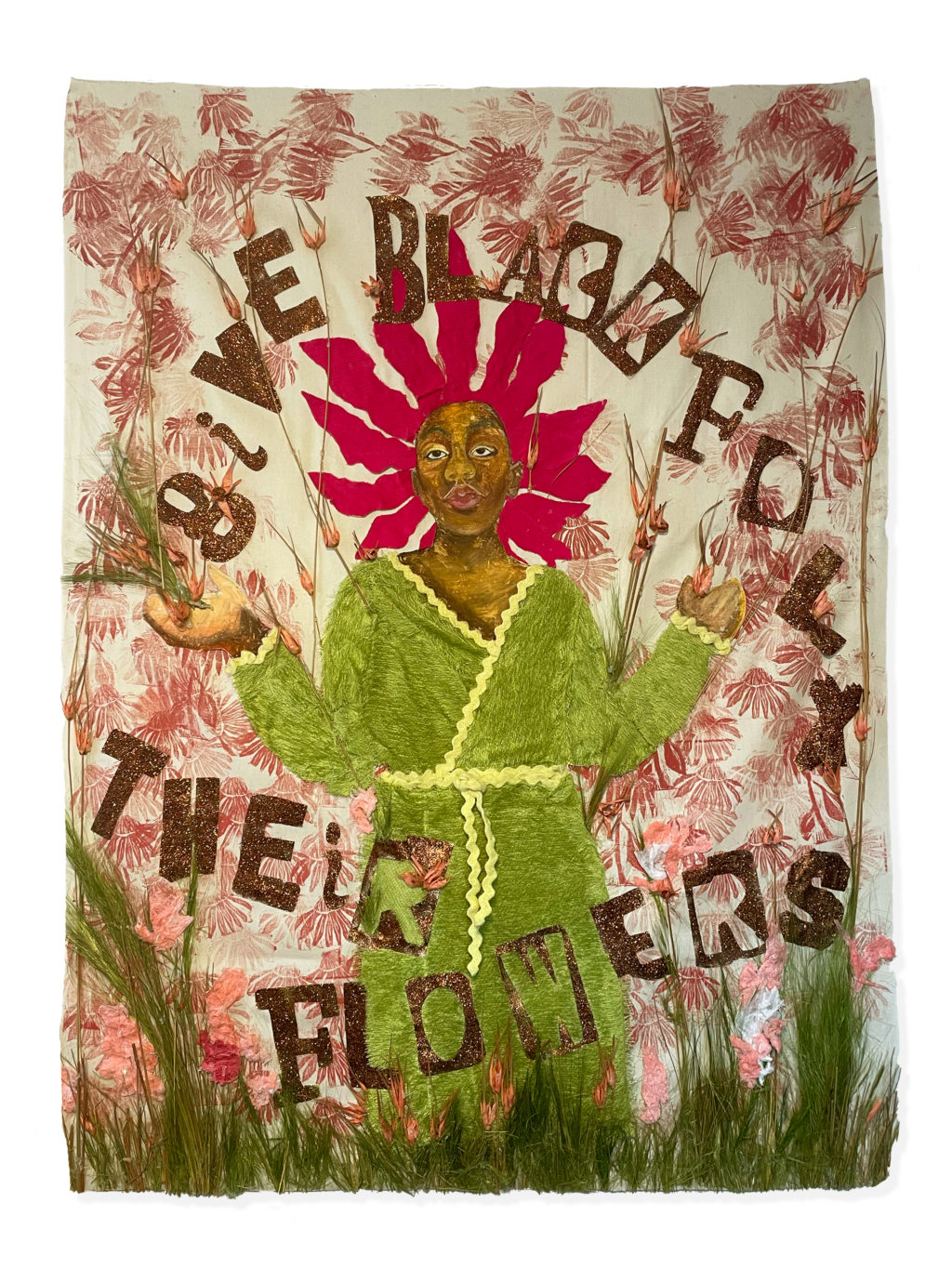 ---
Bio
Candice Gosta (b.1998) was born and raised in New Haven, Connecticut. Gosta is a recent graduate of Maine College of Art's painting program. During their time in Portland, they partnered with numerous local organizations, including non-profit contemporary arts venue SPACE. Gosta's work has been included in several group exhibitions at Maine College of Art, SPACE, the Portland Public Library, and most recently, the "Let Equality Shine" mural located at 50 Monument Sq, Portland, ME.

Gosta's work is heavily influenced by their Afro-Boricua upbringing in New Haven,
Connecticut. They use bright and bold colors coupled with both found objects and
repurposed materials, to create large-scale paintings, prints, and installations. Gosta's work relies on the tactility of material to activate their viewers' senses and evoke an emotional response. Gosta's identity as a Black Latino has inspired them to use their work as a mode of documentation — they describe their work as a diary of complex emotional trauma, memories of childhood and domesticity, and exploration of the gender binary.