Home / Safe
Sunny Allis, Travis Clough, Jesse Freidin
INFO
Sep 29, 2023 – Nov 11, 2023
In the 534 Congress Street Gallery

Exhibition Opening
Sept 29 | FRI | 6-8 pm | Followed by a screening of Mutt at 8 pm
Home / Safe – Amidst an ever encroaching stain of anti-LGBTQIA2+ rhetoric and legislation, this exhibition creates a glorious pivot to sustaining self and community through joy, identity, and expression. Through the use of photography, textiles, installation, and mixed media, Home / Safe uses several mediums to nourish and appreciate the joy of being oneself. Each artist brings their curious mind to play with one another and craft a queer future that looks like something sweet, comfortable, and sublime. This exhibition works to create a container of home where we can live freely and restore community.
Throughout the exhibit are QR codes that contain stories that we hope radiate out and inward.
To engage with the audio component of the show, please bring headphones in order to listen without disruption to others.
---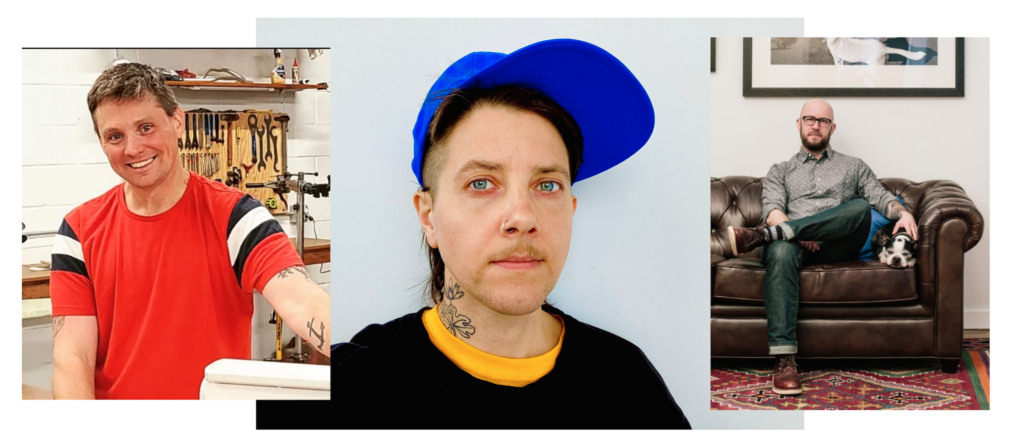 Sunny Allis (they/them) is a trans non-binary multidisciplinary artist. Sunny studied directing and design for theater at NYU's Tisch School of the Arts, and received their MFA from California Institute of the Arts in Integrated Media.
At Occidental College, the City of Santa Monica, and Kidspace Children's Museum, among other organizations, they have created several interactive public art installations that take people through imaginary worlds and immersive environments. Their animations have won awards internationally, including at the Museum of Fine Arts in Boston, the Brooklyn Academy of Music, the Madrid Experimental Film Festival, and the Linoleum Festival in Moscow.
Sunny has worked for many years as an educator in schools and with communities of all backgrounds. They have taught classes in sculptural storytelling, world building, musical performance, recycled art assemblage, puppetry, and public art. Sunny is passionate about engaging people's voices and visions, so they feel empowered as change-makers, transforming themselves and the world around them.
---
Travis Clough (he/they) grew up in rural Maine in a family of quilters and seamstresses. As a tomboy, he rejected all things fabric until his mid-twenies when he was living in San Francisco and was so homesick he took a quilting class in hopes of feeling connected to home. He's been quilting ever since and has taught quilting in Portland, Oregon and now in Portland, Maine. When he's not surrounded by fabric and tangled bobbin thread, you can find him playing his banjo, making audio stories and paddling the rivers of Maine.
---
Jesse Freidin (he/him) is an award-winning photographer and author focused on elevating the experience of the trans and gender non-conforming community through portraiture and interviews. His current series "Are You OK?" addresses the dangers of the current wave of anti-trans legislation sweeping the country in a passionate attempt to erase stigma and uncover the voices of those most affected. Jesse's work is in over 150 private collections nationwide, and has been featured in The New York Times, Insider, Vogue, The Huffington Post, Them, NPR and many more. He is the author of two books: Finding Shelter: Portraits of Love, Healing and Survival (Lyons Press, 2017) and When Dogs Heal: Powerful Stories of People Living with HIV and the Dogs That Saved Them (Lerner Books, 2021).