If I Waited & What has whiteness given you?/ what has whiteness taken from you?
Leah Grant and Juliette Walker
Info
Mar 16, 2021 – May 19, 2021

SPACE is please to present If I Waited by Leah Grant and What has whiteness given you?/ What has whiteness taken from you? by Juliette Walker, two original artist flags exhibited together on our 534-538 Congress Street facade. Grant and Walker are both students in the MFA program at the University of Arkansas. They decided to exhibit their work together after comparing their experiences with how race is discussed and interpreted within their individual art practices. Stay tuned for their upcoming conversation on the SPACE reader.
---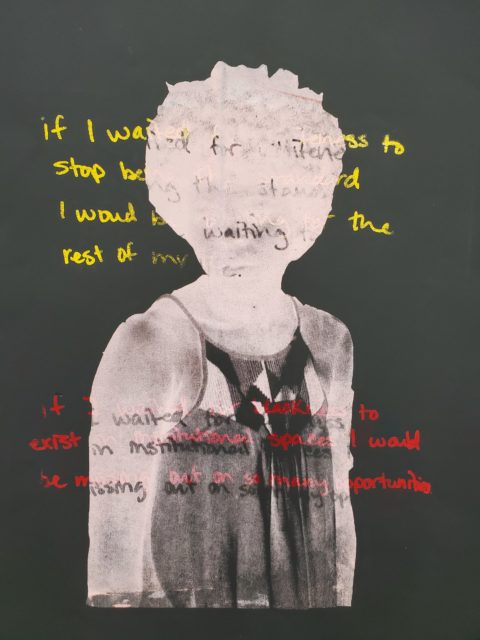 If I Waited
"If I waited for whiteness to stop being the standard, I would be waiting for the rest of my life.

If I waited for Blackness to exist in institutional spaces I would be missing out on so many opportunities."
Leah Grant Artist Bio
Leah Grant lives in Fayetteville, Arkansas, where she is currently an MFA candidate in the School of Art at the University of Arkansas. She graduated with her BFA from Henderson State University in Arkadelphia, Arkansas. Leah incorporates collage techniques and images from a personal archive to recontextualize her experiences with revealing and concealing the vulnerable parts of her identity. Her background is in printmaking but she also utilizes photography, writing, audio, and video in her art
practice.
---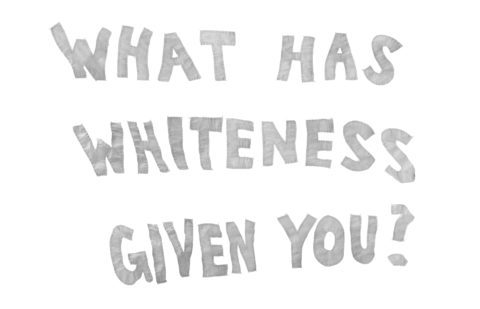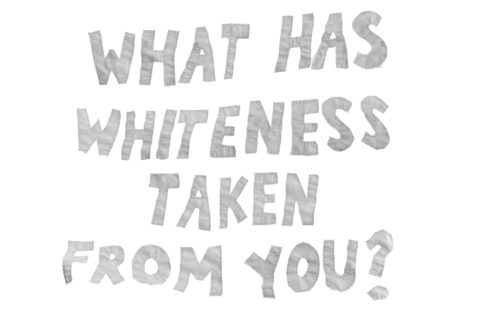 What has whiteness given you?/ What has whiteness taken from you?
As a white woman navigating the world as an artist, I have never been called to define my work in terms of my race. And yet, whiteness shows up in my work in numerous ways—the centering of my voice and perspective, and the access I have to travel, space, time, and resources. The uprisings advocating for racial justice, which took place this summer across the country and throughout the world, have brought race to the forefront of all our minds. Yet, I still struggle to admit my complicity with and participation in white supremacist structures.
What has whiteness given you?/ What has whiteness taken from you? is a double-sided white flag with white lettering, which makes the text difficult to decipher at some moments, reflecting the idea that many people remain blind to the whiteness that is embedded in this country's government and institutions. The white flag is also raised as a sign of surrender. I want to surrender my complicity with white supremacist structures. In order to do this I must begin by recognizing the effects of whiteness for myself and others.
Juliette Walker Artist Bio
Juliette Walker (b. 1991, Madison, Wisconsin) is an interdisciplinary artist who received a BA in Studio Art from Pomona College in 2013, and is currently an MFA candidate at the University of Arkansas in Fayetteville. She has completed residencies at Kunstnerhuset Lofoten (Svolvær, Norway), Troms fylkeskultursenter (Tromsø, Norway), the Bubbler at the Madison Public Library (Madison, Wisconsin), the International Ceramics Studio (Kecskemét, Hungary), and Lussier Community Education Center (Madison, Wisconsin). Walker is one half of the Crust Bucket Collective, and is currently exploring collaborating, coordinating, and curating as primary methods in her practice. Ranging from sculptural, print-based, and participatory works, she is interested in the creation of publics, the relationship between the local and global, and the role of the artist in asking questions.
Organized by Lia Wilson
Photo credit: Carolyn Wachnicki