SPACE is honored to award thirty two grants in its first round of American Rescue Plan Act Maine Project Grants: five $5000 awards and the rest in $3000 project grants.

Upon the announcement that SPACE would administer these funds for the state of Maine, Representative Chellie Pingree, co-chair of the bipartisan Congressional Arts Caucus stated, "Arts organizations put the health of their communities first throughout the pandemic by shuttering their doors, suffering crushing financial hardship as a result. Since the beginning of the pandemic, SPACE has been a crucial support to the arts community in Maine; they stepped up to raise and distribute hundreds of thousands of dollars in emergency relief grants to artists throughout the state. I'm so glad their effective work is recognized and supplemented by this much-needed funding."
The Round 1 Grantee lead artists (in alphabetical order) are: Amanda Huotari (Buckfield), Amy Stacey Curtis (Lyman/Lewiston), Anastasia Inciardi (Portland), Andy Rosen (South Portland), Anne Poirier (Old Orchard Beach), Arisa White (Augusta), Assasi & S6ef (Biddeford), Cary Adams (Starks), Daniel Goldberg (Franklin), Dean Merrill (Portland with other statewide collaborators), Dylan Hausthor (Rockland), Flo Edwards (Portland), Greta Bank (Hollis), Hale Linnet (Old Orchard Beach), Jefferson Navicky (Freeport), Julia Arredondo (Portland/Waterville), Kate Russell (Sedgwick), Kristen Stake (South Portland), Laura and Rufus Nicoll (Deer Isle), Leila Christine Nadir (Farmington), Luke Fatora (Rockland), Maya Williams (Portland), Nicola Chin (Lewiston), Olivia Hochstadt (East Wilton with statewide collaborators), Pamela Moulton (North Bridgton), Reed McLean (Norway with statewide collaborators), Sam Brosnan (Cape Elizabeth), Sophie Davis (Rockland), Sophie Hamacher (Freeport), Theresa Secord (Farmington)*, Veronica Perez (Westbrook), Yves Karubu and Batimbo United (Portland and elsewhere).

*Granted funds from the Kindling Fund regranting initiative by the jury.
This round's jurors were Elijah True (musician and L/A Arts), Gabriella Chase (Portland Museum of Art), and JJ Peeler (formerly of Bare Portland and Bowdoin's Department of Theater and Dance). An additional grant was offered as part of the pool of funds offered through the Andy Warhol Regional Regranting Program through SPACE for a project in line with the spirit and eligibility of the Kindling Fund grants.
Administered by SPACE, the ARP Maine Project grants are one of 66 subtracting programs through the National Endowment for the Arts under the American Rescue Plan Act. It is the only one in the state of Maine, and one of the few nationally that is granting directly to individual artists for projects that develop new artworks. The Round 2 Deadline is Sunday, September 18th at 11:59pm with an identical application, and a different jury, giving away the other half of the $200,000 regranting pot.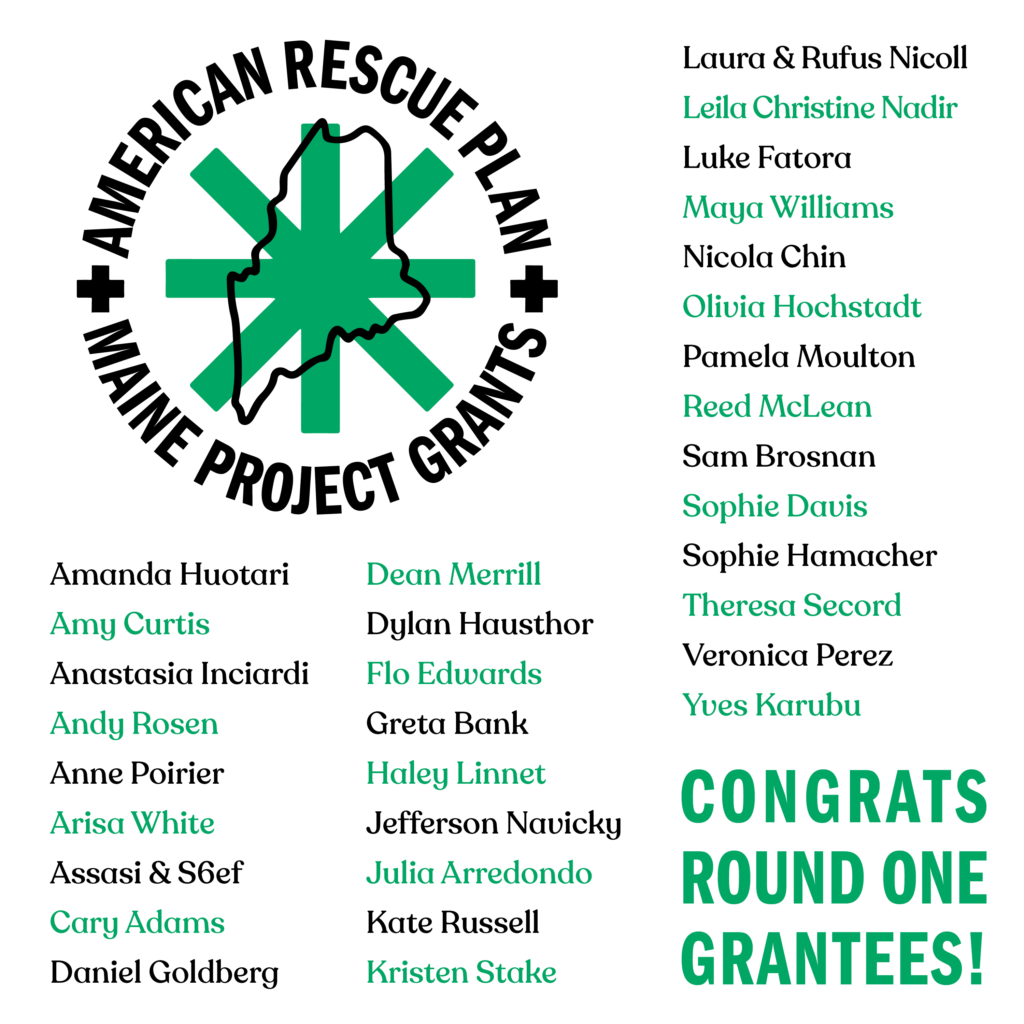 About the Grantee Projects
All NEA American Rescue Plan project awards are juried on the artistic excellence of the project as a guiding principle. We seek to put visionary artists to work in this moment of economic recovery and evaluate project concepts for being bold, experimental, thoughtful, values-driven and impactful on their careers and the community. We also qualify excellence through skill, originality, and/or inventive form. Additional jury criteria include: The project timeline and how feasible it appears; How the project defines and considers a public audience for this new work; The applicant's strategy for potential public engagement around the new project; Anticipated creative and public community impact; The applicant's capacity to carry out the project, in part, on past work; The artistic quality of past work samples; Clarity and feasibility of the project budget. With all of our grant programs, SPACE charges our grant jury with our internal values of thoughtful consideration towards site and public(s), risk-taking bravery, a spirit of artistic play, and prioritizing work that uplifts equity and healthy communities.
Full of Life: An Outdoor Interactive Theatrical Performance
Lead Artist: Amanda Huotari (Buckfield)
Collaborators: Lights Out Consulting, Jeff Wirth, Ben Gibson
Remember Lucy's psychiatry booth from the Peanuts comic strip? Imagine Lucille Ball stepping in and offering advice and inspiration as a sidewalk life coach. Full of Life is an outdoor interactive theatrical performance and an accompanying website that invites audiences to engage with the question: "What's it mean to be full of life?" Taking place during Maine art walks and festivals in June-July 2023, these playful and provocative performances will combine interactive theater, improvisation, and clowning. The website's features include a gallery of participants' hands holding their painted "touchstones." Full of Life is a collaborative exploration to inspire creative expression.
The Forgiveness Project (Maine To California)
Lead artist: Amy Stacey Curtis (Lyman/Lewiston)
Curtis is exploring forgiving, not being ready to forgive, and being unable to forgive, through an interactive exhibition, a podcast series, and a free, find-in-public-spaces book/e-book. As she collects the personal narratives and portraits of people she will have just met while traveling from Maine to California, to forgive and ask the forgiveness of her mother.
Inciardi Tomato Project
Lead Artist: Anastasia Inciardi (Portland)
Collaborator: Addison Wagner
The Inciardi Tomato Project is an artist book and farming venture that tells the story of an endangered family heirloom tomato seed, as well as the larger story of heirloom plants in the United States and their fundamental role in maintaining the genetic diversity of our food crops. Artists Anastasia Inciardi and Addison Wagner will create a short visual non-fiction that includes a mixture of linocut prints, drawings, photographs, interviews and other written text drawing inspiration from the story of Anastasia's family tomato and the experience of growing and saving the seed for future generations.

HUTCH
Lead Artist: Andy Rosen (South Portland)
Rosen proposes to create a site-specific sculptural installation of a cabinet roughly the size of a refrigerator to be installed at the Swap Shop in Cape Elizabeth, Maine during the Summer of 2023. Inside the cabinet will be video screens, a reconstructed natural habitat (complete with a self contained small water element), growing plants/vegetation, and ticking and whirring kinetic elements. Visitors will be able to witness and record these kinetic scenes and films via special viewing ports.
Fat Annie? Embracing your inner confidence & voice, against all odds
Lead Artist: Anne Poirier (Old Orchard Beach)
Poirier will create and publish a middle grade book (ages 8-12) that covers topics of weight stigma, body shaming, and bullying. Aly Rose is an 11-year-old girl, who wants to try out for the school musical "ANNIE" but is teased and made fun of by the 'cool' girls, making her think she could never get the part, because she is bigger than the rest of her class. She finds confidence and power in the most surprising place…I want to make this book available in middle school libraries, town libraries and in girls' organizations as an empowerment and body confidence tool.
Post Pardon: The Opera
Lead Artist: Arisa White (Augusta)
Collaborators: Jessica Jones and Ellen Sebastian Chang
Post Pardon: The Opera is an Afro-speculative opera-in-development by librettist and poet Arisa White and composer Jessica Jones. Set between the material and spiritual worlds, where three females' lives intersect because of a murder-suicide, the opera is a transgenerational apology. From the afterlife, a mother attempts to heal her relationship with two daughters, one living and one dead. Post Pardon, with its concern for gendered violence, is a lyrical and mythical world splitting open with a Black woman's song.
Assasi and Mike O'Hehir Double EP
Lead Artist: Assasi (Biddeford)
Collaborators: Mike O'Hehir, Nicolas Haquin, Stephanie Crosby (S6ef)
In a return to fusing Arabic rap with live instrumentation, Syrian-born hip-hop artist Assasi partners with Mike O'Hehir (indie folk) for a set of two collaborative EPs (titles TBA). A "Live EP" will capture a single evening of spontaneous music making. An "Original EP" contains songs born of deepening friendship and musical partnership. While the Live EP offers reggae-tinged reimaginings of Assasi's earlier repertoire with Bilad El-Sham/Domtexers, the Original EP explores the vulnerable ground of his childhood and youth. Together, these EPs celebrate the healing power of musical friendship, unhindered by cultural and genre boundaries.

Deep Space Maine
Lead Artist: Cary Adams (Starks)
Collaborator: Aaron Jones
Deep Space Maine is an off-grid site-specific installation and experimental architectural and social sculpture of scifi-inspired shelters (earth pods) in the wilderness of western Maine, where artists and community members will immerse themselves in feeling, and responding to, life on a new, warmer planet. The first pods will be installed in Starks, Maine, in early summer 2023 for an official public launch in July 2023 when the first Maine-based artist and community participants will arrive.
Bear in the Snow
Lead Artist: Daniel Goldberg/The Spookfish (Franklin)
Collaborators: We Be Friends Recordings, E. Saffronia Downing
This project is a videogame that is also a musical album by lo-fi experimental folk and electronic musician, The Spookfish. It is ten levels and meant to be experienced in one sitting. The levels and songs are mostly named and inspired by different landmarks on hikes around New Paltz, New York. The music for the game was recorded on a four-track tape machine, the game is being made in gamemaker studio 2 by The Spookfish. There will also be an old-school "instruction manual" with information included. The music is also being released on a vinyl record by a label.
Northern Latitudes
Lead Artist: Dean Merrill (Portland)
In the time of pandemic, climate change, and existential uncertainty affecting every aspect of our lives, it is important for us to reflect upon Gaia. "Northern Latitudes" endeavors to document remote northerly regions of the word, were few humans live yet are leading areas where the global effects of humanity on nature can be observed. Partnering with local artists, researchers, and environmental advocates a body of work will be created through photography, ambient and voice audio recordings, as well as music created biometric data from Svalbard (Norway), Iceland, Greenland, and TBD North American locations. "The snow is melting into music" -John Muir
Dirt Road
Lead Artist: Dylan Hausthor (Rockland)
Collaborators/Actors TBA
Dirt Road will be an immersive video project exploring mythmaking, buried journalism, storytelling, and broken realities among the dirt roads in midcoast maine. Dylan Hausthor will use this grant to fund the production of their first pseudo-documentary large-scale video project. The film will be a multi-channel one-shot film approximately a half-hour long—consisting of a series of scenes taking place along a dirt road in midcoast Maine, collaborating with the weathered landscape and true characters who live here.
In The .P.O.C.ket: Modern Oral Histories
Lead Artist: Flo Edwards (Portland)
Too often BIack voices are only accepted into White dominated spaces with stories of sadness, poverty, or violence. Modern Oral Histories (MOH) will show Black voices in success, progress, and joy. This project is a trio: an audio series, a social engagement event, and an art installation. A nine week series gathering stories of celebration and life experiences from BIPOC Mainers to share with local and international communities via radio and podcast formats will culminate in a community engagement event where show guests and listeners will be able to mingle in person and experience the related art installation.
Deep Fake
Lead Artist: Greta Bank (Hollis)
Collaborator: Scott Peterman
Deep Fake is an immersive project inspired by what was a Super Volcano over 400 million years ago. By embracing the destructive power and transformation of change, as studied in geologic time, the volcano is a portal for grief and reconciliation. This new site specific installation created by Greta Bank will be on view at Speedwell Projects, Portland, Maine from March 10, through April 29, 2023.
Tampon Insertion Sculpture 2 and Story-sharing Project
Lead Artist: Hale Linnet (Old Orchard Beach)
Tampon Insertion2 is a life-sized figure sculpture and community-building project combined. The sculpture is made up of 18 casts of body parts from models who experience censorship and stigma around their bodies and bodily autonomy. The contributors are invited to submit a personal story, so the final sculpture is made up of diverse shapes, sizes, and lived experiences. As part of the sculpture build, contributors meet in discussion to hold healing space for sharing and building community across generations and identities. The general public will be invited to engage with the final sculpture by submitting their own reactions and stories.
Collective Grief Practice Workshops
Lead Artist: Jefferson Navicky (Freeport)
Collective Grief Practice is a workshop that uses the shared experience of reading and writing poetry to honor loss and move toward healing. An established writer and teacher, Jefferson Navicky is skillful at creating spaces that foster connection and creative exploration. Participants will have the opportunity to engage with the poetry of loss, reflect on losses both quotidian and profound, and write into their own experiences. While making room for the emotional weight of grief, participants can also expect to experience levity and laughter as they get to know one another and deepen their writing practice. No writing experience required.
QTVC Live!
Lead Artist: Julia Arredondo (Portland/Waterville)
QTVC Live! is a DIY web series that showcases underrepresented artists/makers/creatives and the products WE make on a live media platform. Frustrated with arts institutions for skirting topics of career sustainability for marginalized creatives, QTVC Live! began as a way to openly discuss budding entrepreneurship within the context of art. QTVC Live! believes that visibility of the creative "hustle" serves as a form of class and cultural representation in the arts. Femmes of color are prioritized on the show as, historically, this is the most underrepresented demographic in the art market to date.
The Moose (working title)
Lead Artist: Kate Russell (Sedgwick)
Collaborators: Joshua McCarey, Esther Adams, Threadbare Theatre Workshop, Sherene Cauley, Martin Conte, Elissa Rajter, Dan Rajter, Kirsten Rickert
As an artist-in-residence at Reversing Falls Sanctuary this summer, Kate will be leading Threadbare Theatre Workshop's free Open Workshop Series. Threadbare will invite local community members across the Blue Hill peninsula and beyond to slow down, explore grief and joy through creative writing, movement, and theater workshops. This time together will allow the threads of a new, original, community-devised play to emerge. The working title of this play is The Moose, inspired by Elizabeth Bishop's poem.
imaginary island presents "YOU ARE GOING TO BE HEALED"
Lead Artist: Kristen Stake (South Portland)
Collaborator: Hannah Wasielewski
"YOU ARE GOING TO BE HEALED" is an interactive dance performance wherein two real-life healers conjure the ancestors, repurpose objects and unrealistic expectations, pull from marrow, dreams, and afterlife to HEAL themselves and the audience. Created by Portland-ME based experimental dance duo, imaginary island, this process includes at-home healing ceremonies, interactive mirror-neuron healings, an evening-length performance, and a lifelong commitment to choreographing healing processes. Equipped with fake Tarot cards, intake forms, and fluorescent wigs, the two therapist-dancers use found sacred/mundane objects to cast spells, abolish bad energies, and invoke ancestors for karmic healing.
MLTI READS ME
Lead Artists: Laura and Rufus MK Nicoll (Deer Isle)
MLTI READS ME is a series of community engagement events across Maine between October 2022––November 2024. Each chapter is structured by an original script, a performance workshop and a video installation. For the live workshops, performance teams will rehearse privately before inviting the public into the space to witness the work of making the show. Everything will be documented by everyday technology. The documentation becomes recycled material for the multi-monitor video installation and future chapters. This grant supports CHAPTER ONE––A TALL ORDER, the script of which is assembled from interviews with Margaret Chase Smith, Angus King, Patsy Wiggins and others.
Afghan Americana: Chapter 1
Lead Artist: Leila Christine Nadir (Farmington)
An ARP Maine Project Grant will support the editing and publishing of Chapter 1 from my memoir manuscript, Afghan Americana: An Intimate Geopolitical Memoir, and a robust promotion plan. Afghan Americana chronicles a Muslim-American girl's quest for art, wilderness, and freedom in an Afghan immigrant family haunted by colonial violence and intergenerational traumas. The literary journal Black Warrior Review will publish Chapter 1 in Fall/Winter 2022, and I will present the essay at the University of Maine Farmington in a series of events about Afghan diaspora and immigration in spring 2023.
Lime City: Rockland
Lead Artist: Luke Fatora (Rockland)
Collaborators: Josie and Sophie Davis, and Colin Wheatley
Luke Fatora will create an experimental film designed to be presented with live musical accompaniment that explores the many facets of Rockland, Maine. The finished piece will be a combination of live music, synchronous film, and sound design that will examine the relationships that residents of Rockland and its seasonal visitors have with the town, each other, and their surrounding natural world. The finished work will be completed before August of 2023, launched in the summer of 2023 and will be presented in live performances by the quartet 'Take 4' in its 2023-2024 season.
Dying/Laughing
Lead Artist: Maya Williams (Portland)
Collaborator: Mia S. Willis
Dying/Laughing is a monthly series that alternates between the video essay and the animated cartoon format. Each fifteen-minute segment begins with a content warning for suicidal ideation, contact information for necessary lifelines, and a guide to the media which best illustrates the month's topic. Hosts Maya Williams and Mia S. Willis then contextualize the month's topic using any relevant religious and historical information, harm reduction and intervention data, and/or anecdotal evidence before parsing a pre-selected movie's/television series' depiction of suicide for accuracy against their lived experiences. Viewers can explore their own experiences in how they view and think about suicidality.
Tiger Birth: Origins of Sea Free
Lead Artist: Nicola Chin (Lewiston)
Collaborators: Lisette Alvarez, Adam Burk, Karolyn Greenstreet, Max Mogensen
"Tiger Birth: Origins of Sea Free", on view August-September 2023 at Engine, is a collaborative and immersive exhibit inspired by the origin story of a universe parallel to our own: Sea Free. Messages, songs, and stories emanate from this other dimension and provide glimpses of a world where humans evolved without binary identities. Sea Free's Tiger Birth creation myth speaks to shedding the binaries of our identities and embracing our multiplicities. Sea Free is an ongoing interactive project by artist N.M. Chin that invites audiences to explore a world of joy and catharsis through audio, digital, and physical art.
Inside Vision: An Outside Exhibition of Inside Art
Lead Artist: Olivia Hochstadt (East Wilton with statewide collaborators)
Collaborators: Maine Prisoner Advocacy Coalition, Adriane Herman, Sophie Craven, James Meyer, Jamie Peloquin, Catherine Besteman, Alex Méndez, Dean Raymond, artist residents of Maine's prisons.
Inside Vision is an art exhibit presenting visual, fiber and performance art, poetry, and prose of residents of Maine's correctional facilities. The traveling exhibit will be featured in Portland, Bangor, Freeport, and Farmington art venues during the months of August to December 2022. Curators from the Maine Prisoner Advocacy Coalition will work directly with artists inside Maine's prisons during the summer of 2022. The show aims to emphasize the artist's humanity and allow the community to see them as whole people, not the act that got them in prison.
My Silly Um
Lead Artist: Pamela Moulton (North Bridgton)
Collaborators: Island Institute, The Sunbeam
"My Silly Um" is a series of collaborative art making workshops and exhibitions engaging remote Maine Island communities. Inspired by mycelium and seaweed, visual artist and environmental advocate, Pamela Moulton, will travel on the Sunbeam, a 74 ft. retired fishing trawler turned floating community center, to collaborate with remote Maine islands. Pamela and the island residents will create works of art using abandoned fishing gear that litters their islands. The Island Institute and Maine Sea Coast mission will connect Pamela to six island communities where workshops and exhibitions will be organized.
Maine Artist Interview Series
Lead Artist: Reed McLean (Norway with statewide artist collaborators)
Collaborators: Daniel Sipe, Karlë Woods, and others
Lights Out Gallery is a curatorial project created by Reed McLean, Daniel Sipe and Karlë Woods, fiscally sponsored by Creative Norway. Through a series of artist interviews punctuated by in-person shows, this project is a constantly evolving anthology of the arts in Maine. Their mission is to connect artists and their circles to a broader community to show obscure, emerging, and established artists alongside one another to encourage conversation, collaboration, and an egalitarian experience. They aim to show art without hierarchy, building a community of artists from a variety of backgrounds and experiences to illuminate art in conversation.
Megunticook
Lead Artist: Sam Brosnan (Cape Elizabeth)
Collaborators: Ezra Wolfinger, Sam Peisner, Irene Yadao, Jason Carreiro
Megunticook is a short film, written and to be directed by Sam Brosnan. It's a proof-of-concept for a half-hour comedy series that is currently in development. It is set during the summer of 1997 in Midcoast Maine, and it will be filmed in Camden and Lincolnville, on Megunticook lake, using a Maine-based crew and actors. In the film, two dorky middle-schoolers debate the existential mysteries of Wu-Tang, women, friendship, and family, as they roam the summertime wilds of 1990s Maine.
Rise Up! Portland
Lead Artist: Sophie Davis (Rockland)
"Rise Up! Portland" is a multimedia performance project curated by Sophie Davis that raises awareness of the impacts of sea level rise on Portland's coastal communities. In two public performances that combine synchronous place-based film, live music, and spoken word, "Rise Up! Portland" encourages reflection and action, inspires empathy, and calls on all ages to think deeply about opportunities for resilience and change within our communities. This project will feature live music performed by Halcyon String Quartet and film by videographer Luke Fatora.
Supervision: On Motherhood and Surveillance
Lead Artist: Sophie Hamacher (Freeport)
Collaborator: Jessica Hankey/Orbis Editions
In our social media and digital surveillance age, mothers' behaviors and bodies are observed, exposed, scrutinized, and policed like never before. The anthology and artist's book Supervision: On Motherhood and Surveillance, edited by Sophie Hamacher, gathers together the work of forty contributors, including twenty visual artists, to ask what the relationship is between how we watch and how we are watched, and how the attention that mothers pay to their children might foster a kind of counter-attention to the many ways in which mothers are scrutinized. Supervision will launch in spring 2023 through a reproductive justice-focused performance event.
Traditional Penobscot Basketry and Wabanaki Languages
Lead Artist: Theresa Secord (Farmington)
Theresa, an award winning Penobscot basket maker will present a new line of ash and sweet grass basketry that shares and encourages Wabanaki languages use. A basket maker for nearly 35 years, her work is meant to complement the present goals and values systems of the Penobscot and Passamaquoddy people in their work to support and extend the use of the oldest continuously spoken languages in what is now known as Maine. This work follows on the heels of her 2021 Luce Indigenous Knowledge Fellowship and will be presented publicly in Maine at Common Ground Fair and the Hudson Museum.
Second was awarded funds from the Kindling Fund regranting initiative by the jury.
braiding circle
Lead Artist: Veronica Perez (Westbrook)
braiding circles are intimate community gatherings focused on braiding a three strand braid or other material weaving while conversing about identity, experience, and belonging. It started as a way to create more braids for larger sculptures but turned into a place for honest and open conversation to be held. The braiding circles came about through the need to create a space for open BIPOCQT community conversation and to work toward the goal of communal healing through storytelling and braiding. These stories are then archived and shown alongside the work in an exhibition (to be titled).
Burundian Music and Dance Performance
Lead Artist: Yves Karubu and Batimbo United (Portland and elsewhere)
This project will have Karabu working with Batimbo United, a Portland, Maine-based Burundian ensemble to create a showcase of traditional Burundian arts and culture. This project will not only help to preserve and pass along elements of traditional culture, but is a way to engage the entire community in Greater Portland and Maine as a whole to celebrate a wealth of cultural diversity, bringing together people from various parts of our community, and keeping Portland, Maine a shining source of artistic excellence.