BIDDO BOIIDS is a social performance practice and community building exercise targeting LGBTQ+ individuals in Southern Maine. Throughout a series of workshops, lead collaborators Scott McPheeters, Evan Hart Marsh, and Justin-Rose Desper will work with LQBTQ+ youth in Biddeford to create a citywide exhibition and performance of queer "nests" and queer "nesting practices/performances".
The youth will construct "nests" unique to their identities and sensations of belonging, and develop movement, song, and text to accompany the work. Audiences will be invited to follow a nesting trail and witness the performances. The lead collaborators are seeking to also build a nest and develop an evening-length performance to be showcased over two weekends in winter 2024. BIDDO BOIIDS is the recipient of a 2023 Kindling Fund Research & Development Grant. 
Over the summer, SPACE intern Claire Kaminski sat down with Scott McPheeters, dance artist and co-director of the Biddeford-based dance company Subcircle.
---
C: How was BIDDO BOIIDS conceived?
S: I met Evan Hart Marsh, one of my collaborators on the project, about a year and a half ago. He has a history of being a professional dancer, but was in school for sound production and design, and was interested in making sound for dance. As an experiment, we started passing material back and forth. We were interested in empathy as a physical practice of how close we could get to one another's disciplines. He would send me a music track, and I would try and find the essence of it in movement. I would also send phrases for him to match with sound.
The sounds and movement that kept coming out of it were very birdlike. He started playing with a lot of paper rustling sounds, anything that sounded like nest-building. There were some movements that I was playing with that matched that. We started talking as queer individuals in Maine about belonging and sensations of home, and the process of building a home for yourself. We ended up building a duet that the two of us performed in and he designed this sound score that was very bird-like and intimate. After that, our third collaborator Justin-Rose Desper, who was also a Biddeford resident, started thinking about the design of the project and potential community engagement for it. Justin-Rose is the advisor for the LGBTQ+ allies club at Biddeford High School, so we're interested in going and talking to queer youth in Biddeford about how they think about building a safe space for themselves.
The three of us started doing these mass nest-building excursions or walks around Biddeford with an eye toward what materials we would think about collecting for comfort, aesthetics, structure, or support, asking ourselves what is the shape of this nest? And how many individuals are involved in this?
We are looking forward to this fall to start working with youth and doing similar sorts of exercises. I led this workshop at Bowdoin College a couple of months ago, and it was a nice icebreaker for people to talk about themselves through something tactile, because what you're drawn to when you're thinking about building a home for yourself is going to represent some part of you.
Evan is going to continue making music from afar and we'll continue passing things back and forth. I'm not sure if the performance that I'm constructing will end up being a solo or if I'll invite another dancer into the mix. Justin-Rose is going to start to work with us to start thinking about costume pieces as a larger set design concept. I'm interested in bird nests as phenotypes as being like an extension of the body itself, and how materials from the nest become costume pieces and vice versa.
C: Expand on the title. I'm assuming Biddo=Biddeford?
S: Yeah, and BOIIDS references gender-queer "boi" and birds merged. When we started playing around more with the birdlike movement, we started referring to ourselves as Boiids also as a funny kind of accent. I'm not sure if that's the final title.
C: What would the act of building a nest look like? And will there be a culminating performance?
S: I'm assuming my vision will shift completely once I start being in conversation with the students. I want them to participate in the final product, maybe a showing that takes place at the school and it's installations of different visual nests that they build. I liked the idea of there being a trail of nests through the school or downtown Biddeford, and we could invite the students to inhabit them in some way. I want to guide them through processes of building texts related to their nests, or ways of inhabiting them with movements.
There are open-ended questions on the product of the nest itself. The nest could be visual, or maybe it's a nest soundscape. Maybe it's a video projection or collage. I feel like nests are weaving together materials that create a sensation of safe space at home. I want to allow that to take whatever shape it needs to be.
The nests won't necessarily be circular. Some of them might be more abstract, like the nest as a path, or hanging from the ceiling. I want to have them find different ways of thinking about inhabiting it. Maybe it's starting with the question of whether it is a project that they're all doing separately. Do people build nests together? Nests are very open-ended.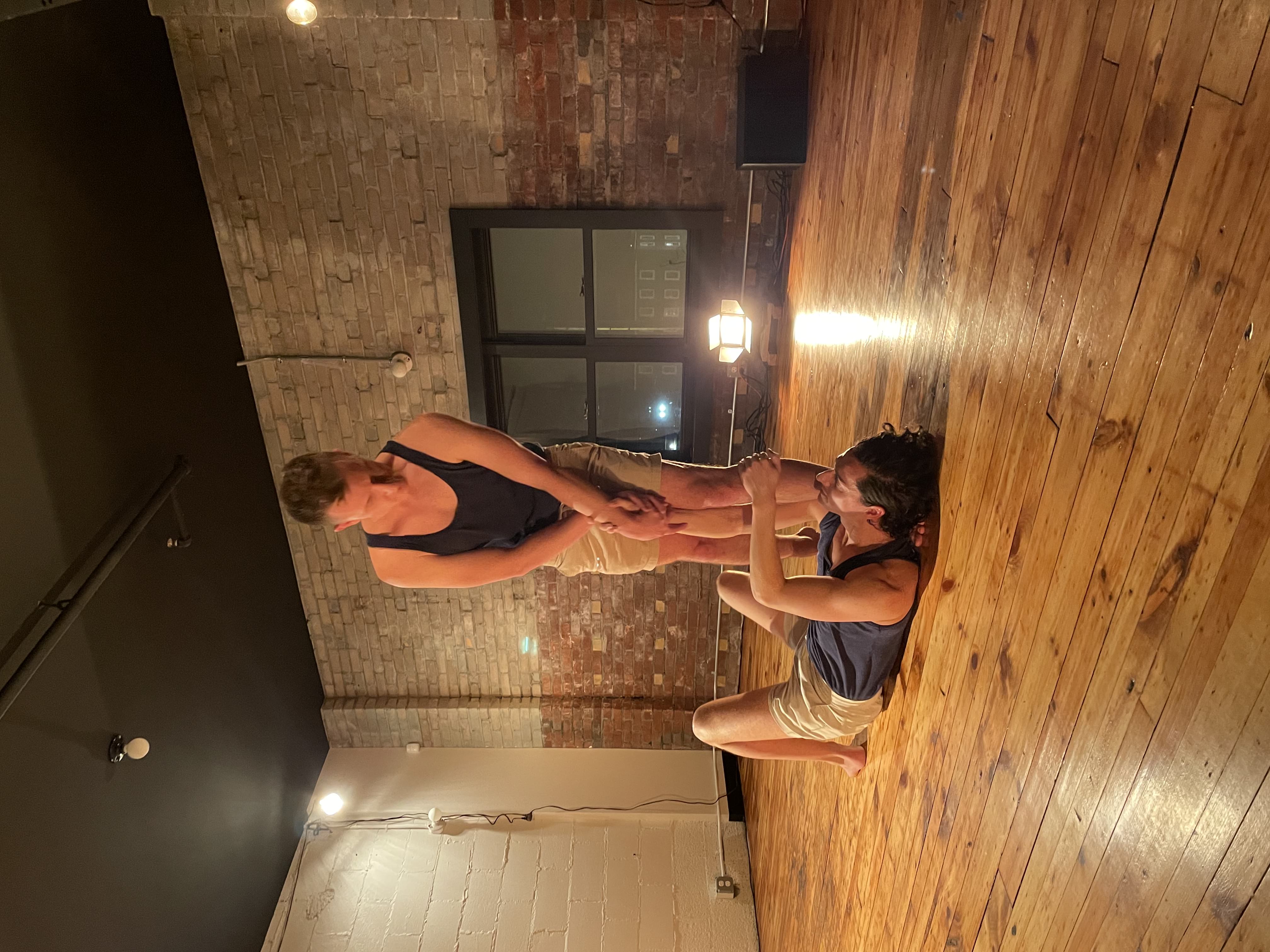 C: And it's cool that it opens high schoolers to be able to think abstractly because I feel like, looking back at my high school experience, people usually never get the opportunity to think creatively and abstractly until they get to college or until they're older.
S: I grew up in Biddeford and I have a very specific relationship to being who I am in that space. And I'm interested in being in conversation with this younger generation who certainly have a different experience than I did. I'm excited about giving them agency to create spaces that feel comfortable for themselves and not feel like they must sit within any specific social structure.
I was a part of organizing the Biddeford Pride this year, and there was a group of queer youth who organized a Queer Youth Pride picnic, and a lot of folks showed up for it. I love the fact that you can build community through your queerness.
C: What is your relationship to practice versus performance? This project seems very rooted in practice.
S: Yeah, as someone who's performed other people's work for a long time, I'm trying to strip away that expectation of performance or final product. Receiving a research and development grant specifically, through The Kindling Fund, allows it to feel more investigative. I have a little bit more space to not necessarily have a final product, but just ask questions and be in conversation with other individuals and see what comes up. There's a way in which this product is centered around the individual that's involved, and I don't want to control the way it needs to look. There's an interesting tension between inhabiting and performing, too, because there's a way that social spaces are performative. But there are many elements of authenticity within that, too. I'm playing with the tension of authenticity because once you know you're being seen, you might act a specific way. And that could be an interesting thing to get you to pick them out to see how they're projecting a specific image of themselves through their nest versus the softer parts of yourself that you don't show outwardly. I'm thinking about how they can be incorporated into the work as well as less of a performance. From my history as a performer, there's always that, like, Oh, God, I must have a finished product that looks good, that people love and all that..and constantly thinking about what people are going to connect to.
C: Especially with trying to present dance to different audiences. There's always such a big expectation for there to be a big goal at the end of a piece. Watching a work in progress versus a finished production is always so different, but the issue is that people are always expecting something big.
S: I'm interested in vulnerability as being the virtue of this, while people can still reveal themselves in a way that also feels safe. I don't want to just like, have them reveal their souls within a place that they don't connect to. They're not going to feel safe doing that. The question is how to find those spaces. What spaces are they drawn to? There may be things that don't take place in isolation, but if we're cultivating this community together, maybe they are just shared with the group and videoed and displayed somewhere else. So there's a little bit of separation and safety from that.
C: And that's why it's so hard for non-dancers to watch some things sometimes because it either makes them uncomfortable or makes them feel vulnerable. And it's like oh, this is not what I signed up for.
Do you have any current artistic inspirations?
S: I've seen a lot of work that's been inspiring—just to have it available here in Maine. SPACE has been such a huge part of that because they've been producing so much dance. It's become more of a dance hub than anywhere else in Maine right now, because everyone shows up when there's a show there. And then we get to be in community and conversation with one another and go have a drink after.
C: What gets you out of a creative block?
S: Historically, it's been the more-than-human world. I've always been very inspired by human relationships with nature. I've made work about ticks and octopi. I identify queerness in nature and am inspired by that. Oftentimes like this too, just being in conversation with another artist or friends, where I just get to riff on an idea.
Traveling to new places and getting to have new perspectives always feels very generative as well. Especially when I create work about a place. Ever since I was determined to stay and live in Maine, I've felt the importance of leaving so that every time I come back, I see it through new eyes and find something else to be inspired by.
C: What draws you to creating work that is so site-specific?
S: The way I exist in the world regarding my personality, my astrological sign, and my interpersonal relationships are all very responsive. I'm inspired by places I've been, and I'm inspired by other people or prompts that I'm given. A solidified project won't just come out of this grant idea right away. I enjoy being in a relationship with space. I like being in a relationship with questions and my collaborators. Coming back to my home state, I've felt a different sense of agency to make work about the place. When I lived in Philadelphia or the Bay Area, there was a part of me that always felt like a tourist. I didn't have as much of a deep-rooted history. I didn't feel like I ever knew enough or had enough history there.
It's just a different feeling here, especially as someone who grew up and was queer and never felt like I could belong, I want to dive into that more and talk about place and belonging through those questions to the community. I just really enjoy place as research. Even when I was feeling more like a tourist, the more I researched the place the more I felt comfortable speaking about it, even if it was just through my relationship with that place.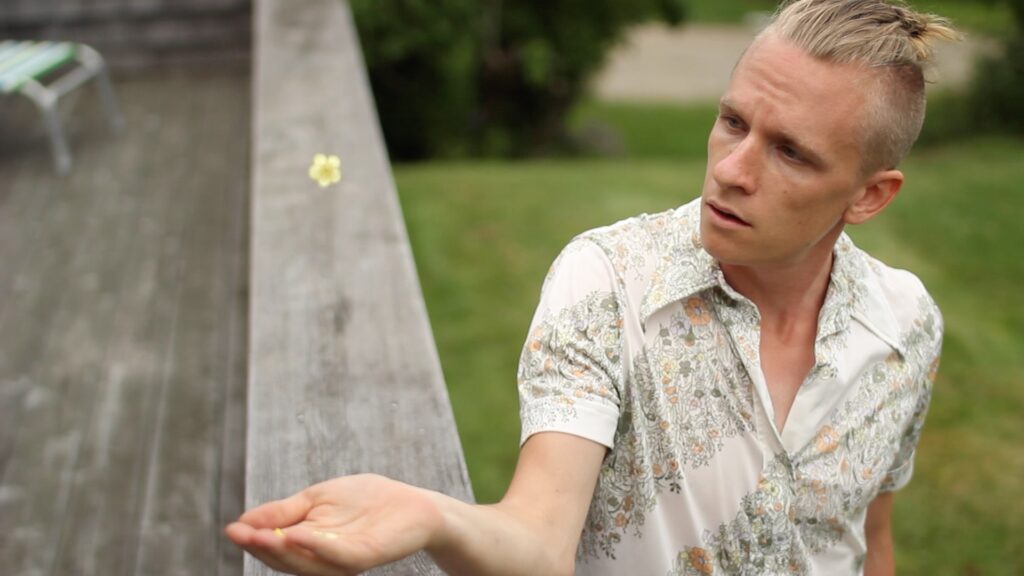 Click here to learn more about Scott's past and upcoming works.