Grant Corum is a visual & recording artist. He is best known for design & screen prints for music labels such as Sublime Frequencies, Psychic Sounds, Mississippi Records, Sahel Sounds, Feeding Tube, Lullabies for Insomniacs, Aguirre, Pacific City Sound Visions, and Time-Lag among others. Since 1990, he has created & collaborated on many audio releases, installations, performances & exhibitions throughout the United States, Guatemala, Japan and Europe. He currently resides and works in mid-coast Maine.
He is a member of the ensemble Million Brazilians, curates the record label Psychic Sounds, and hosts Lost Discoveries Radio.
---
Can you tell me a little bit about how the performance site Ro-He-Ge got started four years ago? How did you learn about the three former tenants- Roweena, Heloise, and Gertrude- that are its namesake?
We really inherited it. Dan Beckman and Amy Moon purchased this property in 2007. When they started things here, there were other people living with them too, it was always a community based effort to convert the 150+ year old, dilapidated barn and get it fixed up to a point that DIY shows, performance, theater, all kinds of things could occur here for people they knew who were traveling and coming through. Providing an alternative space for the performers they knew. There was the Slack Factory, Free Range organizers, and galleries who were having events in Belfast, Maine, but this in a way allowed for another kind of venue and outlet. When we moved in four years ago, we were encouraged to carry the torch and the name. We had met so many people touring and traveling, once we moved out here to Belfast people were contacting us about having shows and excited to visit Maine either for the first time or to return. Dan and Amy really wanted to see us carry on that tradition, so we just kept at it. That is how we got involved.
The history of the three names is a little mysterious. I think there was a sign in the barn with their names written on it that was discovered in the debris. Some historical information was discovered that provided evidence of the three sisters that once lived here. Ro-He-Ge is an abbreviation of the sisters' names. We just wanted to keep the name going to honor the history of the people & space that came before us.
Ro-He-Ge is the East Coast headquarters for Psychic Sounds, a music label whose focus is outsider music, unexplored territories, and pushing the boundaries of sonic possibility. How do you define 'outsider music'? Do you see connections to the realm of outsider art, which has actually become a very robust and at times fraught marketplace in the art world?
Yes, we relocated Psychic Sounds from Portland, Oregon to here in Belfast, Maine at the Ro-He-Ge site. Psychic Sounds originally started about a decade ago as a group effort.
In regards to outsider music- that is an interesting one, there are a lot of answers to that. It seems often, outsider music is initially created as sounds, songs, or compositions by musicians that are really devoted to a vision they have and is not initially part of any inside commercial industry. Or they may write songs that ignore standard musical and lyrical practices. There is the possibility of no formal training, or consciously, or unconsciously, choosing to disregard standard rules of structure which could irritate an average listener. Lacking any mainstream distribution, starting in pre-internet times promoted by word of mouth, handmade packaging, passing out albums by hand on the street or at shows… DIY is part of it too in the sense of making the best of what you have no matter how junked up it is. And some of it is often due to low budget or no budget. A lot of times people, myself included, have an inability, or possibly a latent unwillingness, to cooperate with public relations types, and just want to create something immediately. Skip all the industry filters and go for the raw juice.
Also living isolated and being naive to the industry game, or not caring, and creating for a long time without any kind of mainstream popularity, barely living off a craft, and unfortunately being recognized after death, instead of before seems to often happen. Some in their lifetime might attract some kind of following but very few do generally and it often doesn't translate to a living an average person would imagine is sustainable. The ones that do are often seen as a novelty by mainstream circuits. There are many known histories that cross some of these descriptions like this. Sun Ra & the Arkestra is a good example of an outsider during his times. Now many recognize him as one of the most inventive and controversial musicians of the 20th century exploring the outer limits of cosmic improvisation and multi-dimensional compositions!
As far as connection from outsider art to outsider music, one can share a greater individual expression over the creative act by keeping outside the control mechanisms that seem to often contaminate unhindered vision. The full vision is a really pure thing. There is an active disregard to navigate the socioeconomic maze that many artists navigate to build careers and popularity. The most important part of Psychic Sounds is giving artists a platform to share their vision without compromising it and documenting that process along the way. I've always been drawn to potent solitary freethinking music and art that reveres distinct individuals, deviants and unconventional loners that turn their passions into their life. The universe expands and becomes more interesting and extraordinary the more one spends time with such people. And, in a certain sense, an artist, whether it be through sound, movement, visual, etcetera.. can make the invisible visible by shattering the banality and narratives used to disguise reality. So, I mean, yeah, I think there can be, or is a connection for sure.
Everything you just described fits outsider artists. Sometimes the label 'self-taught' is preferred and becomes a stand in for a purity of vision, but also disregard of anything trendy, contemporary, or considered mainstream themes or ideas. Artists who appear to be not thinking about the audience at all, but making from pure intuition and vision.
Totally.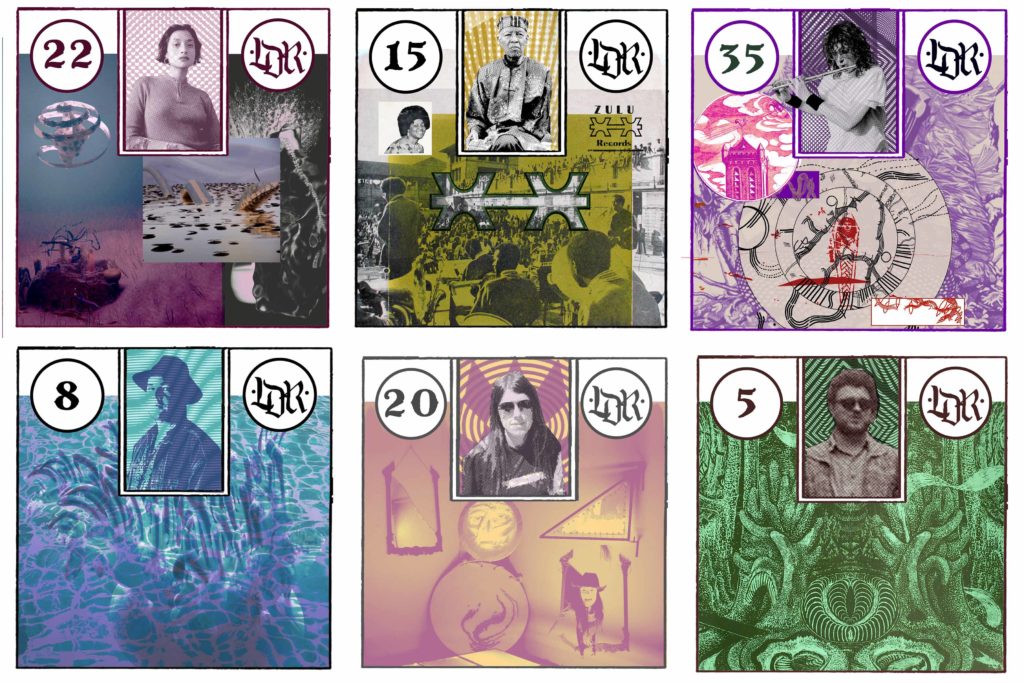 How has the Ro-He-Ge project pivoted due to the pandemic?
It pivoted right into a virtual sound space on Lost Discoveries Radio. The exciting thing is now it has pooled way more contributors and gathered far more sounds than what would have likely happened originally. We still use the Ro-He-Ge space to produce all the shows so the spirit of the space and the elemental moods of being right on the coast of Maine is in all the work as well.
Can you say more about Lost Discoveries Radio?
It's an attempt to begin to document an experienced byway of sounds, story and music from around the world to present to listeners and future generations. Originally it was to be only a local broadcast hosted by contributors of Psychic Sounds, and communities across the globe over the last couple decades, with an aim at sharing to the local community some possible uncommon sonic experiences. It's very much inspired by meeting, and spending time with people while touring & performing, storytelling, collaborations, hosting, found recordings, free thinking ideas, ideas from books and movies, and what we dig up on travels, and in unearthing archives, that feels inspiring and fresh.
What is the difference between a "virtual sound space" as opposed to a radio show?
By virtual sound space, I mean that some of the shows have been an open collection of broadcasted live performances, conversations, art installation sounds, storytelling, field recordings, book readings, instead of strictly the artist / song kind of format that is commonly used on mainstream stations and general programming. We've also been sharing tracks and mixing some new music from afar like recent collaborations called Timelash, with musician Nicolás Carcavilla out of Santiago, Chile, and another with Italian singer & pianist Adele Pappalardo performing in the Million Brazilians ensemble out of Midcoast Maine.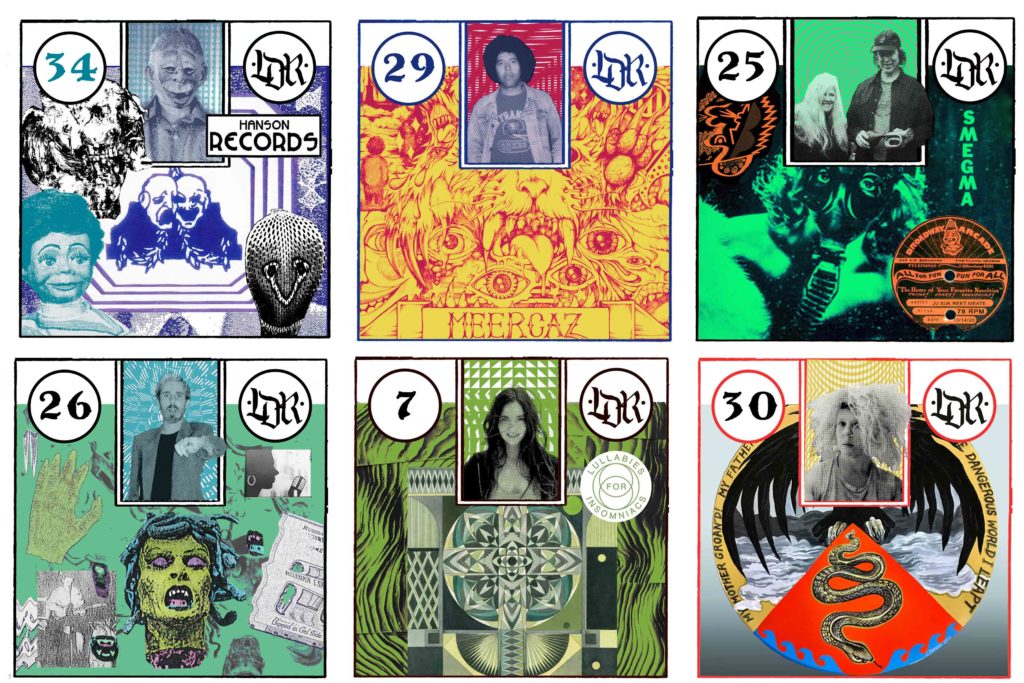 Your intention for this project –prior to COVID– had been to bring national and international musicians to Belfast and encourage collaboration with local artists. In some ways, it seems like you've found a digital avenue to do something similar, as each week's mix features different artists from different parts of the world. How do you approach it?
Yes, and to also inspire new sound forms, free thought, to present something interesting and sustain it. We always want to keep giving new experiences by sharing space through the recordings, curation and live shows. The way I approached it was by initially making a list last December of everyone I'd love to have on the show, who's played or would be interested in playing live here, and that we've produced or could produce some albums for and then just started writing to everyone. As far as integrating that into the local stream, I've aired some episodes on the community radio and use websites to stay in touch virtually, local papers, and made posters and handbills to try and bring about some awareness. As far as space curation, I like combining unusual pairings as to create more of a dynamic experience for the audience. The performers have often shared spaces together or have an interconnectedness over time through different communities, so for most of the featured guests it's not just a cold call. There is a real connection with many, if not all of them, a deeply familiar current felt. Ultimately, the approach is to aim to provide something interesting, fresh and unexpected. A listener or concert goer may not like some of it, or any of it, but I hope it's at least a new experience on some level! [laughs]
Have there been any highlights from the series thus far that stand out to you?
The interviews are always really interesting. They are a chance to spend an evening or two with someone and talk about life, processes, inspirations, philosophies, wisdom and storytelling. And sharing new mixes of musical perspective is always exciting. Some past episodes that stand out are the Philip Cohran spotlight, White Gourd's morning music and Hildegard von Bigen feature, Idaho Joe's ghost boxes communications, Nonlocal Society mix, and Carlos Gonzalez movie audio excerpts are a few that come to mind. I'm excited about upcoming interviews I'm editing now with Trulee Grace Hall, Toussaint St. Negritude, Aaron Dilloway, the Carnal Torpor cult and the Malta Refugee Rescue Organization that are in production.
I've been getting fan mail about the series too which is crazy, from Canada, Europe, and around Maine, mostly packages of albums people want played which is exciting and most welcome. It seems like it's caught on, which I had no expectations of, especially in pivoting from being on-location at Ro-He-Ge to a virtual space.
What is coming up next for Lost Discoveries Radio?
I'm really excited about the countdown over the next few months of the final episodes, leading up to the final episode number 50. And I'm starting to think on and plan for Season 2 so definitely stay tuned for that.
Another big part of the project is the physical media coming out. [Pictured below] are the first four cover art pieces of recordings produced at the Ro-He-Ge or inspired by the radio show. Small batches of cassette tape format harkening to the joys of radio / mixtape culture are coming out for the rest of the year and plug into the featured artists for each episode. The first four are:
+ Idaho Joe 'Sirening Tidepools' – slippery twang & water funk
+ DJ ARB (WFMU / Cannibal Stew) 'Turn Off The Century' – "killer vinyl 45's mix of exotica, latin, rockabilly, tittyshakers, popcorn, jazz, r&b, novelty, haunted hits, post-bop, heat heavy, instrumental grooves, soul, and non-classifiables"
+ Rennek 'Ichthyocentuar's Leap' – cinematic synthesizer soundscapes, sci-fi debris, and bumping electronic rhythms by Embassador Dulgoon
+ Universal Cell Unlock 'Innocence of Logic' – "Christopher Forgues homemade electronic devices made out of clock cores, sand and circuits self replicating sounds of noise and ambience spliced with field recordings "

Your programming has always had a multi-dimensional vision. Have you found new ways to blend disciplines – art, performance, music, video, installation – together in the pandemic?
Not beyond the audio boundaries at the moment. I really want to utilize more of the live audio / video transmissions to give a simulation of a live feeling, more of a present element..but it's still so remote and distant. An upcoming collaboration that's been in the works for the last year is with artist Naoko Wowsugi. She created a copper rod micro-temple and grew morning glories all along it. At sunrise we're synching up and she's going to sit inside it, and play a taste-bud gong, and describe the process of the dawn mourning ritual as a healing offering that is an extension of her ceremonial taste series. While she plays and speaks about it, I will be receiving the transmission and responding with live musical elements on some instruments and sampled textures inspired by the environment.
How do you see the future of live music in the Ro-He-Ge show space?
I see live music at the Ro-He-Ge happening again, just not until the pandemic cools down and people are ready to psychically get in closer proximity. Meanwhile we'll continue to collaborate virtually. As Dilloway recently pointed out on Lost Discoveries Radio, "People are always going to be looking for weird stuff as long as it's not being shoved down their throats". On that note, we'll always remain a magnet and outlet for both traditional and experimental voices, and those seeking something different than what other spaces often book around here, as has been for the last 13 years from the Ro-He-Ge show space.

In addition to recording and distributing music for the artists of Psychic Sounds, you also design album art for many of the artists you record. I imagine that is very rewarding to be able to support artists you believe in on multiple levels and creating something visual to promote their work. Can you tell me more about how you experience that process?
It is an honor. It's amazing to be able to be directly in touch with the artists we have worked with. Out of everything- recording, distribution, promotion, all that stuff- the art is the most exciting part for me before the final release. The recording is also incredible to witness and be part of, but engineering can be really intense! [laughs]
Besides the initial conception idea, when I first think of a possible collaboration or find a recording, that is really what gets it going. But when it is nearing its end, the art is really exciting. To think about how to bring it to the next level in delivery. Just to be true to the artist and the recording vibe is a challenge. Sometimes, it can be collaborative and I work with the artist and they already know what they want and I just help with layout and format. Other times it's researching associated colors and images and putting them together like a puzzle until it's done. Or at more magical times I can really just see it right away, I can just visualize the cover. At that point it is just being true to that vision and bringing that to life from that initial image.
Are you working on anything else right now?
We're always mixing documentation and recordings from hosted events and visiting artists, and still producing all the Lost Discoveries Radio first season programming up until July 2021. As mentioned, we're beginning media production again starting with some highlights from the Lost Discoveries series mixes and featured guests.
Collaborations with The Lavender Flu & Million Brazilians, Christopher Forgues's Sand Clock Cores, Return of Timelash with Embassador Dulgoon, White Gourd's tarot of The Chariot / Strength, Idaho Joe's underwater organ playing octopus field recordings, Adele H 's inspired coastal Maine melodies, Eva Van Deuren's, of Orphan Fairytale, new garden & tea ceremony music, Dungeon Jazz Ceremony Nights sessions, new collection of Inspired School of Astral Music, and an art edition reissue of Maya Deren's 'Divine Horsemen' to name a few. I'm also preparing to spend a few days out at Orgonon, which is Wilhelm Reich's land and laboratory in Rangeley, to finish recording and mixing Universe B, an astrobiological themed trilogy of albums. Hoping to premiere that for a pending residency & concert in Tenerife, Canary Islands later this year.
Also looking forward to rescheduling cancelled tours when that all safely opens up again. Gotta represent Maine in the Mediterranean area and South America hopefully in late 2021 or 22, and hopefully, in turn, get more performers from all those experiences to come visit us in Maine and collaborate on a local level and see what we have to offer as well! We have a good sized list of artists ready to bust out and to create and perform here.
Anything else you would like readers to know about this project as its unfolding or how you felt when you received the Kindling Fund?
I took the Kindling Fund award as a sign, and a deep honor. I was trying to figure out ways to sustain a budget and time to sustain the documentation and just keep on. This has given me an opportunity to not worry as much about scrambling, distractions, and really ensured that this is something that is important and needs to keep going forward. I took it as a very important sign. Overall, I'm just deeply thankful to be alive to be in the position to continue creating and keeping the currents going. Seems to be resonating with people all over and I hope, in the very least, it alleviates some suffering through the power of music & sound to heal and inspire, or break up stagnation whether it be through a heavy melody or alien noise. And to help channel the voices that often go unheard, and tell the stories that may have been lost. Eternal gratitude to those that paved the way, and that support the music and arts that are happening now and those carrying it all on.
And let's go out on a quote that resonates with me and the Psychic Sounds ethos for that matter, by Hildegard von Bingen, that was shared by White Gourd on Lost Discoveries Radio,"We shall awaken from our dullness and rise vigorously toward justice. If we fall in love with creation deeper & deeper, we will respond to its endangerment with passion."