Kris Clark has always brought the music with him wherever he goes. Starting with a passion for the sounds of new wave and alternative acts like Talking Heads, New Order, Depeche Mode, and The Cure, Kris started out by putting on parties in Waterville with this music. Soon, he relocated to Portland, and of course he brought the music with him. He got a show on WMPG and began putting on parties in any building, warehouse, or rooms for rent that would let him. "I would spend the whole night [and] bring my own PA system," he told me. "We called them Ultimate Dance Parties." These Ultimate Dance Parties were at first just occasional ragers, occurring about once every three months. Later, Kris got his first regular paying DJ gig at HuShang, spinning on Saturday nights. Weary of the pop and top 40 he had to play for the Old Port bar, he convinced the owner to let him play on Tuesdays instead. "That was amazing, I could just not take requests if I didn't want to, and just play all the new stuff," he said.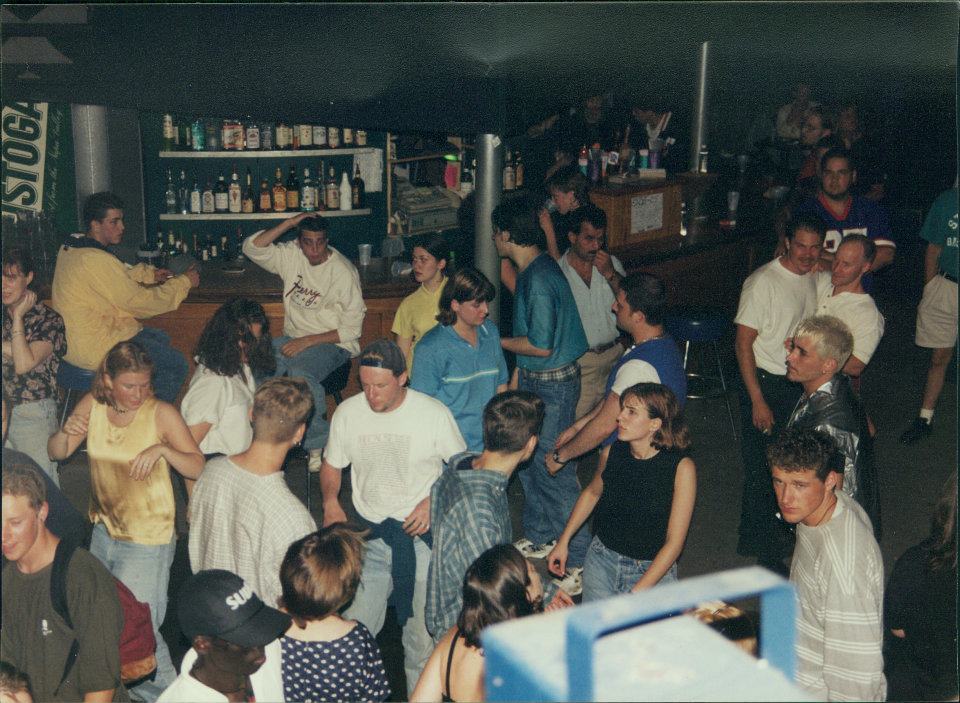 It may be surprising then, with Kris's continued dedication to be on the cutting edge of new sounds, that the creation of Zootz, his own nightclub, was sparked by somewhat of a spur of the moment decision. One night in 1985 at the Portland Club, Kris was in the middle of a mix, trying to sync up two beats, when a friend tried to talk to him. "Kris, I hear you're opening up a nightclub," he remembered. With no plans to open a club, but distracted by the need to keep the mix going, he went along with it so he could get back to work. "And I said, 'Yea I am. Yea, that's a good idea. I think I will." Much to his chagrin, this friend then told everyone that he was, in fact, opening a nightclub. After initially pushing back, Kris eventually decided the endeavor would be worth it.
After scraping together what he thought would be enough money through small personal loans, and some location scouting, he finally settled into the iconic Forest Ave location for Zootz in 1987, a controversial choice at the time. "Congress Street was dying off," he told me. "Every fourth building was empty. But I just did not want to be a part of the whole Old Port bar scene, I wanted to be unique so that people there were coming to my club," as opposed to the bar-hopping common in the OId Port.
The club was open by that summer. "The good thing about nightclubs compared to new businesses is that they start fast," he said. Since everyone in the nightlife scene wanted to check out the new club, Zootz was overwhelmed with demand very quickly. "Hadn't even finished the bathroom stalls," Kris laughed.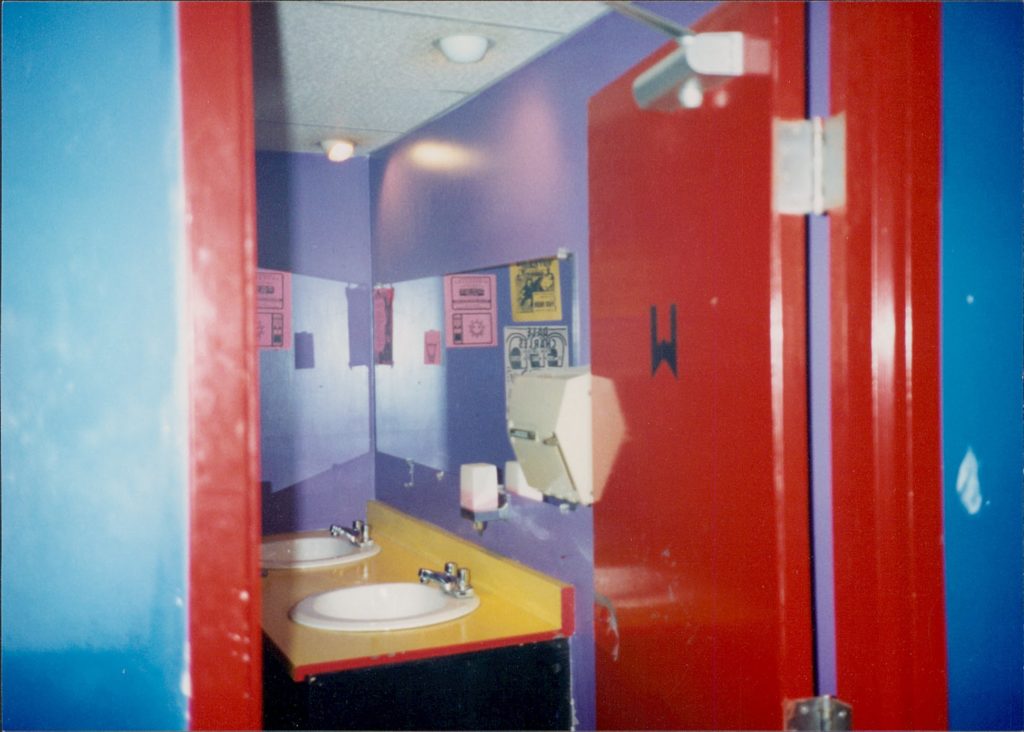 Happy with the influx of cash that allowed him to pay off contractors, and that his location planning worked in deterring rowdy bar-hopping types, he turned towards his next goal: creating an inclusive and supporting environment for his patrons. One of the things he stressed to me was the importance to him that gay communities not only feel welcome, but openly accepted. This included not just giving the community a space to exist in, but putting in the effort to provide support, including hosting benefits for ACT UP. "A lot of my friends were gay," he said, having noticed that a plurality of clubs in Portland at the time were straight-exclusive. "The clubs I enjoyed the most in New York and San Francisco weren't strictly gay or straight, there was just a nice mix." His efforts to remain inclusive also spurred Kris's decision to make Friday nights at Zootz all ages, a choice other club owners in town chided him for. "All the bar owners were like: 'you're not gonna make any money on an all ages night, there's no bar!'," he laughed. Yet including younger people was important to Kris. He remembered being younger and needing something to do on weekends, and resonated with the high school and college kids who felt the same. Moreover, it was these younger crowds that were the most enthusiastic about the new music Kris was playing, which he deeply appreciated.
Of course, the connecting tissue that both allowed for diverse communities to thrive at Zootz and for Kris to keep the lights on was the music played and performed there. Initially, Kris acted as the primary DJ of the club, before realizing the difficulty that comes from trying to perform and operate various front of house duties at the same time. So, he hired a host of some of the most talented local DJs he could find. Bob Look, a friend of Kris who he shared a WMPG show with, started spinning regularly at the club, and became the only DJ to do so for the entirety of the time it was open. Chris Gauthier was praised by Kris for his abilities to mix and cut tracks together, saying he was one of the first deeply skilled DJs to work the venue. DJ Overload, a pioneer of dance music and breakbeat, and Deb Dufrense, whose sets were always on the cutting edge of new music, were also some of the talents Kris booked. These are far from the only names central to the club's sound, Laree Love, Mike Said, FK!1, and Dereloid were among the others who came up in conversation with Kris.

Although individually all these incredibly talented DJs had more than enough skill to keep the dancefloor moving, Kris remembers the nights where they collaborated together and with others fondly. "That's how a lot of DJs start- they pick a few songs, and whoever's DJing says 'yea you want to do half an hour?'" For Kris, watching these connections form in real time was a key part of the experience.

It was around the time that the club opened that new sounds in dance music began to emerge from Chicago and Detroit, birthing house and techno respectfully. Some of these sounds ended up in the rotation of Zootz, but it wasn't until one of Kris's DJs, Dale Charles, moved to California, hosted raves in LA and San Diego, and sent back some of the records he was spinning that Kris became aware of what a rave really was. This spurred Kris to start his own raves in 1992, first as a trial run in his own club, and then at a warehouse on the waterfront that fall. These two shows were not just the first raves to occur in Portland, but some of the first raves in the entirety of New England. DJs from all over the region performed at these events, and their success and the connections made at them are what allowed rave scenes to follow and flourish in Boston and Connecticut.
Yet these dance parties were far from the only sounds going through the doors of Zootz at the time. It was in this same span of the club's early years that it was host of a number of performances from would-be icons of the 90s alt-rock and hardcore scenes, including Smashing Pumpkins, Fugazi, Dinosaur Jr, L7, and the Flaming Lips. This includes a famous early performance from Screaming Trees in which they were joined onstage by then-also unknown Soundgarden. Booked for the same night down the street, Soundgarden bailed when no one showed up and joined their friends at Zootz for a raucous multi-band jam session that lasted the whole night. A few already well-established acts of their time like Bad Brains and Cannibal Corpse also found their way to the venue. "Every night was very different," Kris said. "People would come in, they'd walk into a dance night, and then they'd walk into a Fugazi show, or a hardcore show, or a reggae show, or a jazz show."

As Zootz gears up for its upcoming reunion at SPACE this weekend, I focused in with Kris on what he felt would be playing at Zootz today. "It would be definitely playing mostly house- but that's a wide range" he said. The genre has had such a radical evolution since the club's early days, with the minimalist and muted sounds of a subgenre like deep house coexisting with the high-energy sensibilities of Baltimore or Jersey club under the same umbrella term. He also acknowledged how far drum n' bass has come along, connecting it to DJ Overload's early breakbeat sets and saying it likely would have a home at Zootz as well. He also thinks hip-hop and pop would still have a role in sets, the same way it used to. "We played Prince all the time," he said. "He was putting out great dance music." With a vivid memory of the racist and homophobic Disco backlash of the late 70s, Kris always felt that any music that is worth dancing to, pop included, was worth putting on the dancefloor. "There's some great pop dance songs. You can't think too narrowly when it comes to dance music."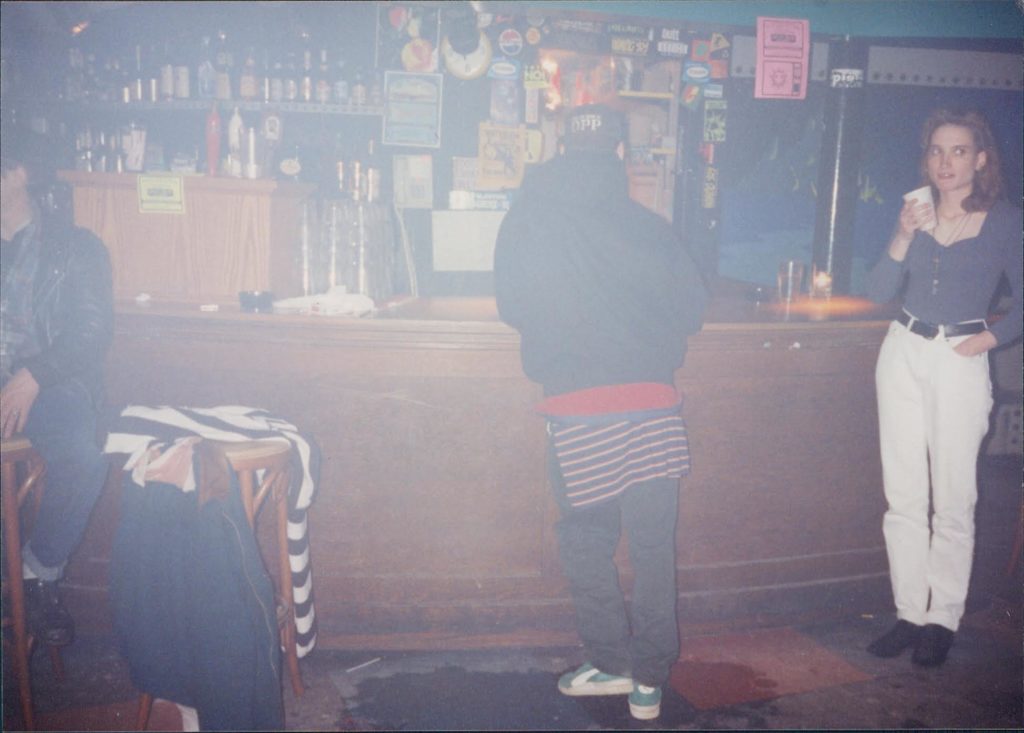 When SPACE opened in 2002, Kris felt invigorated by a new arts venue that he felt the city needed greatly, and wanted to do what he could to get involved in it. "I didn't do much- I think I painted a bathroom" he laughed. After being a close friend of SPACE for years, including hosting a number of Ultimate Dance Parties in the venue in the 2000s, Kris joined our event staff, a job he lauded to me for allowing him the ability to be involved in continuing to bring music to Portland without the stress of owning the place. "SPACE came around at the right time," he said. "And 20 years later, it's just as great as ever."

The ZOOTZ reunion will take place this Saturday, November 26, starting at 8:30PM. Sets will be performed by Chris Gauthier, Deb Dufrense, Mike Said, FK!1, and Dereloid in both the venue and gallery spaces. Tickets are available now here.