Last month, SPACE staff made a playlist to remember the vast body of musical artists that have played our stage over the years. Now, we'd like to do the same for our favorite community events and films.
In 2022, SPACE welcomed more than 16,000 people at our events, more than 9,000 at our art exhibitions, and countless more viewing our window installation.
As we remember our great times here, our goal is to rebuild our MEMBER base. We need just a fraction of that number to become members to reach our fund drive goal of 500 members.
Thank you to everyone who has already become a member or donated during our Spring Fund Drive. We couldn't do this without you! Because SPACE has inspired you too, consider donating to our effort! We just added a recurring donation tool.
---
Carolyn Wachnicki, Designer and Exhibitions Manager
Sisters with Transistors, film screening
June 6, 2021
SPACE collaborated with Friends of Congress Square Park and Portland's Synth Club to present a free community screening of this 2020 film about pioneering women electronic music producers.
CW: Loved the interactive pre-show and gear demos with members of Portland's Synth Club. Got to play theremin for the first time thanks to the synth club petting zoo!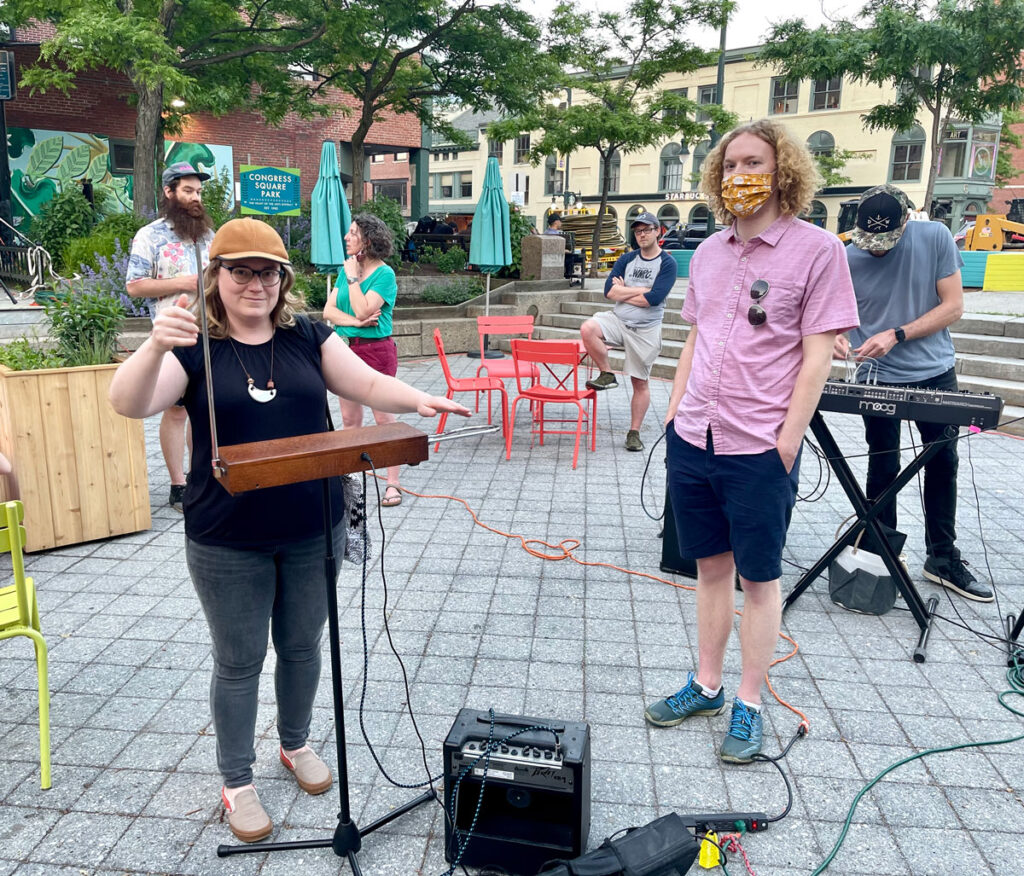 Carolyn Wachnicki and others at the Sisters With Transistors event in June, 2020
---
Julia Whyel, Projects Manager
The Freedom Project
September 8-9, 2017
The Freedom Project was a multimedia physical theater piece designed and directed by Aaron Jungels that wove personal stories, evocative imagery, and athletic choreography in an examination of mass incarceration in America.
JW: My all-time fave, this completely expanded my ideas of what live performance and use of space could be.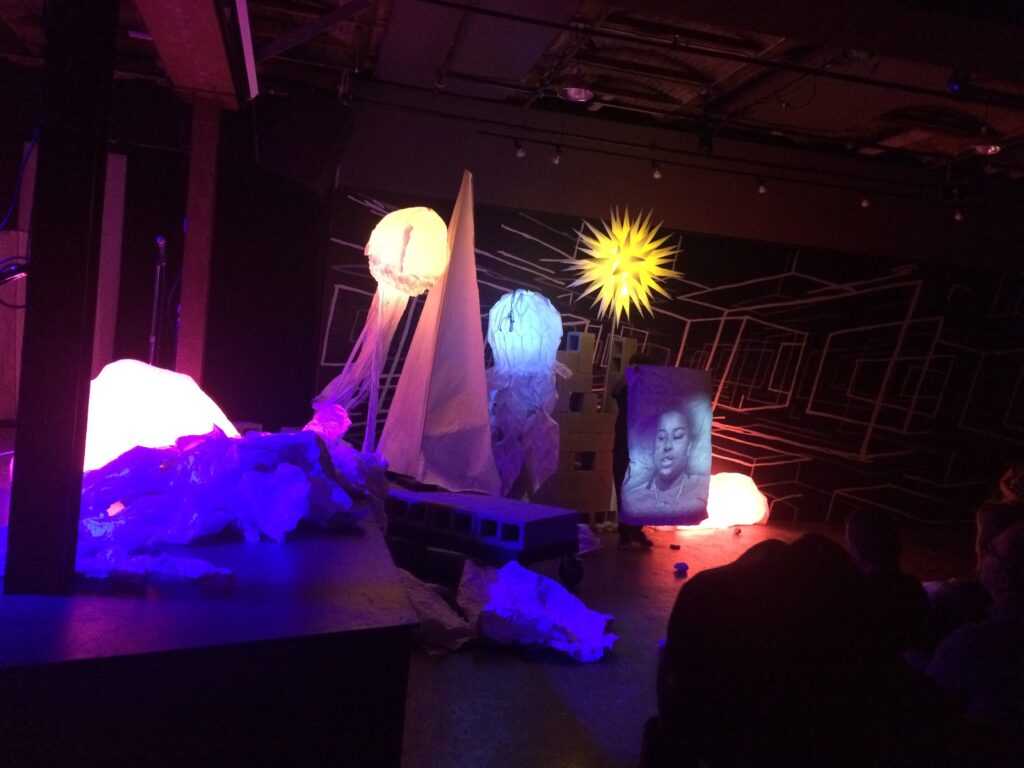 A photo of the set from the 2017 production of The Freedom Project.
---
Meg Hahn, Development Coordinator
Bronx Gothic, film screening
November 5, 2017
Director Andrew Rossi's electrifying portrait of writer and performer Okwui Okpokwasili and her acclaimed one-woman show, BRONX GOTHIC. Rooted in memories of her childhood, Okwui fuses dance, song, drama and comedy to create a mesmerizing space in which audiences can engage with a story about two 12-year-old black girls coming of age in the 1980s.
MH: Bronx Gothic feels like a good example of an event I was curious about, didn't know much going into, and left feeling really inspired and glad that I took the leap to watch and hear something new. Besides being an amazing film that followed Okwui Okpokwasili's process, it was really special to have her in person with a Q+A at the end and feel that I (and the audience) was given a chance to get to know her more personally.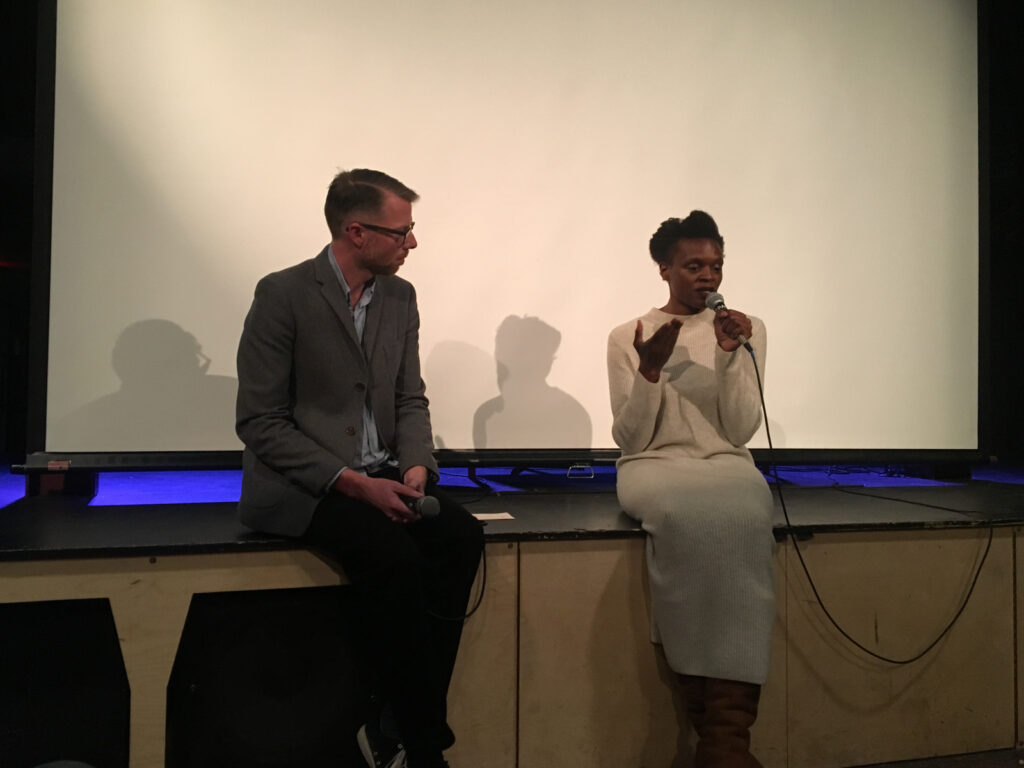 John Andress, Curator of Performing Arts at the Institute of Contemporary Art in Boston, interviews Okwui Okpokwasili after the screening at SPACE in November 2017.
---
Jocelyn Leighton, Managing Director
Trash Dance, film screening
December 5, 2017
In this 2013 film, choreographer Allison Orr finds beauty and grace in garbage trucks, and in the unseen men and women who pick up our trash. Filmmaker Andrew Garrison follows Orr as she rides along with Austin sanitation workers on their daily routes to observe and later convince them to perform a most unlikely spectacle.
JL: Trash dance is my favorite film, because the premise was to bring humanity to one of the most thankless jobs, but most important jobs that there are especially in larger cities. And the choreographer brought together, machinery, people, family, and community in such a beautiful way through dance. I would highly recommend this film anybody.
---
Greg Jamie, Film Programmer
Deep Listening: The Story of Pauline Oliveros, film screening
February 24, 2023
This 2022 film tells the story of the iconic composer, performer, teacher, mentor, philosopher, technological innovator and humanitarian, Pauline Oliveros. On the vanguard of contemporary American music for six decades, her story illuminates the pathway to how we got where we are and where the future will take us in the worlds of music, the philosophy of sound, and the art of listening.
GJ: It was one of the first public screenings in the country of the movie, was a packed house and had a really cool audience participation part of it that everyone took part in.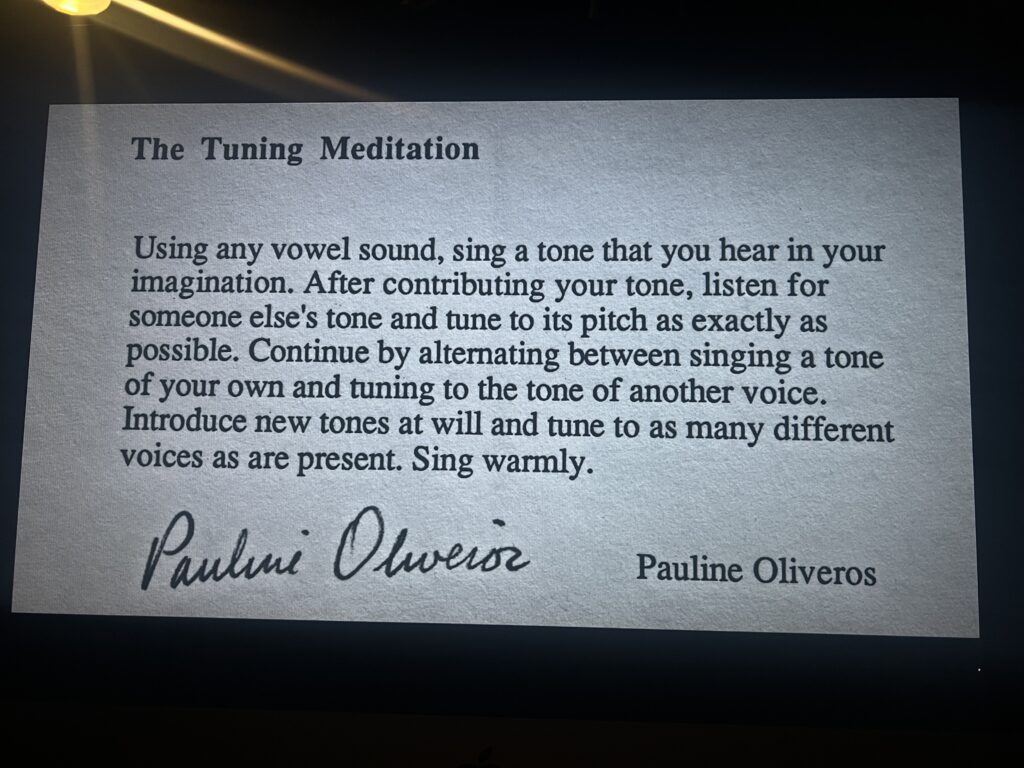 A community sing-along prompt at the conclusion of the Pauline Oliveros event.
---
Kelsey Halliday Johnson, Executive Director

KHJ: Letting young people tap into visionary ideas in our work is hard to beat. Up until 2020, in conjunction with the annual Dr. Martin Luther King Jr. Day celebration and dinner hosted by the (currently defunct) Portland chapter of the NAACP, SPACE hosted an annual day of hands-on art activities with youth from the Portland Housing Authority Study Centers. Students would work on a collective project, independent drawing and writing, and have a chance to screenprint with artists from our studio building designs created by students in the Study Centers. Their work would then be presented and on display at the evening's dinner and program.
Hosting youth for collaborative and independent art making, engaging with social justice ideas like the Poor People's Campaign, and creating space to share their dreams for more equitable futures is truly the best.
[Sadly, the program has been on hiatus since 2020, due to the pandemic.]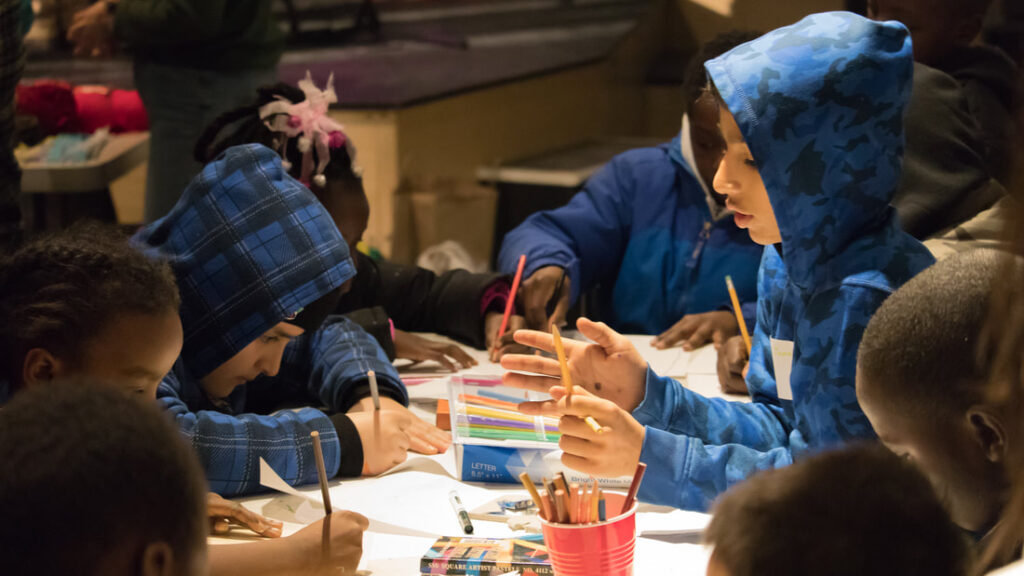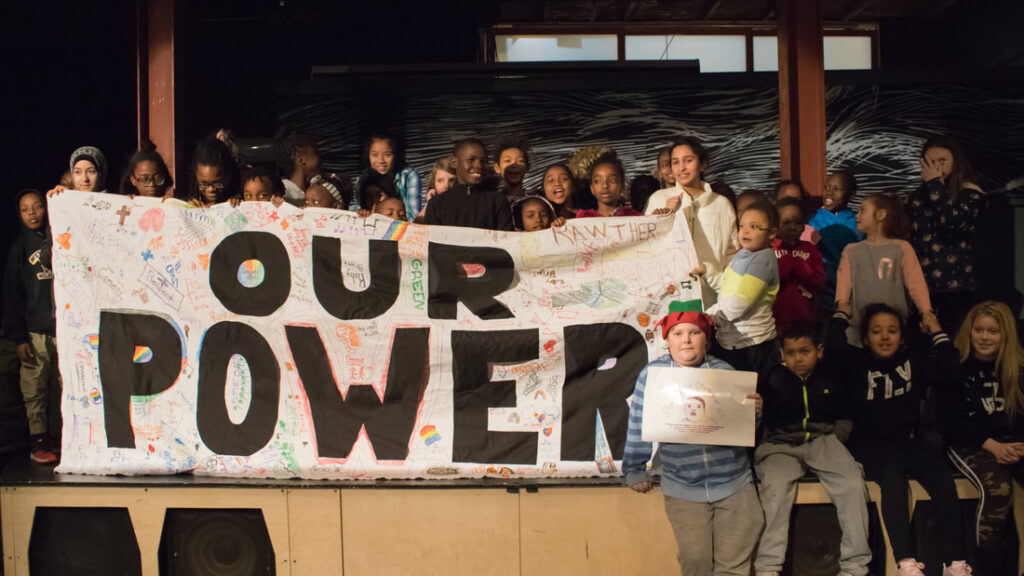 Photos courtesy of Portland Housing Authority Study Centers
---
David Hingston, Event Staff
Tie: Nam June Paik: Moon is the Oldest TV, film screening
April 5, 2023
and
Max Roach: The Drum Also Waltzes, film screening
May 17, 2023
Co-presented with WMPG at the Movies
Within a six-week span earlier this year, SPACE screened documentaries on the the pioneering video artist Nam June Paik and groundbreaking jazz drummer/activist Max Roach.
DH: I loved everything about these two biopics—the tunes, the performance clips, the outtakes, the interviews, the editing and vision behind them—so much depth and texture in the lives of these groundbreakers! I'll always think about their work differently now!
---
Peter McLaughlin, Music Programmer
Popeye (1980), 40th Anniversary restoration film screening in Congress Square Park, with special guest Jimmy Dority and Friends
August 11, 2021
PM: Jimmy Dority opened the night, playing music from the film (and other Van Dyke Parks and Nilsson classics) on an upright piano we moved from the Apohadion.
Before the film started, a man came over to Jimmy and I and said, "Hey, that was great, I'm Richard Parks, Van Dyke's son."
Nick Schroeder, Communications Manager
The Pruitt-Igoe Myth, film screening
November 22, 2011
The Pruitt-Igoe Myth is a 2011 documentary film by Christian Freidrichs that re-examines the social, economic and legislative issues that contributed to the failure and ultimate demolition of St. Louis, Missouri's Pruitt-Igoe public housing complex, a site that's become synonymous with the failure of federally funded housing in the U.S.
NS: According to Freidrichs' film, the narratives that explained Pruitt-Igoe's downfall blamed modernist architecture, denounced public assistance programs, and stigmatized public housing residents themselves. Instead, The Pruitt-Igoe Myth makes the case that other factors—like St. Louis' structural changes, public welfare policies, racial segregation, and flawed assumptions made by the project's planners—better explain what happened.
I don't think I had any burning interest in the history of public housing programs when I attended this film screening on a lark way back when. But I remember that it clarified a lot about the ideologies and belief systems that contribute to how welfare policies and social programs are taught and remembered.
---