SPACE is a launchpad for artists, a perpetual work-in-progress, and a coalition of multidisciplinary creatives building a safe(r) space and maker hub in southern Maine. We promote the arts and humanities through presenting, advocacy, commissioning, grantmaking, resource sharing, and community collaboration. We envision our organization as a bridge: between a DIY-ethos and professional artistic practices, connecting disparate geographies and audiences, and a pathway to new ideas.
Mission:
SPACE is a nonprofit organization that supports contemporary arts projects, champions artists, and encourages an open exchange of ideas.
Grounded in the belief that vital communities are activated by experimentation, conversation, and camaraderie, SPACE engages a wide audience with provocative arts programming and category-defying events. As a nexus for curious minds, we collaborate with original thinkers and invite the public to participate in the ongoing pursuit of adventurous ideas.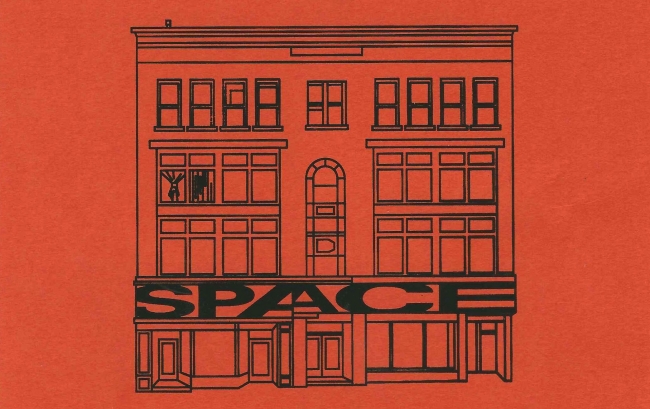 From our versatile home at 534-538 Congress Street, we:
Curate visual art exhibitions
Showcase music
Present film screenings
Facilitate lectures and discussions
Foster a platform for contemporary experimental performance
Rent below-market studios to artists with active practices
Oversee a statewide granting program for artist-led initiatives and projects
Invite national artists to stay in Portland through our residency program
Encourage conversations about issues of social justice
Engage the public in community events and open forums
Collaborate with other nonprofits, artist-run projects, and performing arts organizations
SPACE Values & Community Agreements
We are committed to providing access for our community to unconventional and under-represented arts, artists, and ideas.

We are an artist-centered organization.

As an alternative platform for local, national, and international artists, SPACE prioritizes original collaborations, risk-taking, and public engagement.

We strive for everyone to feel welcome coming to SPACE.

In creating a platform for work that is experimental and open for conversation, we hope that uncomfortable work can be a site for reflection and growth in our community.

Our artists and staff maintain the right to work with dignity and respect.

We are always open to feedback and are invested in accountability. Please use our Community Feedback Form to share your thoughts with us, thank you!
-The SPACE Staff
SPACE receives generous funding from The VIA Art Fund | Wagner Foundation, The Andy Warhol Foundation for the Visual Arts, Kirby Family Foundation, Moser Family Foundation, Maine Arts Commission, Maine Community Foundation, Maine Humanities Council, Wescustogo Foundation, AlGar Foundation, Onion Foundation, Ann H. Symington Foundation, New England Foundation for the Arts, Mellon Foundation, & many more. We are grateful for these valuable community and philanthropic partners who make our mission a reality.
Do you want to support our mission? Kindly click "donate", or for stock, grant, in-kind, or planned giving gifts please reach out directly to our Executive Director, Kelsey Halliday Johnson at director@space538.org