SPACE is honored to award thirty seven grants in the second and final round of American Rescue Plan Act Maine Project Grants: six $5000 awards, eighteen $3000 project grants, and thirteen $1500 grants to maximize the impact of this final round of federal funding. The ARP Maine Projects Grants were made possible as re-granting program through the National Endowment of the Arts.

The Round 2 Grantee lead artists (in alphabetical order) are: Adrian O'Barr & Wildflower (Greater Portland area), Andrew Simon (Bass Harbor), Annika Earley (Durham), Athena Lynch (Portland with statewide collaborators), Benjamin Spalding (Portland with statewide collaborators), Brian Smith (Portland/Lovell), Brit Martin (Lewiston with statewide collaborators), Carand Burnet (Livermore Falls), Colby Nathan (South Portland), Dawn Potter (Portland), E. Saffronia Downing (Franklin), Eli Kao (Belfast with statewide collaborators), Geneviève Beaudoin (Brunswick), Heather Stewart (Portland), Isa Burke (Portland), Jason Brown aka Firefly (Bangor), Jenny Ibsen (Portland), Jing Jing Luo (Brunswick), Junes Thete (Portland with statewide collaborators), Kal Sugatski (Portland with statewide collaborators), Lin Lisberger (Portland with statewide collaborators), Lovers Fight Tonight/Hi Tiger (Portland), Michael Gorman (Palermo), Myron Beasley (Portland), Nick Gervin (Portland), Nick Schroeder (Portland with statewide collaborators), Nicole Manganelli (Portland), Owen Bernsee & Sequela (Portland), Rose Marasco (Portland), Sam Finkelstein (Rockland), Sara Juli (Falmouth with statewide collaborators), Shane Charles Smith (Bangor), Susan Bickford (Newcastle with statewide collaborators), Thomas Birstwistle (Portland), Titi de Baccarat (Portland with statewide collaborators), Viva (Portland), William Giordano (Blue Hill).
This round's jurors were Jerry "Genius Black" Edwards (a music producer, multi-media artist, and community/artist collective organizer based in South Portland), Galen Koch (audio storytelling, podcasting, and media artist based out of the Portland area and Downeast seasonally), and Gabriel Chalfin-Piney (a practicing interdisciplinary artist, oral storyteller, community organizer, and the former inaugural Program and Residency Manager at the Lunder Institute at Colby College). The first round jurors were Elijah True (musician and L/A Arts), Gabriella Chase (Portland Museum of Art), and JJ Peeler (formerly of Bare Portland and Bowdoin's Department of Theater and Dance).
Upon the announcement that SPACE would administer these funds for the state of Maine, Representative Chellie Pingree, co-chair of the bipartisan Congressional Arts Caucus stated, "Arts organizations put the health of their communities first throughout the pandemic by shuttering their doors, suffering crushing financial hardship as a result. Since the beginning of the pandemic, SPACE has been a crucial support to the arts community in Maine; they stepped up to raise and distribute hundreds of thousands of dollars in emergency relief grants to artists throughout the state. I'm so glad their effective work is recognized and supplemented by this much-needed funding."
Administered by SPACE, the ARP Maine Project grants are one of 66 subgranting programs through the National Endowment for the Arts under the American Rescue Plan Act. It is the only one in the state of Maine, and one of the few nationally that is granting directly to individual artists for projects that develop new artworks.
Interested and eligible artists can apply for SPACE's 2023 Kindling Fund project grants for projects with a strong visual arts focus, through the Andy Warhol Foundation for the Visual Arts Regional Regranting Program, starting on January 1, 2023, with a deadline of Sunday, February 26th at 11:59pm via Submitable.com.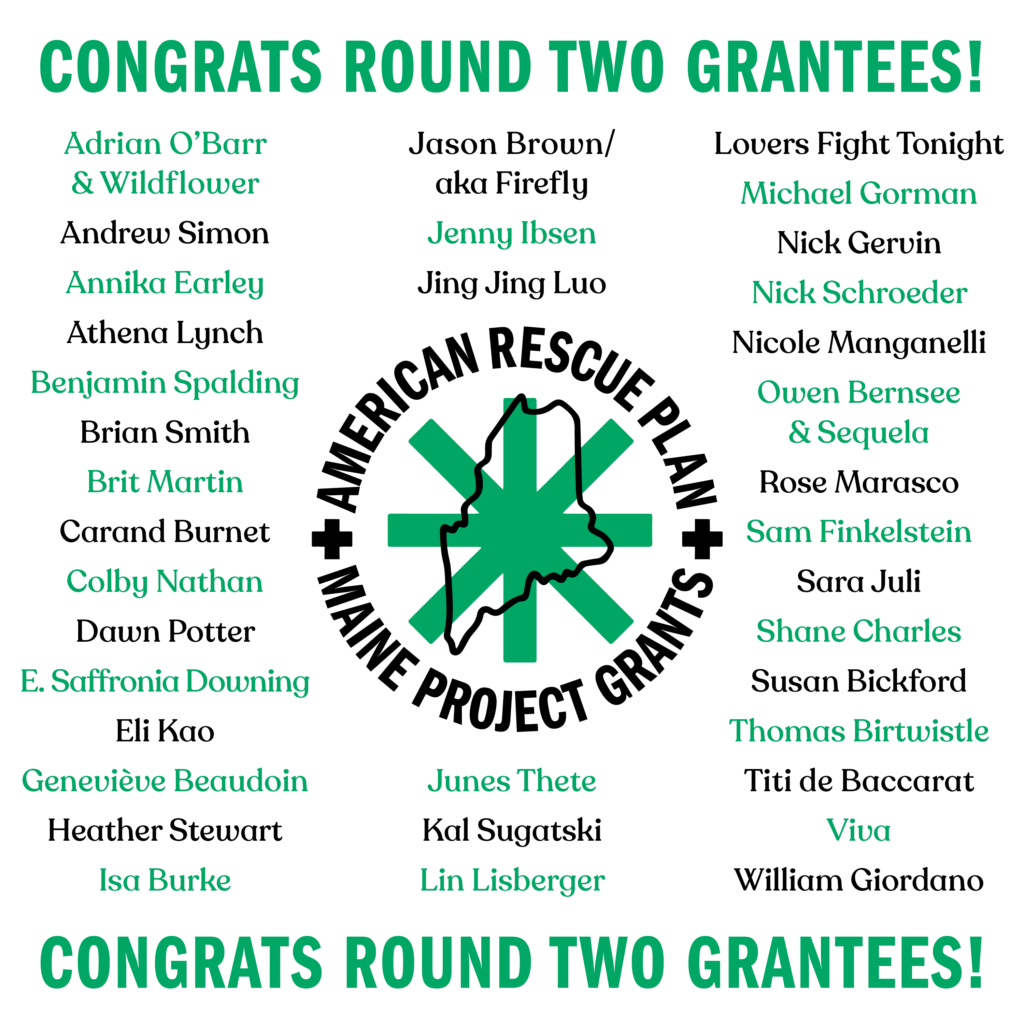 About the Grantee Projects
All NEA American Rescue Plan project awards are juried on the artistic excellence of the project as a guiding principle. We seek to put visionary artists to work in this moment of economic recovery and evaluate project concepts for being bold, experimental, thoughtful, values-driven and impactful on their careers and the community. We also qualify excellence through skill, originality, and/or inventive form. Additional jury criteria include: The project timeline and how feasible it appears; How the project defines and considers a public audience for this new work; The applicant's strategy for potential public engagement around the new project; Anticipated creative and public community impact; The applicant's capacity to carry out the project, in part, on past work; The artistic quality of past work samples; Clarity and feasibility of the project budget. With all of our grant programs, SPACE charges our grant jury with our internal values of thoughtful consideration towards site and public(s), risk-taking bravery, a spirit of artistic play, and prioritizing work that uplifts equity and healthy communities.
Wildflower's Green World
Lead Artist: Adrian O'Barr
Collaborators: Mathew Maiello, Jason Eckerson, and Hamilton Belk
Green World is a musical album of lyrical songs written by songwriter Adrian O'Barr being recorded at Machines with Magnets in Pawtucket, Rhode Island. The third work by O'Barr's band Wildflower, the collection seeks to further define a distinctive vision of an "Atlantic" music and tell stories of a changing Maine coast. Recording began in 2022 and is expected to be finished in April of 2023, the music will be engaged both through the recorded album and ensuing live performances. Website | Instagram
The Petra and Mo Show
Lead Artist: Andrew Simon
Collaborators: Tara Elliott, Laura Galindo, Stephen Elkins, Sarah McNamara, Tyler Weeks, Rawl Blackett, Chris Cannon
The Petra and Mo Show is an interactive puppet musical about being together and saying goodbye. Written by Andrew Simon and developed over the course of the last five years, the piece is about a mouse and a giraffe who live in a treehouse and make a show with the audience. The Petra and Mo Show uses music, puppetry, art, and new dance moves to consider together what it feels like to make friends, grow, and make something new.audience. This project uses music, puppetry, art, and new dance moves to consider together what it feels like to make friends, grow, and make something new. Website | Instagram
Alewife Running
Lead Arist: Annika Early
Collaborator: Chip Barchilon
Alewife Running is an interdisciplinary project that explores the entwined lineages of ale-wives – the historical antecedent for the popular image of witches – and alewives, the fish that share their name. The project will result in an exhibition in Summer 2023 of new interdisciplinary work by collaborators Annika Earley and Chip Barchilon. Through graphite and gouache drawings, writing, sculpture, raree shows (portal-like peep show boxes), and a takeaway booklet, Alewife Running creates a magical landscape that questions power structures while inviting the viewer to enact a ritual of inhabiting a space of enchantment and possibility. Website | Annika Early on Instagram | Chip Barchilon on Instagram
Juneteenth Celebration
Lead Artist: Athena Lynch
Collaborators: Friends of Congress Square Park, LoveLab Studio, SCC (Students of Color Coalition of MECA&D), Little Chair Printing, Maine Humanities, and other local artists
The 4th annual Juneteenth event continues community dialogue and engagement through active art making. In collaboration with local social change organizations keeping contemporary context through thoughtfully crafted inclusion by offering youth, multi-ability and multi-generational events to facilitate conversations and education. All done under the framework of traditional BIPOC storytelling to pass history and cultural knowledge and art making. Juneteenth will keep its roots in historical knowledge while focusing on the present by strengthening and reinforcing a strong cultural future. Website | Junteenth Instagram
Psithurism Records
Lead Artist: Benjamin Spalding
Collaborators: Annika Early, Riley Watts, John Fireman, and more TBA
Psithurism Records will focus on local artists that are working at the intersection between visual art, sound, music, and embodied practice. This platform will produce and distribute limited runs of both digital and analog media (vinyl/cassettes), and will encourage aesthetic collaboration with the artists to design the album artwork, merchandise, and other visuals. Each release will be paired with a public event, be it a "listening party," lecture, or performance. This project serves as a broader channel for artists to explore and distribute audio content along with accompanying visual media /social experience as a means of building community. Website | Instagram
A Field of Pansies With Their Guards Up
Lead Artist: Brian Smith
Smith's "A Field of Pansies With Their Guards Up," will manifest as 11-17 pansy flowers scaled up to 3'-8' tall, with immense thorns. Viewers will navigate this field in a gallery setting. Each pansy will be meticulously wrapped with copper chain, and pigmented with colored grout between the chains. What will result is a brilliant texture subject to tarnish, as well as a ghost image of the colors associated with pansy flowers. This work reclaims "pansy" from the gay slur, and indicates the unease and mistrust many queer people feel in this day of politics and the climate catastrophe. Website | Instagram
Escapism through Pop – Creating a Getaway
Lead Artist: Brit Martin
Collaborators: JustPlainJones, Owen Conforte, Ashely Jolly, Daija Paradis, S6ef, John Zebley
Pop music is the ultimate joy-filled diversion – a getaway we can all use in these unprecedented times. As a pop artist, the goal of Brit Martin's project is to utilize a live show as a tool for escapism – allowing the audience to completely let go of their existential worries, even if for a short time, through the aid of captivating musical arrangements, dazzling choreography, and breathtaking visuals. Additionally, the music revolves around the nostalgic pop style of the 2000s, bringing the audience back to carefree days where they can immerse themselves in the rose colored tint of their memories. Youtube | Instagram
Stand Tall
Lead Artist: Carand Burnet
Collaborators: Chris Chase, Adrian Morgan, John Skewes, Tara Morin, Eric Ott
Stand Tall is a studio album and live performance by the band Kioea. Named after a Hawaiian word that means "stand tall," Kioea champions creative belonging through their genre-blended sound and Carand Burnet's position as a female bandleader. Burnet will grow a community of listeners through the creation of the album, panel discussion, and live performance. Website | Instagram
Party Endless
Lead Artist: Colby Nathan
Collaborator: Greg Hartunian
Colby Nathan works with abstractions of nostalgia, melancholic humor, and deconstructed pop forms. With a range of self-made costumes, noisy toys, and live instruments pared with original music, ever-evolving video collages and homemade interactive projection screens, Nathan draws laughter from control chaos, and allows his audiences the comforts of confusion. With "Partly Endless", Nathan will expand his show's depth of interaction with projections by adding multiple projected surfaces, and further develop costume concepts he has been exploring for over a decade. Nathan will tour "Party Endless" out to Los Angeles this winter opening with a performance in Portland, Maine. Website | Instagram
Poems
Lead Artist: Dawn Potter
Potter is working on her seventh collection of poems. This new work has arisen from first drafts triggered during group writing sessions. Most are linked to a cohort of Maine women, of many ages and backgrounds, who have been experimenting with the notion of writing in community during the Covid era. Potter is the creative director of the Frost Place Studio Sessions and their annual conference, both associated with Robert Frost's home in Franconia, New Hampshire. In addition, she directs the high school writing program at Monson Arts. She was a finalist for the 2020 National Poetry Series. Website | Instagram
landscraps
Lead Artist: E. Saffronia Downing
E. Saffronia Downing works with wild clay to map material residues across time and place. Her new body of work, landscraps, will piece together ceramic sculpture made from Maine's wild clay and risograph prints of material foraging sites to create immersive site-specific works.Website | Instagram
Heritable
Lead Artist: Eli Kao
Collaborators: Sunny Hitt, Daniel Quintanilla, more TBA
"Heritable" is a multi-channel audio/video exhibition work that uses stylized, musical set pieces to explore the reproduction of racist and nativist rhetoric in Maine, the imagery used to market Maine to tourists, strategies of resistance to racist policies, and a speculative future that transcends nativist ideology. Primary source text will be adapted and transformed, forming the lyrics performed during each set piece. Heritable is a collaborative work, with contributions from Maine musicians, choreographers, and artists.
Kid 1 + 2: A Short Musical Film by Dead Gowns
Lead Artist: Geneviève Beaudoin
Dead Gowns is the musical project of Maine-based singer-songwriter Geneviève Beaudoin. The artist will develop a concept short musical film, Kid 1 + 2, in conjunction with the band's forthcoming double-single release of the same name. Teaming up with a small crew of collaborators, Beaudoin expects to develop, film, edit and release this video work between Dec 2022 – May 2023. Website | Instagram
pull | tirer (a reimagining)
Lead Artist: Heather Stewart
Collaborators: dull/ Marc Bartissol, Casco Bay Movers, Emily Jerant-Hendrickson,Tyeri Morrison, Emily Gualtieri & Louis Elyan-Martin, Harrison Pearse Burke
pull | tirer (a reimaging) is a project focused on the remount of pull | tirer, a contemporary dance duet created in 2016 by Heather Stewart, and Marc Bartissol aka dull. Heather is the founder and artistic director of little house dance company, a professional artist-led contemporary dance company based in Portland, Maine (unceded Wabnaki land). Heather developed her work in collaboration with Marc from 2012 until his suicide in 2019. This reimagining is a restaging of the first large scale project that the duo created together. Website | Instagram
Gender Equity Audio Intensive
Lead Artist: Isa Burke
Collaborator: Carolyn Kendrick
The Gender Equity Audio Intensive is an in-depth workshop for a small group of women and non-binary people working professionally in the recording arts. Over the course of four days in an immersive recording studio setting, led by a woman/non-binary mentor, participants will record music and audio projects together. We aim to tackle the persistent problem of gender equity in the recording and music industry while creating a collaborative, exploratory space where participants can feel confident and empowered, trusting their creative voices while building the technological skills to fully realize their ideas. Website | Instagram
WABANAVIA (The Album)
Lead Artist: Jason Brown aka Firefly
WABANAVIA is Firefly's next evolution in the exploration of his Wabanaki and Scandinavian cultures. Following the theme he began with the creation of the short film WABANAVIA, this album explores a world where traditional Wabanaki and Viking culture have come together to create a new world. The album will feature new works, new collaborations and will be released in the spring of 2023. Website | Instagram
Fish Picnic
Lead Artist: Jenny Ibsen
Fish Picnic is a fish-forward banquet inspired by eating side-by-side with strangers and loved ones, sharing stories across the table as loaves of bread get passed back and forth, and the cold, salty ocean that we're so lucky to have access to in Maine. It is a creative, free, public meal series that will happen outdoors once every few months with all seasonal foods prepared by Jenny Ibsen. Though it's a food-centric gathering, this non-traditional feast is just a vessel to share community at the table with one another. Website | Instagram
The Moon does not shine by itself
Lead Artist: Jing Jing Luo
Collaborator: Titus Abbott
Jing Jing Luo is a composer and visual artist originally from Beijing, China. The Moon doesn't shine by itself is a multimedia sonic visual landscape. Merging traditional Chinese ink brush paintings, soundscape installation, and live performance of traditional Chinese instruments Guqin and Xun with saxophone, the piece creates a hologram of the musician-artist's inner world. The piece embodies the artist's internal conflict of existing between Eastern and Western culture, refusal to accept feelings of alienation and rejection, and attempts to create peace and harmonious relationships to ultimately achieve balance and unity between self and the outside world. Website | Instagram
Launch of The Discover Me Show
Lead Artist: Junes Thete
Collaborators: Chrizi Jamer, Ryan Adams, Bodhi Oulette, Yourci Mulamba
The Discover Me Show highlights outstanding BIPOC artists such as singers, songwriters, and painters, giving them a professional media platform to showcase their stories, talents, and achievements. Each episode includes a uniquely developed artistic challenge, designed to push each artist to "show off" their brightest creative gifts in real time. This digital platform will center on the artistic expression of the voices of Maine's most overlooked creative and intellectual contributors. Thete's goal is to launch culturally and artistically relevant BIPOC careers, encouraging BIPOC creators to stay and operate inside the state of Maine. Website | Instagram | Youtube
Vigorous Tenderness' Equinox/Solstice Concerts
Lead Artist: Kal Sugatski
Collaborators: TBA
Vigorous Tenderness presents its annual solstice and equinox concerts. As always, chamber ensembles scattered across the landscape will perform music by underrepresented composers: POC, women, and LGBTQ people. Entry is by sliding scale donation, removing financial barriers to classical music. The outdoor venue reconnects audiences to the environment, inviting a new appreciation for the sonic landscape. Professional videographers will create an immersive documentation of the performance which will be shared online to further promote the work of marginalized composers and to make the concert experience accessible to a wider audience. Website | Instagram
SUSTENANCE
Lead Artist: Lin Lisberger
Collaborators: Myron Beasley, Beth Wilbur van Mierlo, Heather Flor Cron, Rachel Church, Rachael Harkness
SUSTENANCE will be an art exhibit/performance/discussion at the Portland Public Library in May/June 2023, showcasing work from artists including food/performance artist Flor Cron and Portland students working with arts integrator, Side x Side. There will also be a guided community conversation event facilitated by Cron and intermedia artist Rachel Church. The goal is to have a multigenerational and multicultural public conversation, including food ritual aspects, with the arts as a vehicle, and to prompt a dialogue around sustenance, food security, and sustainability, and how that can lead to collective healing. Website | Instagram
The LFT Runway Show, Exhibition & Dance Party
Lead Artist: Lovers Fight Tonight / Hi Tiger
This project is a public engagement event featuring a runway show, live music, DJ's, visual and performing art. The event will be free to the public and will correspond to the release of new apparel designed and sewn by local multi-media artist, Hi Tiger. An extension of the exhibition Good Days in 2021, the event will be similarly structured with an anchoring exhibition punctuated by public events featuring local and touring artists.
THE AHAB INSIDE ME—Redux
Lead Artist: Michael Gorman
This project is an evolution of this past year's highly successful "The Ahab Inside Me"—A High-Seas Blues intervention and theatrical installation at The Colonial Theater in Augusta, Maine into a full-scale blues opera. The opera will be developed in residence at the Colonial Theater and feature a full band, expanded choruses, spoken word songs, as well as further story development and innovative creation and incorporation of a "Chorus of Recovery" drawn from the Addiction, Recovery and Re-entry community of Augusta. Performances will take place over a period of two weeks in July 2023.Website | Instagram
Remembering Malaga: Handmade Art Books + Oral History
Lead Artist: Myron Beasley
Collaborators: Daniel Minter, Amos Kennedy, Jr.
Remembering Malaga is part of creating new work on the topic of Malaga Island. It is a collaboration among three African American Artists: Myron M. Beasley, Daniel Minter, and Amos Kennedy, Jr. The proposed multifaceted project includes constructing forty-seven handmade books to retell the story of Malaga Island, creating an oral history project of Malaga descendants, and arranging a curated tour of the books to every county in Maine, along with panel discussions about Malaga. Website
Portlanders
Lead Artist: Nick Gervin
Collaborator: Michelle Ferris
Nick Gervin presents a photographic exhibition and book launch; a true portrait of Portland, Maine, unique to the artist behind the lens. Ten years in the making (2011-2021), Nick documented the unseen side of his home city in such a way that you could call him a visual historian, somewhere between urban archaeologist and street photographer. Gervin has captured everything from protest marches, to burning buildings, to drunken night-time brawls, and so much more, even venturing into the long forgotten subterranean networks of tunnels beneath the streets. These images were all captured candidly in very challenging conditions and times. Website | Instagram
The Circular
Lead Artist: Nick Schroeder
The Circular is a public event series based in southern Maine (Portland and Biddeford) consisting of arts, news and performance-driven programming. Events will be frequent, roughly two or three per week, and include discussions, panels, reports, re-enactments and other scenes. Some events will be live-only, others streamed online and/or archived in a subscription-based newsletter. The aim is to produce a busy calendar of compact, low-cost programming that expands the capacities of arts, civics, journalism and performance – to "make public" the forms and relations of cultural reporting lost to the pandemic and absorbed by social media.
Lead & Roses: Movement Messages to Fortify Organizers
Lead Artist: Nicole Manganelli
Collaborators: Pilar Nadal, Pickwick
Lead & Roses is a letterpress printing project focused on inspiring and fortifying people who are working toward collective liberation using a range of strategies. This pilot project will use the art of letterpress printing to create beautiful cards with messages specifically designed for community organizers. The goals of the pilot are twofold: 1) to gauge public interest in the project, with the intention of expanding it into a long-term, multi-artist effort, and 2) to uplift, appreciate, and bolster the hearts of organizers so that they remain deeply invested in working for justice for the long haul. Website | Instagram
Sequela
Lead artist: Owen Bernsee
Collaborators: Zohar Azoulay, Owen Bernsee, Dainius Bukauskas, Kate Christensen, Andrew Jackson, Molly Picone, Gabi Ragazzi, Brett Davis Jr, and Brooke Wentworth
Sequela is a Portland-based group made up of eight artists and musicians. They started this project in the summer of 2021, coming together with the objective of making a new variety of post-punk shoe-gaze sounds that also utilize chamber music instrumentation. They realized that they have a platform to promote more than just their music, and strive to highlight local artists of various mediums, work on their own and with local organizations to raise money for various causes, and increase awareness around harm reduction through Narcan distribution and education. Website | Instagram
At Home: Photography, History and Me
Lead Artist: Rose Marasco
Collaborators: Lucy L. Lippard, University of New England Art Gallery, Cay Sophie Rabinowitz, Maine Women Writers Collection
At Home: Photography, History & Me is a forthcoming book and solo exhibition project. The book features short personal writings on topics ranging from artist's residencies and iPhone photography, to the early death of her father, and includes selections from several bodies of work from Marasco's long career. Shifting fluidly between images and texts, the artist shares the evolution of her artistic process, interrogates key moments in photography's development, and invites readers to explore their own creativity. Esteemed feminist author, Lucy L. Lippard's foreword situates Marasco as a key feminist voice among practitioners of vernacular photography. Website | Instagram
Aural Transmission
Lead Artist: Sam Finkelstein
Aural Transmission is an exhibition of stone sculpture accompanied by a sculpted soundscape. The objects on display will be comprised of instrument-inspired forms and functioning stone loudspeakers. The internal & external vibrations produced by the interaction between tools & material during a live carving are recorded, modulated, and then amplified through sculpture already existing in the space. This project is an exploration of the way vibration shapes material and sound. Website | Instagram
Anxious Brain
Lead Artist: Sara Juli
Collaborators: Michelle Mola, Justin Moriarty, Carol Farrell, Sorcha Cribben-Merrill, Annica Lydenberg/Dirty Bandits
Anxious Brain (working title) is a performance piece that explores how trauma maps the brain and creates a toxic footprint that can live in our minds comfortably for our entire lives. Using movement, text, drawn digital illustrations, live music, stand-up comedy and audience interaction, performance artist Sara Juli looks at disrupting trauma to find a settling of the mind. In order to develop this evening-length original work, funds are requested to support a five-day artist residency culminating in a public showing and discussion at The Strand Theater in Rockland, Maine in 2023. Website | Instagram
Gathering
Lead Artist: Shane Charles Smith
Collaborator: Media Loma
Hosted at the NARS Foundation, SPACE, and Goethe-Institut Boston; Gathering was a trio of exhibitions incorporating movement-based artists Kayva Yang and Domenica Garcia, and artist and basketmaker Max Romero (Mi'kmaq & Laguna/Taos Pueblo) with pieces commissioned from Maine-based craftsmen (canoe builders, machinists, and ceramists). These performances referenced Yves Klein's body-print work Anthropometry, Kazuo Shiraga's Challenging Mud, and Richard Long's River Avon mud drawing. This cycle of exhibitions/performances will be archived through a video project that will be available online. Website | Instagram
the (stillness)23 collective
Lead Artist: Susan Bickford
Collaborators: Annie Bailey, Katherine Ferrier, Robin Lane, Heather Lyon, Luke Myers
A place based collective communing with and migrating through the waterways of Maine. Six interdisciplinary artists collaboratively retreat for four days deepening our connection to nature and to each other. The practices included in this group are video/film, dance, textiles, poetry, music, forest therapy, qigong, performance art, foraging and astrology. Sharing circles lead us to sync into each place collectively and individually. We record toward a video installation and in post production, weave our works into a cohesive sequence to share with the public in a gallery or festival. We write daily and share our reflections with attention and gratitude. Website | Instagram
Rites of Spring
Lead Artist: Thomas Birstwistle
Collaborator: Bruce Brown
Rites of Spring is a collection of photographs made in central Maine over a period of twenty-five years by Thomas Birtwistle. The work depicts the annual seasonal change as a way to examine and describe a community's relationship to the physical world as well as the ways in which a shared vision of common circumstances can both bind people together and isolate them from wider society. Website
Taking a knee for Change
Lead Artist: Titi de Baccarat
Collaborators: Tim Greenway, Dave Wade, Ann Tracy, John Ochira, John Ripton, Kelli LK Haines, Amy Granbery Bellezza, Ẹniọlà Adeoye-Lawal, Rose Barboza, Danica Barboza, Mark Evan Chimsky, Christine Sullivan, Xtine Sullivan
Taking a Knee for Change is a forthcoming book publishing project featuring photographs (taken months after the murder of George Floyd by 10 Maine photographers) of white, black and other people of color, students, business owners, artists, activists, immigrants and LGBTQ people who live in Maine and work to end racism and achieve social justice locally and nationally. The book will combine photographs of the Mainers taking a knee and interviews about their personal relationship and experience with social justice. It makes reference to the multiple workshops and activities we held on civic engagement in schools and institutions and other venues. Website | Instagram
VIVA's Solo Live Show Program
Lead Artist: Viva
Collaborators: ​​Brit Martin, Nicolas Haquin, Axel Tosca, Zayra Pola, Belle Fall, Violette Media, Stephanie of Rafiki 207, Akakpo & Co, Genius Black, Pamela Moulton
Viva's latest project churns with joy, rage, and militant decency. The vibrant departure from the artist's jazz shows inspires even the most reluctant dancer with a blend of Caribbean, hip hop, and trance rhythms, combined with Viva's soaring vocals and brash trombone solos. The program is bursting with rhythm and verve, punctuated by the artist's dry comedic jabs at late-stage capitalism that empower the audience to engage with difficult themes in an uplifting environment. Coupled with stunning multimedia and costume design, Viva's latest show is a feast for the eyes, ears, body and mind. Website | Instagram
Tilth Arts Accelerator: Music Business Infrastructure
Lead Artist: William (Bill) Giordano
During and since the pandemic, Maine's music and arts talent and industry professionals lost major income and career development infrastructure. Musical talent and their service providers are increasingly turning toward more rural audiences to develop work opportunities – especially in summer. Simultaneously, Maine's food system and eco-tourism infrastructure is tending encourage seasonal audiences by providing arts and cultural infrastructure and program support. This program is piloting a music accelerator & artist-in-residence program in Blue Hill's village district to expand this practice, ultimately increasing career pathways for Maine's musical talent and music service providers. Pilot Program with Engine