SPACE is excited to announce the recipients of the Maine Musician Relief Fund. We are deeply grateful to the Bob Crewe Foundation and the coalition of private donors who bolstered this effort to redistribute funds to musicians across the state amidst the COVID-19 pandemic.
Nearly 250 musicians applied for these relief grants, but in order to make a real financial impact, we had to limit our awards to 76 individuals. This was an arduous process because of the high level of talent, creativity, and community impact exhibited by all applicants, as well as the extreme financial need among Maine musicians right now. We are so thankful for the jury that led us through this: Meg Shorette (Bangor Arts Exchange, All Roads Festival), Jerry Edwards (Black Owned Maine, Genius Black), Cass Baker (317 Maine), and Elijah True (L/A Arts), working alongside SPACE's music programmer, Peter McLaughlin.
We are actively seeking more funding to do further relief grants. We know this is an urgent moment for Maine artists across all disciplines and we remain as committed as ever to offering both emergency relief and paid opportunities during these difficult times. Individuals, foundations, or organizations interested in contributing to these ongoing efforts should contact director@space538.org.
Maine Musician Relief Fund Grantees:
Aaron Henry ⦿ Ahmad Muhammad ⦿ Alex Millan ⦿ Andrew Scherzer ⦿ Annegret Baier ⦿ Anthony Michael Gallons ⦿ Ariana Smith ⦿ Astere Musavyi ⦿ Audry Mugisha ⦿ Ben Noyes ⦿ Bethany Waickman ⦿ Billie Gray ⦿ Brad Terry ⦿ Brittany Parker ⦿ Carmel Irakoze ⦿ Cilla Bonnie Arsenault ⦿ Clare Hubbard ⦿ Dev Bailey ⦿ Diana Newman ⦿ Dieudonne Masabarakiza ⦿ Drew Kinkade ⦿ Elsie Gawler ⦿ Emma Stanley ⦿ Eric Green ⦿ Erica Brown ⦿ Grant Corum ⦿ Graybert Beacham ⦿ Hadith Bani-Adam ⦿ Hanzaburo Araki ⦿ Isa Burke ⦿ Ismael Solo ⦿ Jake Morrill ⦿ Jamie Oshima ⦿ Janane Tripp ⦿ Janay Woodruff ⦿ Janvier Gatavu ⦿ Jason Ingalls ⦿ Jason Lescalleet ⦿ Jeff Beam ⦿ Jennifer Bates ⦿ Jesse Wagner ⦿ Jonathan Downs ⦿ Katie McNally ⦿ Kenya Hall ⦿ Kevin Prentice ⦿ Kris Day ⦿ Lauren Crosby ⦿ Luke Mallett ⦿ Luna Colt ⦿ Marc Maynard ⦿ Marc P. Mailhot ⦿ Margaret Hopkins ⦿ Marion Earley ⦿ Matt Perry ⦿ Michelle Tarshus ⦿ Myles Bullen ⦿ Nat Baldwin ⦿ Natalie Mishell Martinez ⦿ Nicholas Bourgeois ⦿ Nicole Rabata ⦿ Nina Miller ⦿ Phil Gilliam-Cuffee ⦿ Remy Brecht ⦿ RJ Miller ⦿ Ryan Meier ⦿ Sean Fleming ⦿ Sean Oshima ⦿ Sonia Sturino ⦿ Steve Niyonkuru ⦿ Stu Mahan ⦿ Thomas Newman ⦿ Toby McAllister ⦿ Travis Cyr ⦿ Will Bradford ⦿ Yves Karubu ⦿ Zakaria Allaf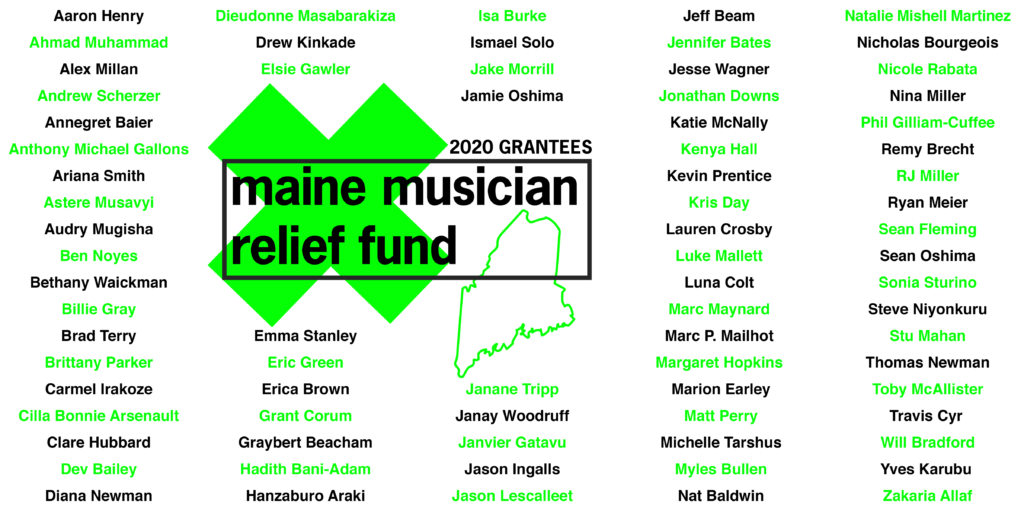 ---
The Maine Musician Relief Fund program is made possible by the staff of SPACE, our statewide jury, and a leadership matching grant by the Crewe Foundation. Special thanks to the coalition of major donors who made it possible: Chris Corbett, Jay Espy Jr., John Albright, Karen and Stuart Watson, Kent Gordon, Linzee Weld and Peter Milliken, Manny Morgan, Oliver Watson, Reid Crewe, Sandy Buck, and Susan and Fritz Onion; along with the fund's other contributors: Alfred Frawley, John Gleason, John Shoos, Nancy Berrang, Rhonda Dale, and Robert Foster.