****Applications close at 11:59pm EST on November 2nd. ****
If you would like this announcement or the application translated into a language other than English, please reach out to gv@space538.org
SPACE is excited to announce the Maine Musician Relief Fund. Building upon the impact of our Kindling Fund Visual Artist Emergency Grants, we've partnered with the Bob Crewe Foundation and a generous group of private donors to offer $1000 relief grants to musicians across the state and across style, genre, and background.
All Maine musicians above the age of 18 are eligible to apply.

Applications will open on Friday, October 16th and close on Monday, November 2nd at 11:59pm.
With federal relief caught in limbo and a return to regular gigging, touring, and recording nowhere in sight, we know this is an urgent moment for musicians in our state and beyond. Individuals, foundations, or organizations interested in contributing to these ongoing relief efforts should contact director@space538.org. We hope those with means will consider extending the impact of relief funds such as these; tax-deductible donations may be made online or by cash or check to SPACE Gallery 538 Congress Street, Portland, ME 04101. All contributions received will be paid out to musicians in the state of Maine. SPACE is covering our own administrative costs and we will not be keeping any of the funds raised.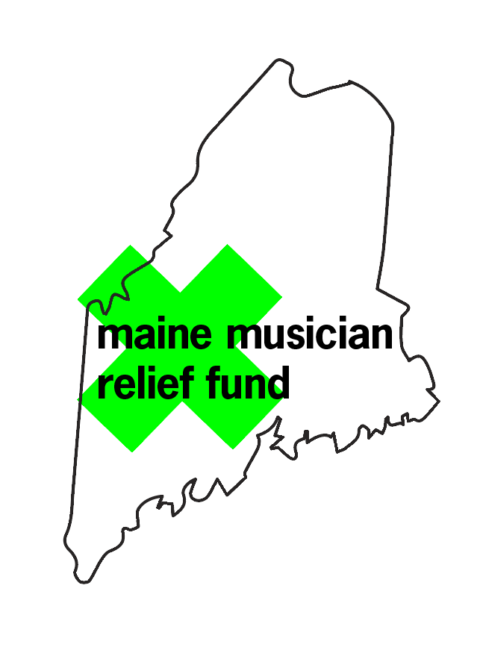 ---
FAQ
Who may apply to the Maine Musician Relief Fund?
Any musician over the age of 18 that is currently based anywhere in Maine may apply. Musicians need not have performed at SPACE or have any prior relationship with SPACE. Musicians of all backgrounds and genres are invited to apply.
How much is being awarded?
Each award will be a $1000 grant. These funds have no limitations or project requirements attached to them. Musicians can use their $1000 grant for anything they choose: living expenses, professional expenses, or otherwise.

How many awards will be given out?
We are still currently fundraising to support this relief initiative, but we hope to give out a minimum of $70,000, in the form of 70 individual $1000 grants. SPACE will be taking no cut from the funds raised. All will be spent directly to support the relief fund.
How does a musician apply?
A short application (via Google Form) will collect necessary personal information, along with a short musical bio about your creative/professional practice, relevant links and audio/video samples, and basic information about the level of financial need.

Do musicians need to have any prior relationship SPACE or live in Greater Portland?
Absolutely not to both questions!
Are students eligible?
Yes. Absolutely. We will just ask that applicants disclose that in the application.
Can an entire band apply?
The application is for individual musicians. All members of a band may certainly apply individually, but not together as a group. We will be treating each musician as an individual applicant.
Can musicians currently receiving unemployment apply?
Yes. This grant may affect unemployment the week or month the payment is made, but we will work with all grantees to get the necessary information from the Maine Department of Labor's unemployment office.
How will the grantees be chosen?
A jury will be assembled including SPACE music programmer Peter McLaughlin and four other music industry professionals from around the state. Applications will be considered based on a mix of need and artistic merit, with consideration given to marginalized identities, as well as geographic diversity.
How should "financial need" be demonstrated on the application?
No particular information is absolutely mandatory, but we are hoping applicants can include some information about the following: 2019 income, current income, aid and grants recently received or applied to, and any narrative information about current financial and living situation. We understand that there are differing comfort levels divulging personal information, so we will work with whatever information applicants are willing to provide.