Dear SPACE friends,

SPACE creates brave opportunities for arts, artists, and ideas, no matter the circumstances. I'm proud of our team's immediate and thoughtful response to this year, even as the world threw us many curveballs. This moment of global crisis has reminded us quite palpably that free speech, new ideas, and joy deserve our protection too. The arts are not a luxury; art connects us with our humanity, our highest ideals, and the regional heartbeat of our creative communities.

In 2020, SPACE led with innovative contemporary arts programming and continued championing Maine artists even in uncertain times. As soon as we closed our doors, we pitched the Andy Warhol Foundation, our trusted regranting partner, to mobilize emergency relief funds for visual artists nationwide. $1.6 million was distributed by the Warhol Foundation to artists across the US, including $71,000 that SPACE granted to artists in Maine. SPACE strives to listen to community needs and mobilize our resources to meet them. In the past seven months, our work has been undoubtedly precarious, and yet it has created opportunity for some of the most inventive and bold initiatives we have ever launched.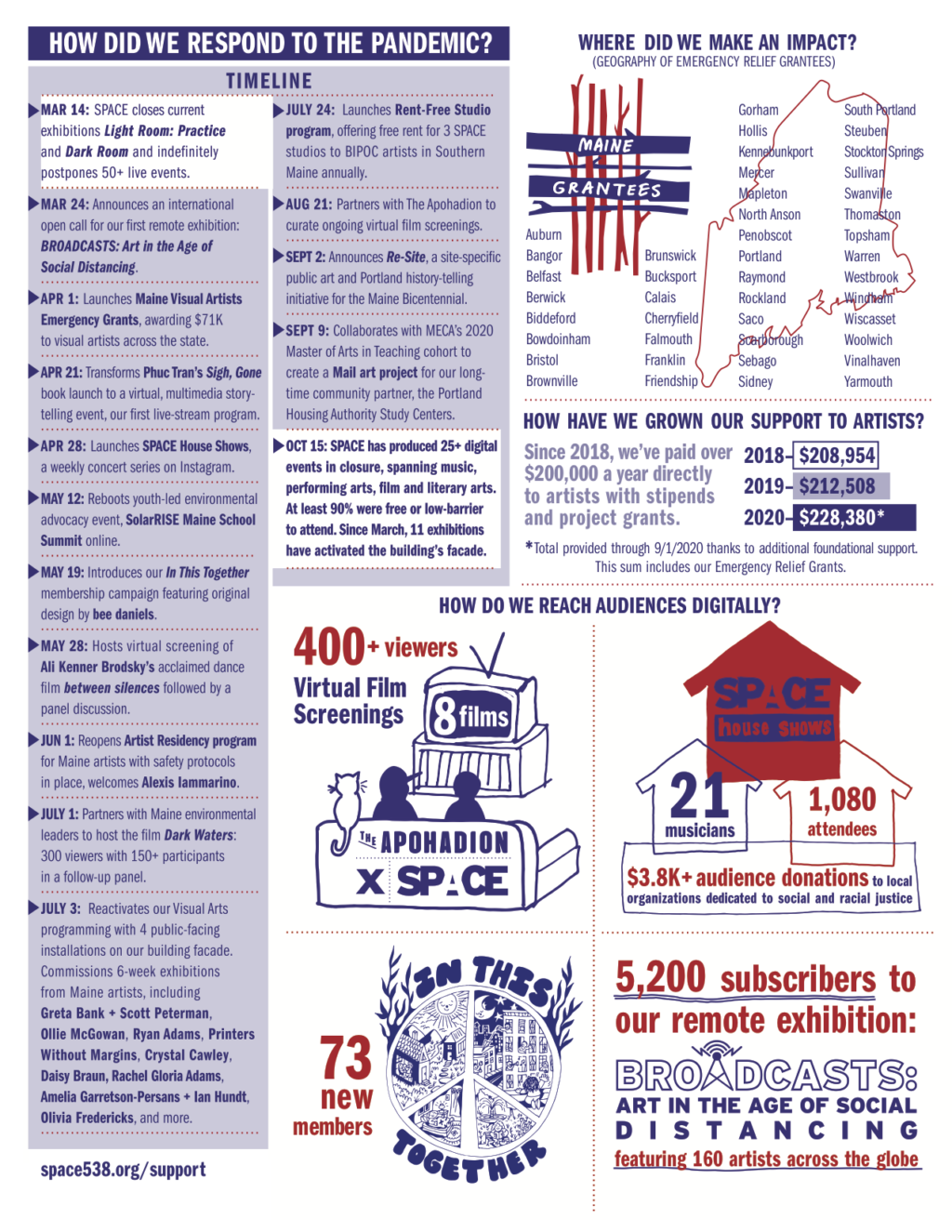 We need your help before our fiscal year ends on December 31st to keep this critical relief and artist advocacy work going. Performing arts venues are some of the most financially vulnerable organizations in this moment, and your membership dollars will help us get through this closure until we can reopen safely. SPACE needs your support more than ever: we are projecting $150k in event revenue loss this year and therefore have been unable to offer alternative working opportunities to our multi-talented event, production, and building staff.

Join us today as a member or support us as a dedicated donor and we promise to keep championing contemporary artists in a time when we need their urgent, responsive, and visionary work more than ever. Will you help us weather this storm?
Our e-news, website, and social media (@space538) are great ways to stay up to date on the programs we innovate, the artists we commission, and the ongoing support we provide to Maine artists during this pandemic. We all have a role to play; your support is essential to see our arts, artists, and ideas through to the other side of this journey.
Thank you for supporting an experimental, inclusive, and community-embedded arts platform in Maine. SPACE is where we make it.
In solidarity,

Kelsey Halliday Johnson
Executive Director
A web reader/accessibility friendly version of the JPG of our timeline above:

Timeline:
-March 14: SPACE closes Light Room: Practice and Dark Room and indefinitely postpones 50+ live events.
– March 24: Announces an international open call for our first remote exhibition: Broadcasts: Art in the Age of Social Distancing.
– April 1: Launches Maine Visual Artists Emergency Grants, awarding $71K to visual artists across the state.
– April 21: Transforms Phuc Tran's Sigh, Gone book launch to a virtual, multimedia story-telling event, our first live-stream program.
– April 28: Launches SPACE House Shows, a weekly concert series on Instagram.
May 12: Reboots youth-led environmental advocacy event, SolaRISE Maine School Summit, online.
– May 19: Introduces our In This Together membership campaign featuring an original design by bee daniel.
– May 28: Hosts virtual screening of Ali Kenner Brodsky's acclaimed dance film between silences, followed by a panel discussion.
– June 1: Reopens Artist Residency program with a new focus on creating opportunities for Maine artists with safety protocols in place. Welcomes Alexis Iammarino.
– July 1: Partners with Maine environmental leaders to host the film Dark Waters, with 300 viewers and 150+ participants in a follow-up panel.
– July 3: Reactivates our Visual Arts programming with 4 public-facing installations on our building facade. Commissions 6-week exhibitions from Maine artists, including Greta Bank + Scott Peterman, Ollie McGowan, Ryan Adams, Printers Without Margins, Crystal Cawley, Daisy Braun, Rachel Gloria Adams, Amelia Garretson-Persan + Ian P. Hundt, Olivia Fredricks, and more.
– July 24th: Launches Rent-Free Studio program, offering 12 months of free rent for 3 SPACE studios to BIPOC artists in Southern Maine.
– August 21: Partners with The Apohadion to curate ongoing virtual film screenings.
– September 2: Announces Re-Site, a site-specific public art and Portland history-telling initiative for the Maine Bicentennial.
– September 9: Collaborate with MECA's 2020 Master of Arts in Teaching cohort to create a mail art project for our frequent community partner, the Portland Housing Authority Study Centers.
– October 15: SPACE has produced 25+ digital events in closure, spanning music, performing arts, film and literary arts. At least 90% were free or low-barrier to attend. Since March, 11 exhibitions have activated the building's facade.